By Lisa Lee, Sommelier and Founder of Traveling Uncorked
In my travels as a Level 3 WSET-certified food and wine pairer, I've had the privilege of pairing all kinds of incredible cheeses with wines that unlock even more layers of unexpected, palate-pleasing flavor. It's truly one of my favorite things to do, and for National Wine Day, it was only fitting to take some beautiful Goudas made by Artikaas Gouda and pair them with wines to celebrate the occasion. Artikaas has been making Original Dutch Gouda for 6 generations, using traditional, sustainable methods that go back 2,000 years—making them an expert in my book.
I have a few favorite varieties of cheese, but Gouda is definitely in my top 3. Upon opening the first package of cheese, from the aroma to the texture to the taste… Artikaas absolutely nails it. So I had a great time pairing each of these 7 different types of gouda with wines that will make them sing, taking into account the flavor intensity, fat and alcohol content, and complimentary aromas and tasting notes.
Whether you're choosing a glass for your own special charcuterie today or are in need of inspiration for your next gathering, have fun exploring and tasting these pairings — there's truly something for everyone on this list!
Vintage Lot 8 + 2020 M.A.N. Chenin Blanc
This was my FAVORITE of the bunch. The Vintage Lot 8 Gouda is salty and sweet, firm but smooth. I love this aged Gouda because with age comes flavor intensity. Upon biting into the Vintage Lot 8 Gouda you are greeted with the salt and caramelization you would expect in a vintage version. Because the creaminess of this cheese coats your tongue (blocking taste receptors), I knew I wanted a wine with high acidity to cut through this coating, allowing you to experience full flavor. Cue M.A.N. Chenin Blanc! This beautiful wine is one of my favorites on the palate, featuring notes of tropical fruits and green apple balanced by fresh acidity and minerality, which balances the creamy saltiness within this cheese. Take a bite of the cheese, sip the wine, and then repeat!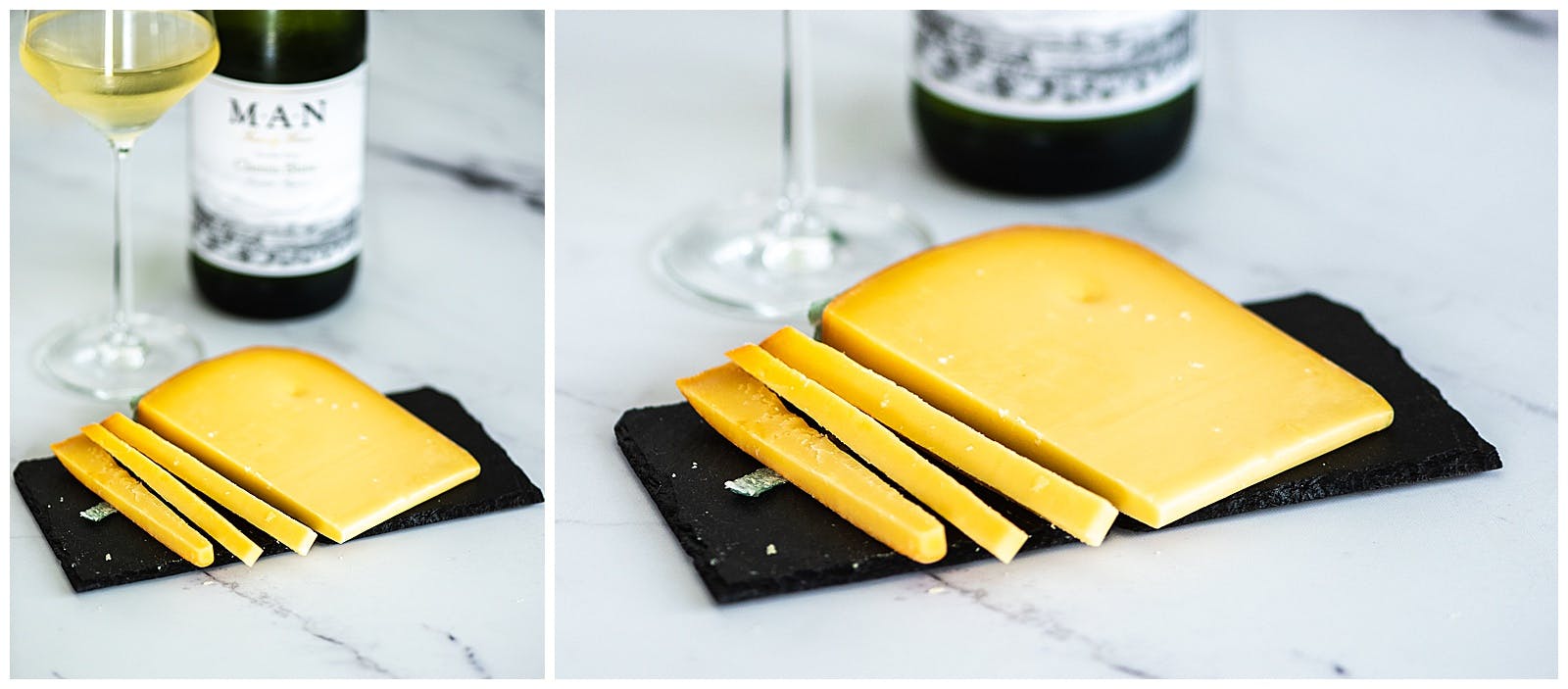 Youngsters Pesto + 2020 Hess North Coast Sauvignon Blanc
If you love pesto, this is the gouda for you! The Pesto Gouda was such a fun discovery for me. I am a huge fan of pesto so infusing those flavors into cheese? YES, PLEASE! The rich basil flavor is not overwhelming and the umami factor was key to pairing a wine. For this, I knew I wanted a gorgeous acidic wine that would cut through this savory cheese. Hello, Hess Sauvignon Blanc! The grapefruit, lemon and lime notes in this bottle make it a perfect pairing with those green notes in the cheese.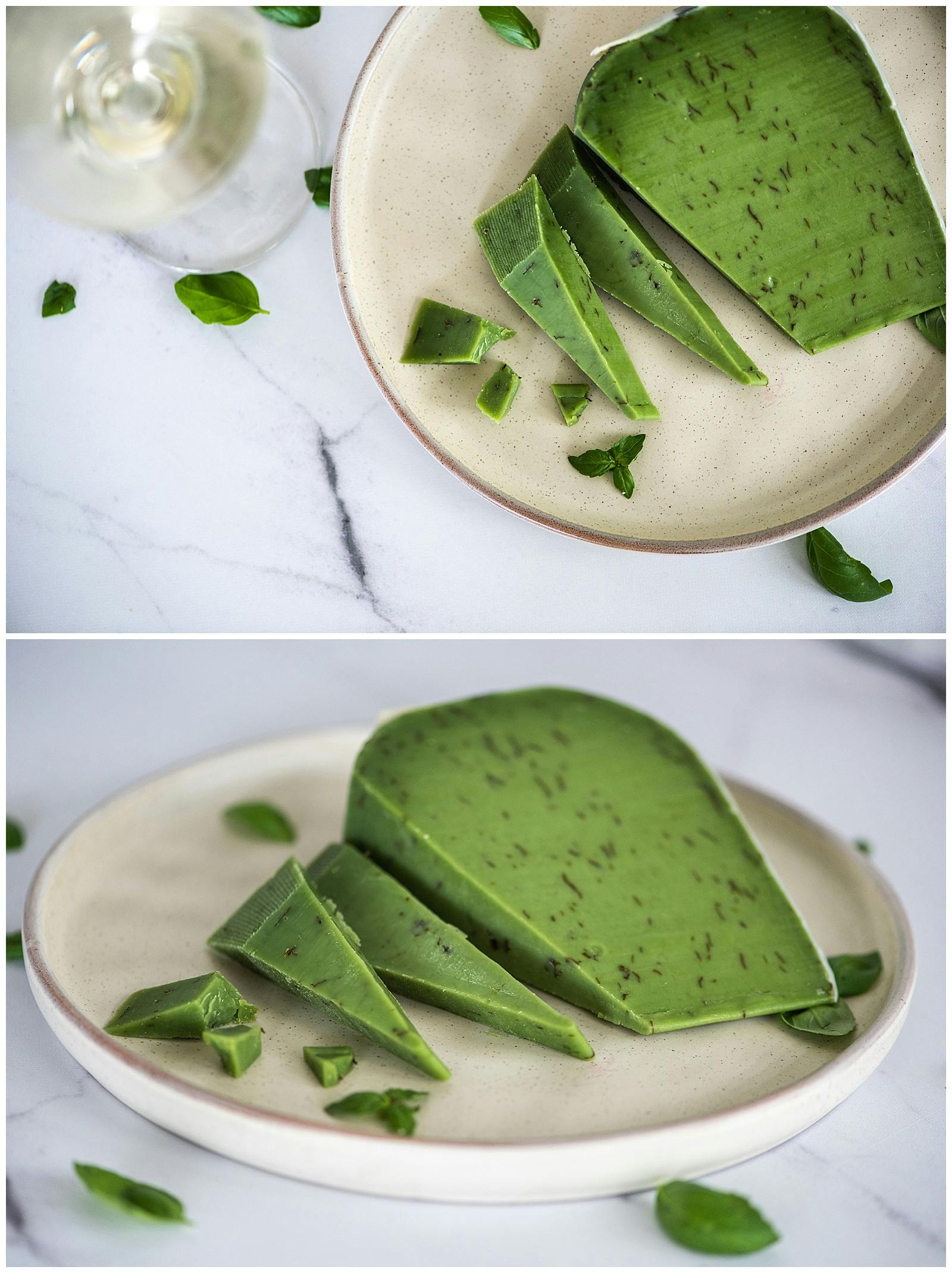 Youngsters Chilikaas + 2020 Singing Laurenz V Grüner Veltliner
For all you lovers of a little heat, the Chilikaas Gouda is your new go-to. This cheese is buttery and rich, but balanced by the fire-roasted Hatch Chiles. For this pairing, I decided to keep a little heat on the tongue by selecting a wine that wouldn't overpower the spice. This Grüner Veltliner complements the flavors in this Gouda, allowing the spice to shine without being subdued. With notes of apple, peach, citrus and white pepper, it has high acidity and more punch than you would expect. Because of this, it plays with the heat from the chiles while cutting through the creaminess of the Gouda quite well.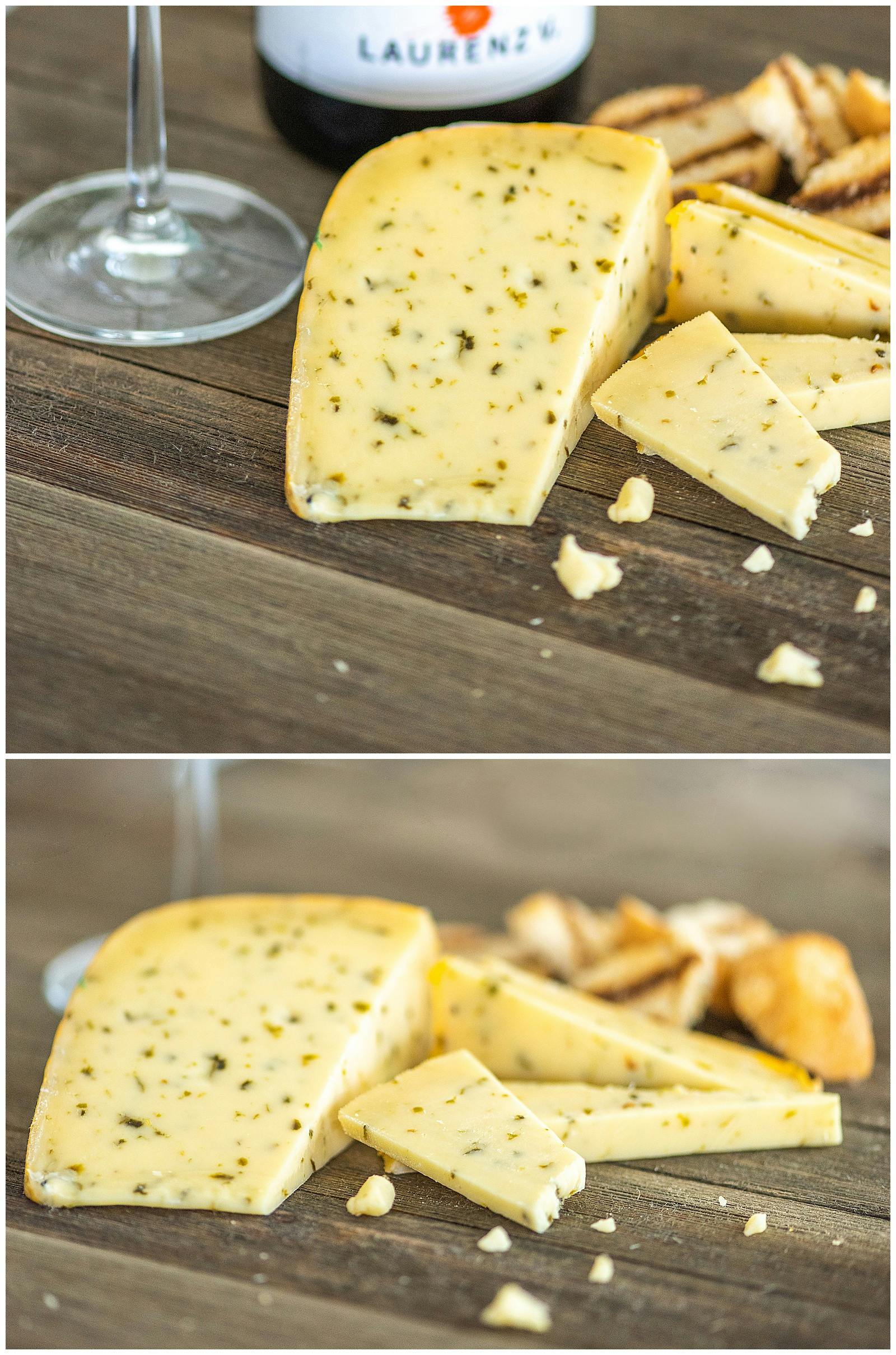 Hay There Raw Milk Gouda with Lavender and Thyme + 2019 Delille Cellars Bordeaux Blend
I was excited to try this cheese as I haven't had a gouda with thyme and lavender. The Hay There Raw Milk Gouda with Lavender and Thyme Gouda is made with sprigs of lavender and herbal thyme gently mixed by hand with curds prior to pressing and aging the wheel. With flavors that are floral, herbal, and earthy, but also creamy and a touch sweet, I knew I wanted a red. The red I chose to pair was the 2019 D2 Delille Bordeaux Blend because it's a blend that has a ton of flavor without being overpowering. With notes of blue fruits, red fruits, earth, and slight tobacco, the wine finishes silky on the palate with soft tannins. Perfectly balanced, this wine and cheese duo was one of my favorite pairings of the bunch.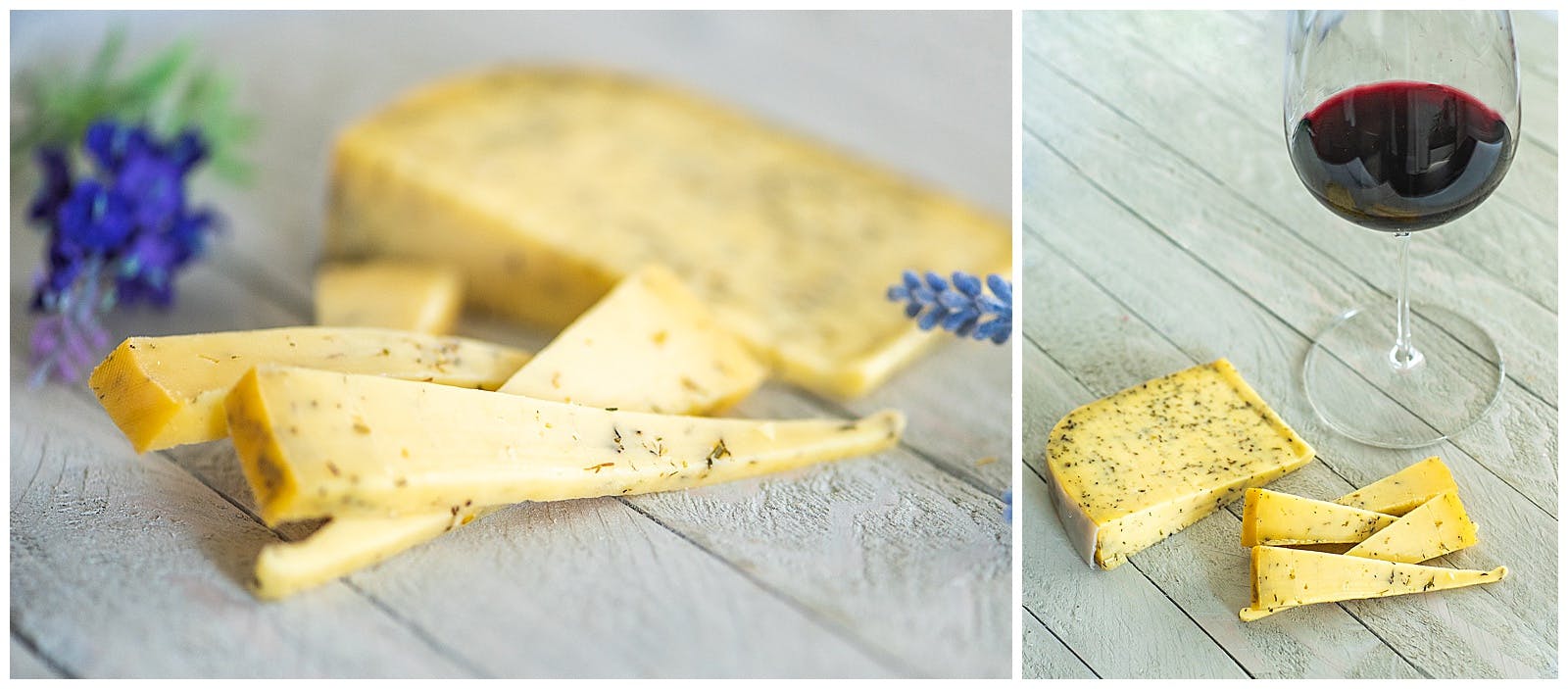 Youngsters Hickory Smoked + 2016 Penner Ash Estate Vineyard Pinot Noir
Aged 4-6 weeks for that perfect creamy texture, Youngsters Hickory Smoked Gouda is cold smoked over Hickory wood, which infuses that gorgeous toasty oakiness! As soon as I tasted the cheese, my brain shouted Pinot Noir. Willamette, specifically. The Penner Ash Estate Vineyard Pinot Noir gives this gouda a complementary pairing that is sure to impress your guests. The earth and smoke in the wine is a perfect match for those same flavors found in the cheese, while the cherry notes and bramble fruit finish give the pair a refreshing note that leads you right into the velvety tannins. Those tannins make you excited and ready to indulge—once again—into the delicious cheese.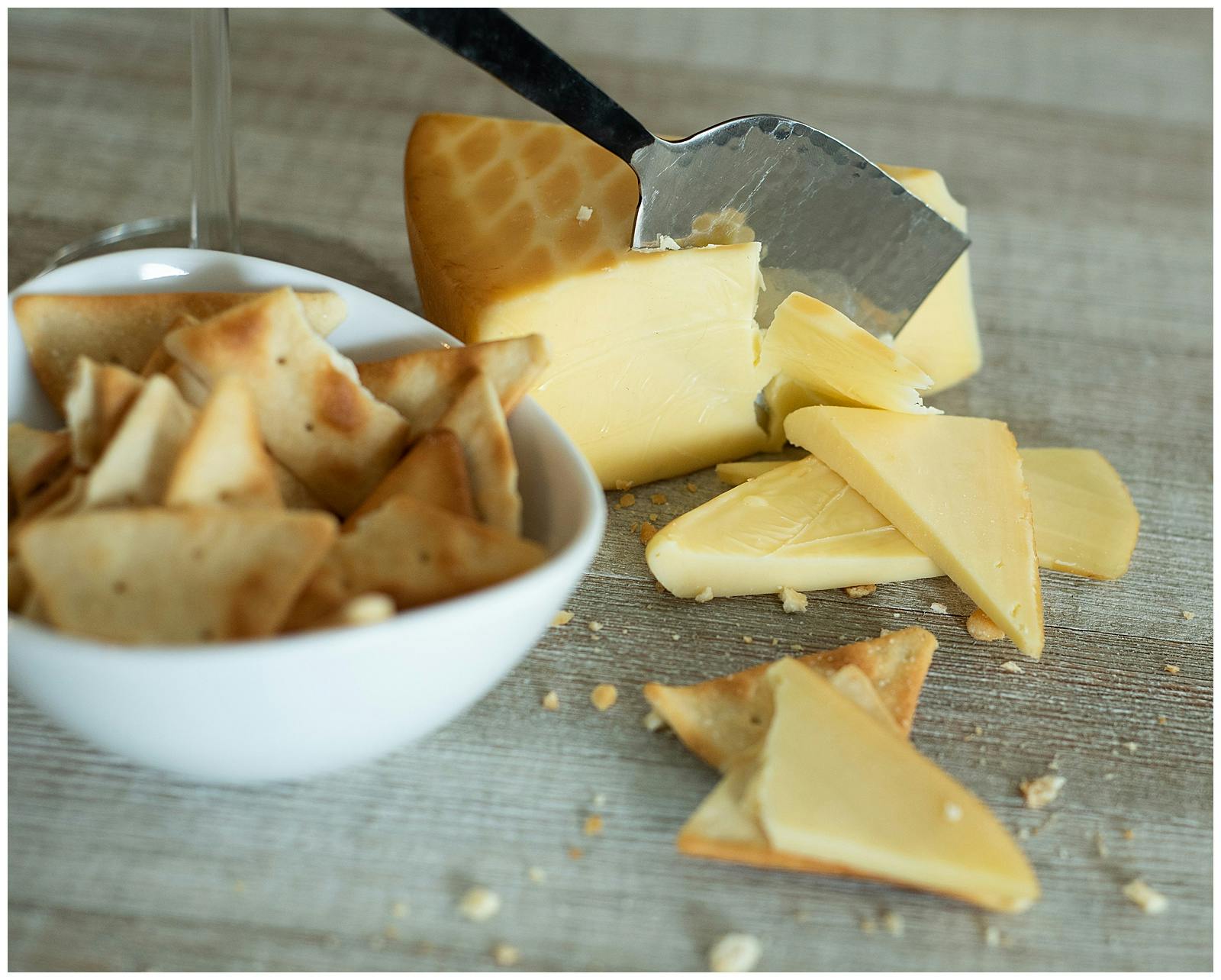 Hay There Raw Milk Gouda with Truffle + 2019 Bonterra Organic Vineyards Elysian Merlot
Italian Black Summer Truffles found by trained dogs?? I'm all in on this one. Upon my first bite I got those gorgeous notes of earthy wild mushrooms and umami for daaaays. I'll admit my first thought was potatoes, and sprinkling this cheese on some sort of potato. Fries, baked, mashed, roasted… doesn't matter. Personally, I will be sprinkling the Hay There Raw Milk Gouda with Truffle on french fries for the rest of my life. Once I brought myself back from this mental food vacation, I realized the wine I would want with these fries is definitely the Elysian Merlot. Hand-selected organic grapes make this wine well-crafted and a must-try. Rich, intense and a beautiful color, this wine has notes of cherry, plum, oak, and slight chocolate—an earthy pairing in the best possible way.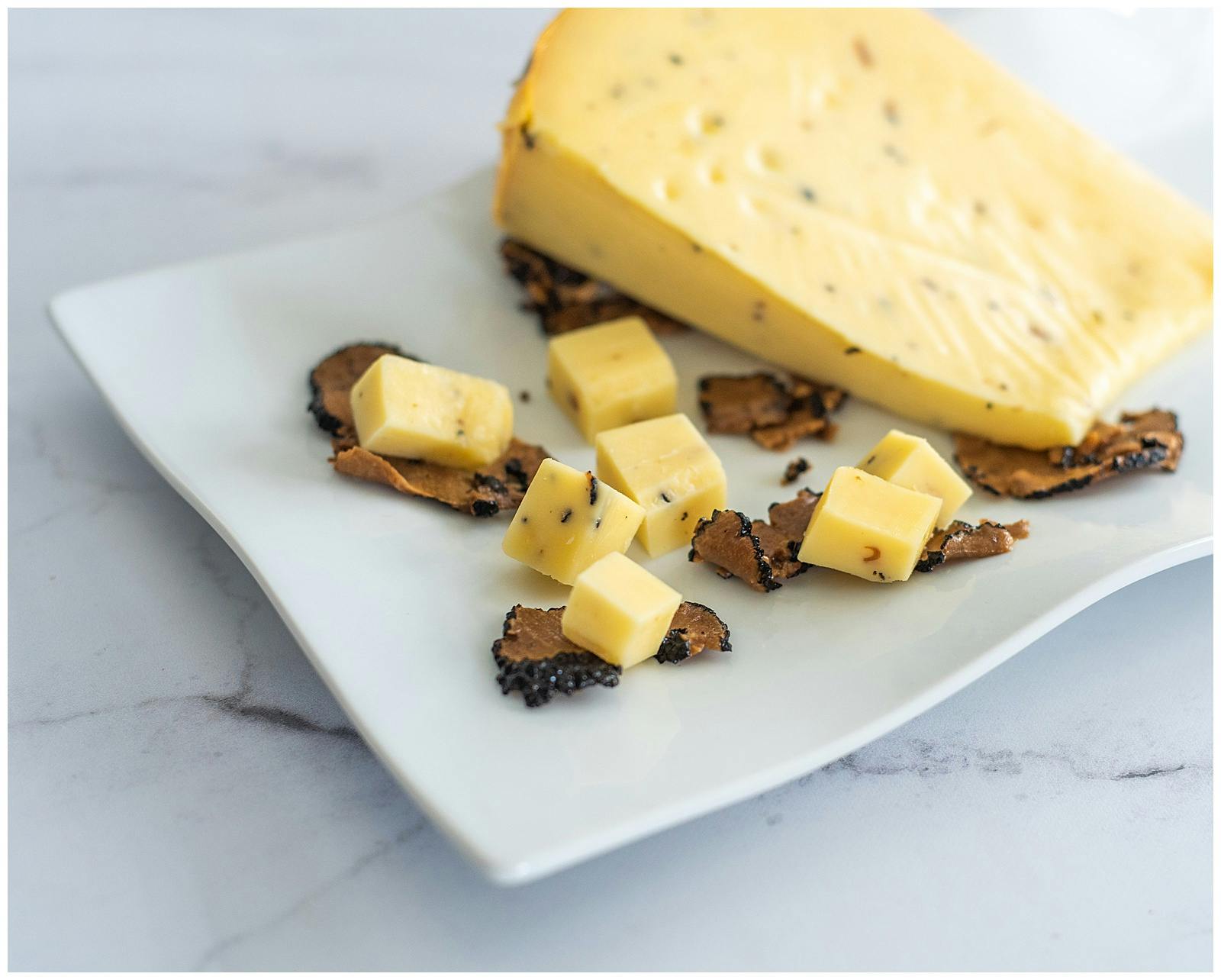 Youngsters Double Cream + Honig Cabernet Sauvignon
Youngsters Double Cream Gouda is extra buttery and smooth with an amazingly rich texture (think "cream cheese" creamy, but even more creamy!). I knew that this cheese needed a wine that would cut through the creaminess and leave your palate refreshed and ready for the next bite. Honig Cabernet was it. The tannins in this wine are almost chewy, which is totally my jam. The oak gives you mocha and vanilla, while the fruit is wild berries and plum for days. The mid- palate tannins lead you right into an impressive finish. My kind of Cab.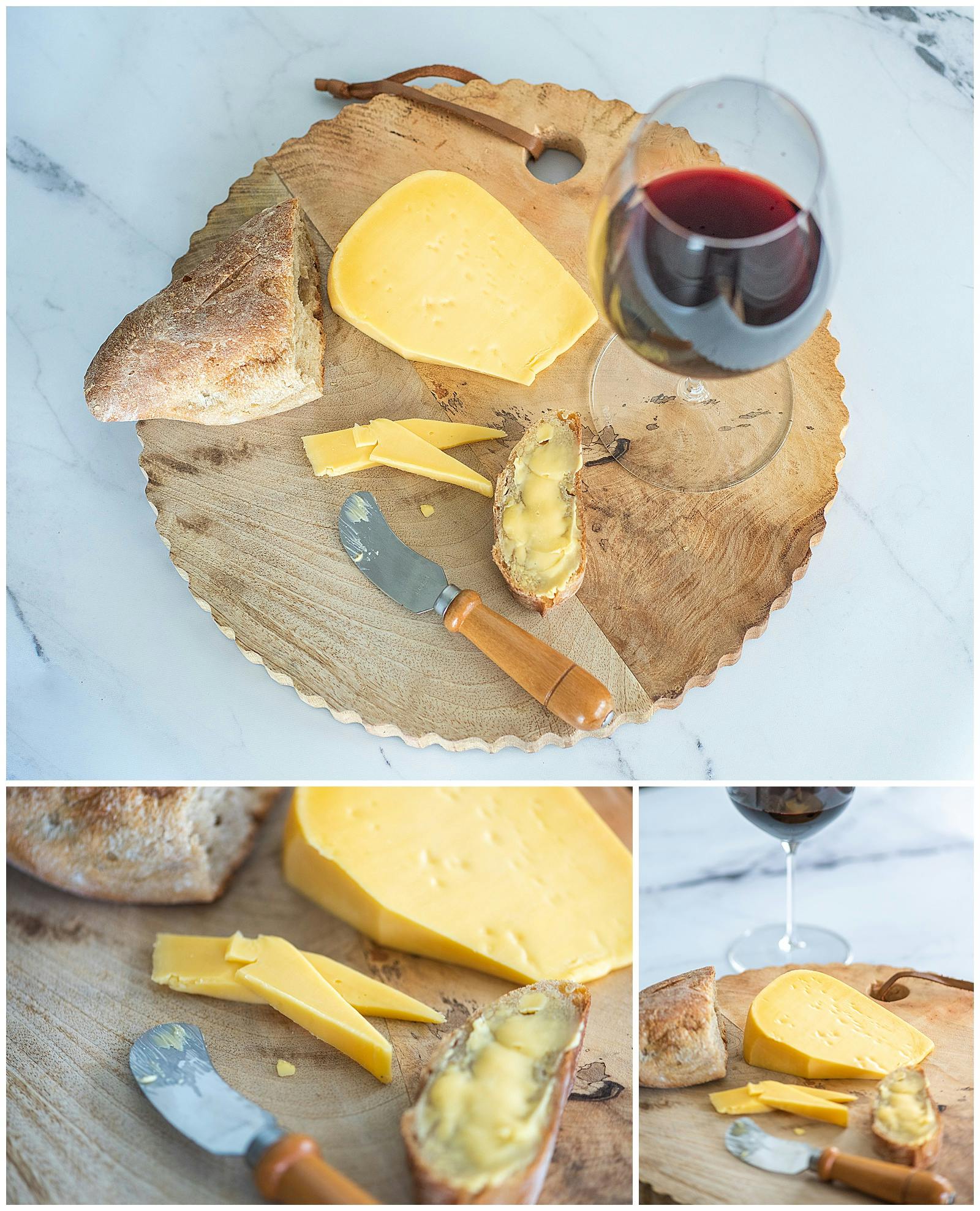 For more incredible recs from Sommelier Lisa and her 15+ years of wine adventures, check out TravelingUncorked!