Recipe and Photography by Krista Stechman @InKristasKitchen
I've partnered with Artikaas Gouda and let me tell you, I couldn't be happier! I was literally doing a happy dance in my kitchen as I tasted their cheeses. They are INCREDIBLY DELICIOUS! The Youngsters Goat Gouda, Vintage Lot-18 and Paréggio all have enormous flavor and such a smooth taste.
I've created this fun Cheesy Chocolate Strawberry Star Bread with Artikaas Youngsters Goat Gouda and it was a huge hit! The creaminess and tang of the Youngsters Goat Gouda pairs perfectly with the sweet strawberries and dark chocolate. It's also layered with hot honey for an extra sweet kick!
INGREDIENTS
For the Dough
3/4 cup whole milk, 110-115°F
3 tablespoons granulated sugar
1 package dry active yeast (equal to 2 1/4 teaspoons)
1/4 cup unsalted butter, room temp
1 egg, room temp
1 teaspoon vanilla extract
1 teaspoon kosher salt
2 1/4 cups all purpose flour
For the Strawberry Sauce
24 ounces strawberries, fresh or frozen and sliced (thawed if frozen)
1/2 cup strawberry jam
1 tablespoon granulated sugar
2 tablespoons corn starch
For the Filling
For the Topping
1 tablespoon powdered sugar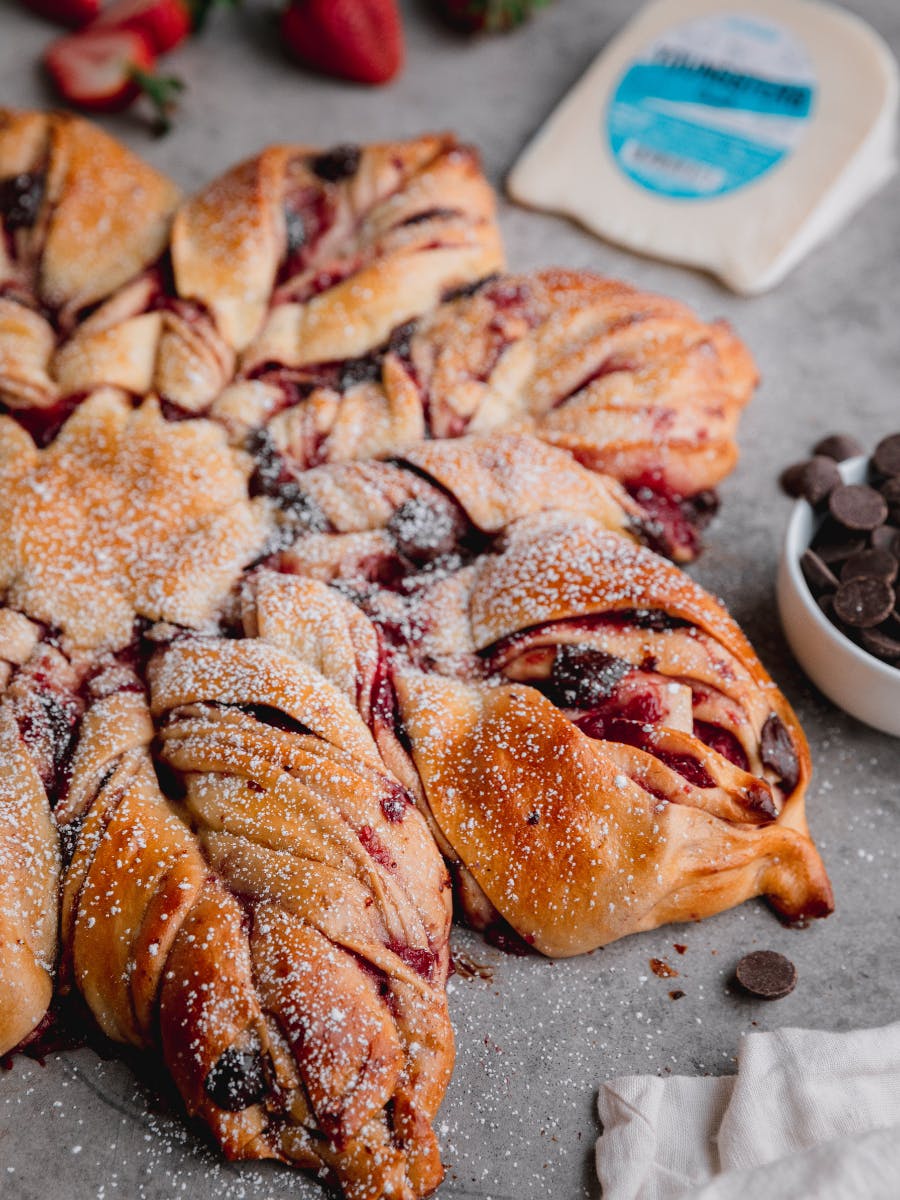 DIRECTIONS
Warm the milk to 110°F-115°F and add it to the bowl of a stand mixer
Whisk in the sugar until dissolved then sprinkle the yeast over the top
Cover the bowl with a kitchen cloth and let rest in a warm place for 10 minutes until yeast is frothy (I usually turn my oven on and set the bowl on top of the stove but not too close to the heat)
Add the butter, egg, vanilla, salt and flour to the frothy yeast mix and turn the mixer on low for 3 minutes with the dough hook attachment
The dough should be very soft but not too sticky. If it's too sticky add a tablespoon of flour
Form the dough into a ball and place it in a lightly greased bowl. Cover the bowl with a kitchen cloth and let rise for 1 hour (I turn the oven on to 150°F then shut it off and place the bowl in the oven with the oven door shut)
After 1 hour remove the dough and place it on a lightly floured surface. Punch the dough down to release the air then cut the dough into 4 equal parts
Preheat the oven to 350°F and line a baking sheet with parchment paper
Roll 1 piece of the dough into a 10–12-inch circle (doesn't have to be perfect you'll trim it at the end)
Place the first layer of dough onto a parchment paper lined baking sheet. Spread 1/3 of the strawberry sauce over the dough all the way out to the edges. Then top with 1/3 of the Artikaas Youngsters Goat, chocolate and hot honey. Roll the second layer of dough and place on top of the first then repeat the process until all 4 layers are stacked. You will not put a layer of filling on top of the final piece of dough
Using a pizza cutter trim around the edges to make your circle even
Using a 3 inch circle, place it in the middle of the dough and press down firmly but not all the way through the dough
Cut the dough directly down the middle but DO NOT go through the center circle. Then cut down the middle of the dough going in the opposite direction. You should have 4 equal sections now
Cut each of those 4 sections in half so you have 8 equal sections. Cut each of the 8 sections in half so you have 16 even strips
Grab the bottom of 2 pieces of dough next to each other and twist outward 3 times. Press the ends together to make a point. Repeat with the rest of the strips
Cover the dough with a kitchen sheet and let rise for 20 minutes in a warm spot
For the Strawberry Sauce
In a small sauce pot whisk together the strawberries, strawberry jam, sugar and cornstarch then bring it to a boil
Immediately turn it down to a simmer and let it simmer for 10-12 minutes, stirring occasionally to keep the sauce from burning
Remove the sauce from the heat and pour into a heat proof container. Allow to cool before filling the dough
For baking the Snowflake Bread
1. Egg wash the top of the raw dough then bake it for 25 minutes. Let cool slightly then dust with powdered sugar
2. Serve warm or room temp, enjoy