What's your astrology sign? It's not just a pick-up line: it can also shed light on your palate preferences!
If you need inspiration for your next charcuterie, look to the zodiac for guidance. Whether you're a sentimental water sign, a creative air sign, a level-headed earth sign, or a show-stopping fire sign, there's an Artikaas Gouda that matches your planetary flair.
Grab a drink and other celestially curated food pairings, and your charcuterie board will be out-of-this-world gouda!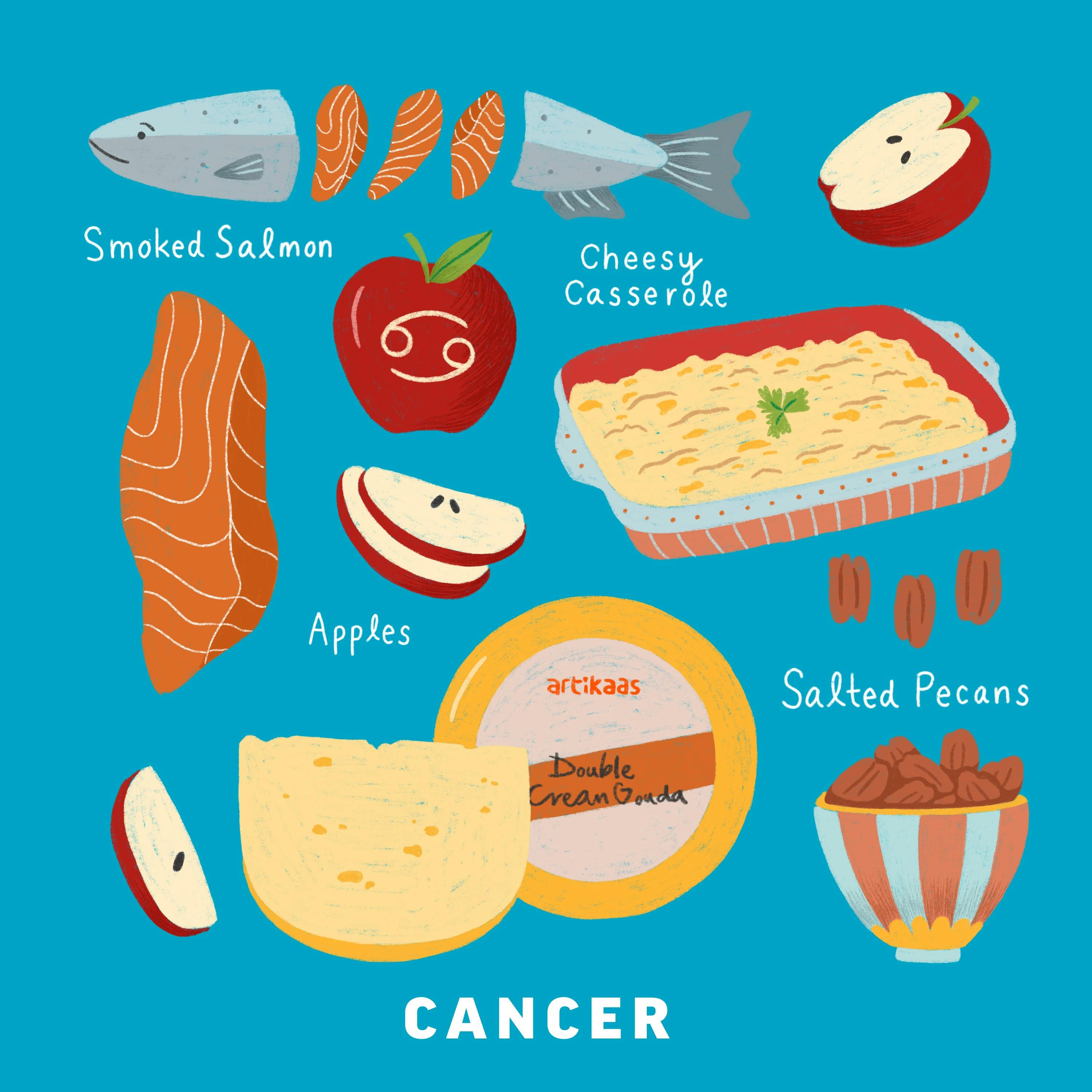 ♋︎ CANCER (June 21 – July 22)
Ruled by the moon, Cancers always know what's going to be both comforting and satisfying. Nurturers who believe sharing is caring, they love to make home-y dishes with their grandmother's recipe books—the buttery soft Double Cream Gouda will be well-suited to their kitchens!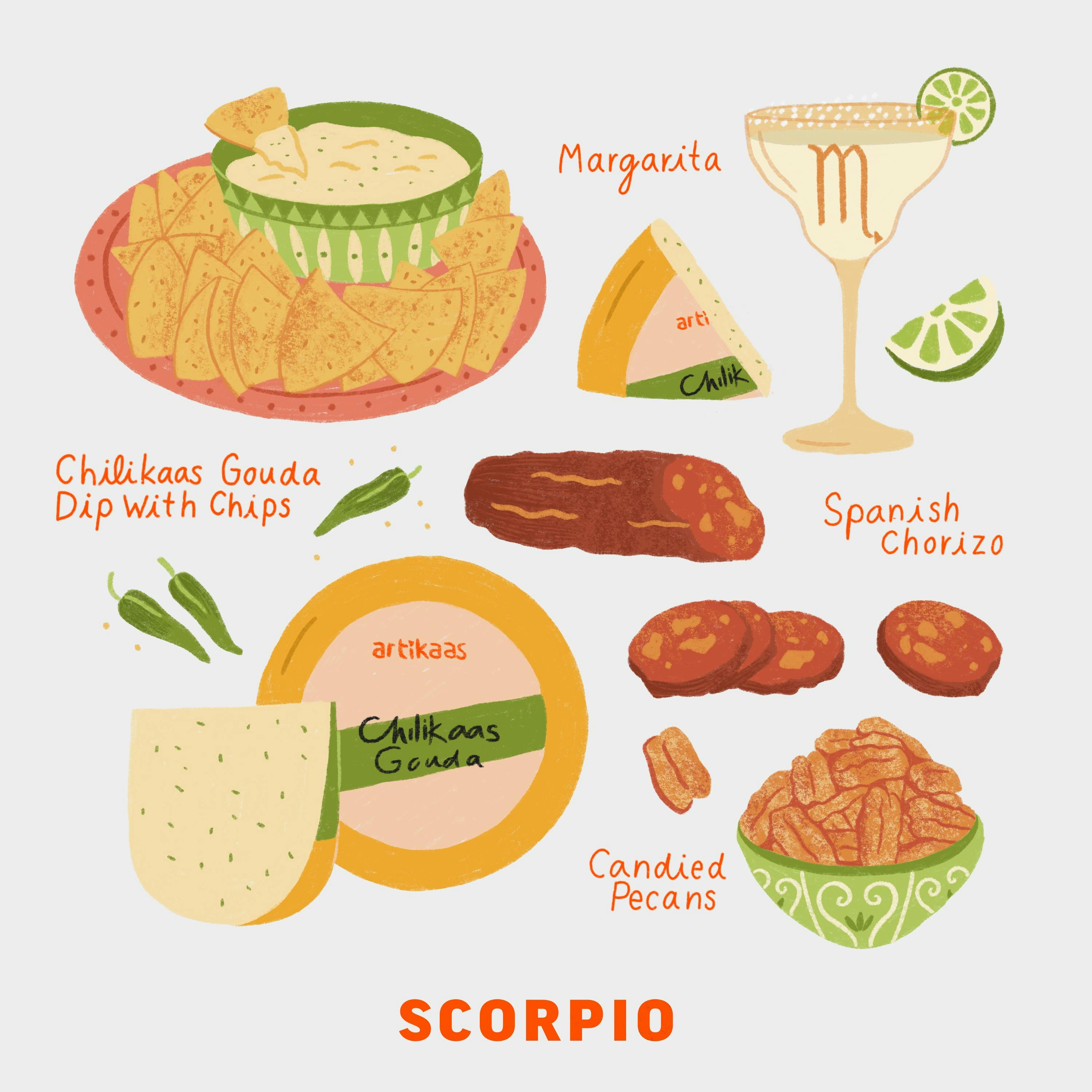 ♏︎ SCORPIO (October 23 to November 21)
Always in for a surprising twist or a burst of spice, Scorpios would enjoy the heat from the Chilikaas Gouda. Exceptionally buttery, rich and sweet, this gouda is the perfect backdrop for fiery, flame-roasted Hatch chiles. Passionate Scorpions would do well to pair it with other bold, eye-catching flavors.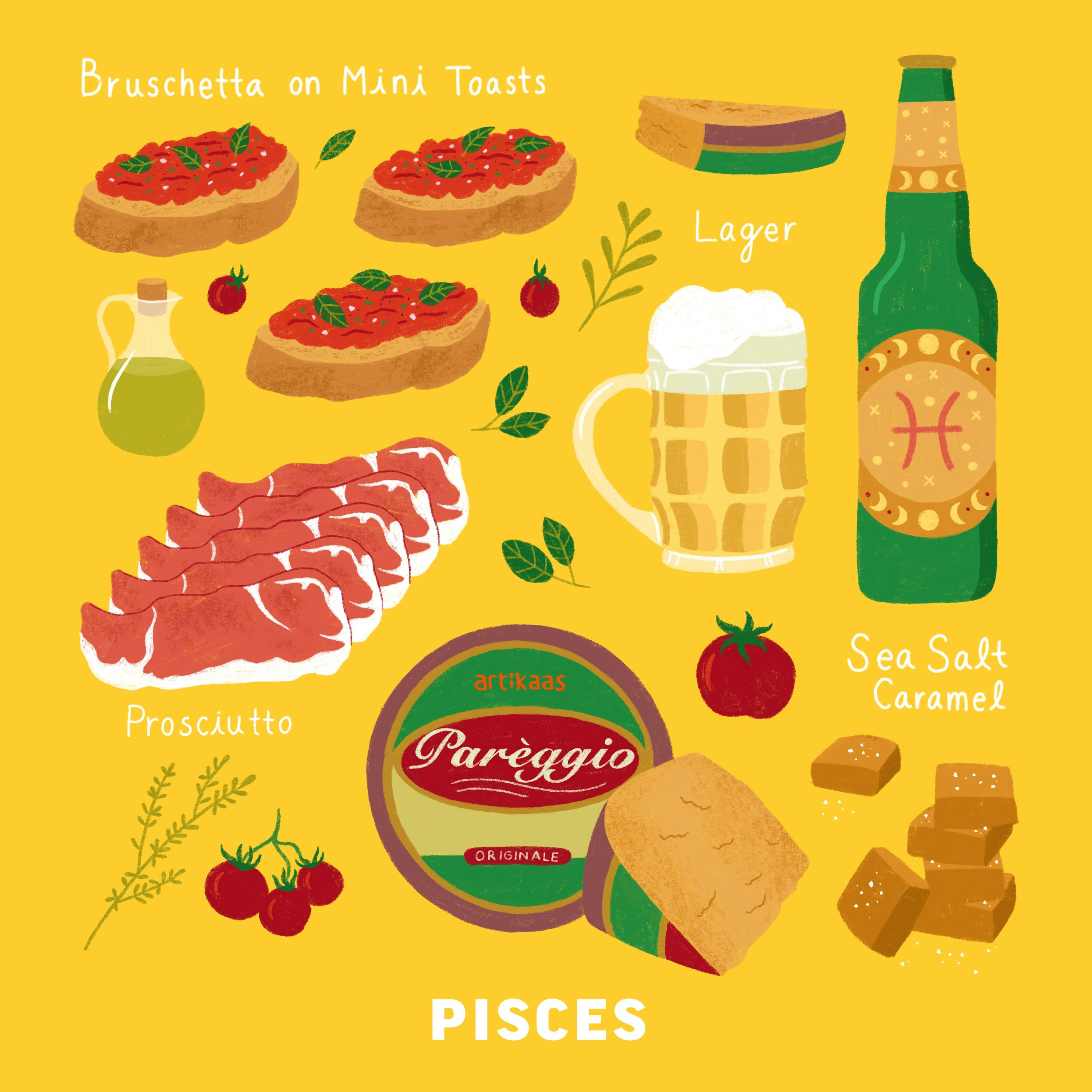 ♓︎ PISCES (February 19 to March 20)
Pisces love to turn to food for comfort, and nothing says comfort like a Pareggio–a unique cheese that's a blend of a nutty Parmigiano-Reggiano and a creamy Gouda. The dreamy fish would savor a charcuterie that has equal touches of familiarity and romance.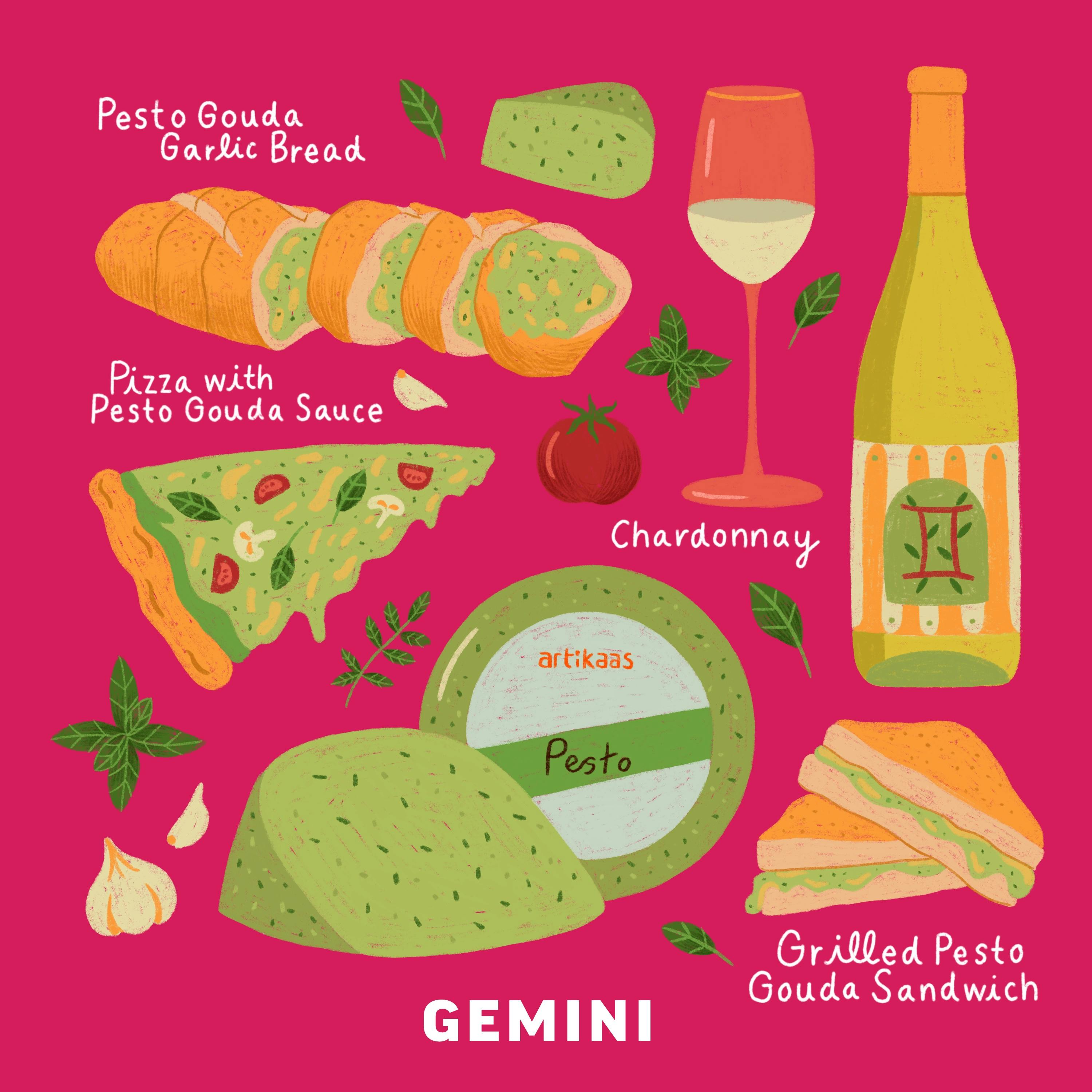 ♊︎ GEMINI (May 21 to June 20)
Intelligent Geminis love to spend time in the kitchen where their creativity can blossom through courageous experimentation. A vibrant green Pesto Gouda is the ultimate cheese for them to explore new flavor pairings and dishes, like a Grilled Cheese Pesto Sandwich.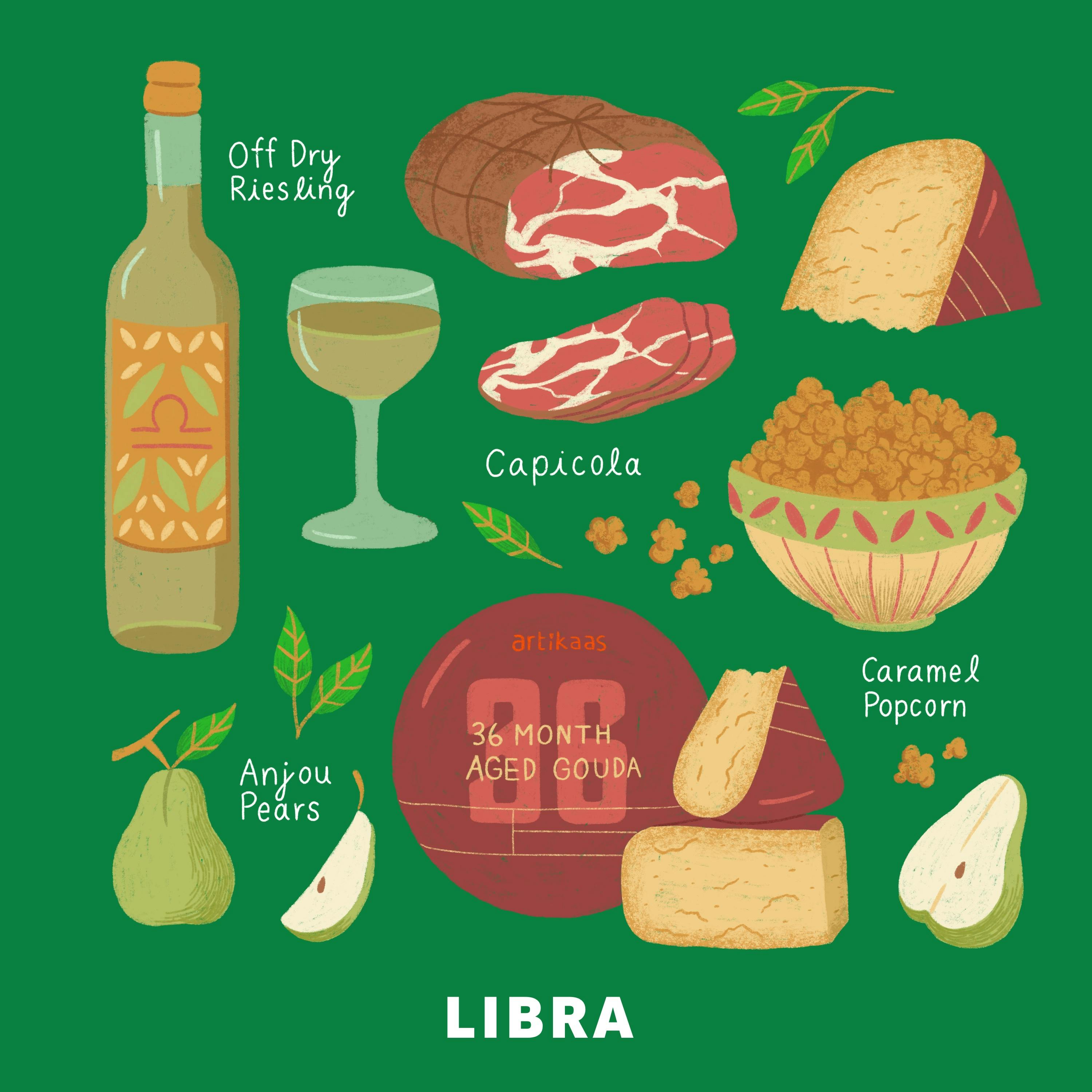 ♎︎ LIBRA (September 23 and October 22)
Libras place a lot of value on quality, gourmet goods and also have quite the sweet tooth. This makes the Vintage Lot 36 a perfect fit for these foodies. 3 years of aging helps bestow this gouda with rich flavors of butterscotch, whiskey, and pecan. Studded with crunchy, mouthwatering salt crystals, it shines with other candied treats and fruits.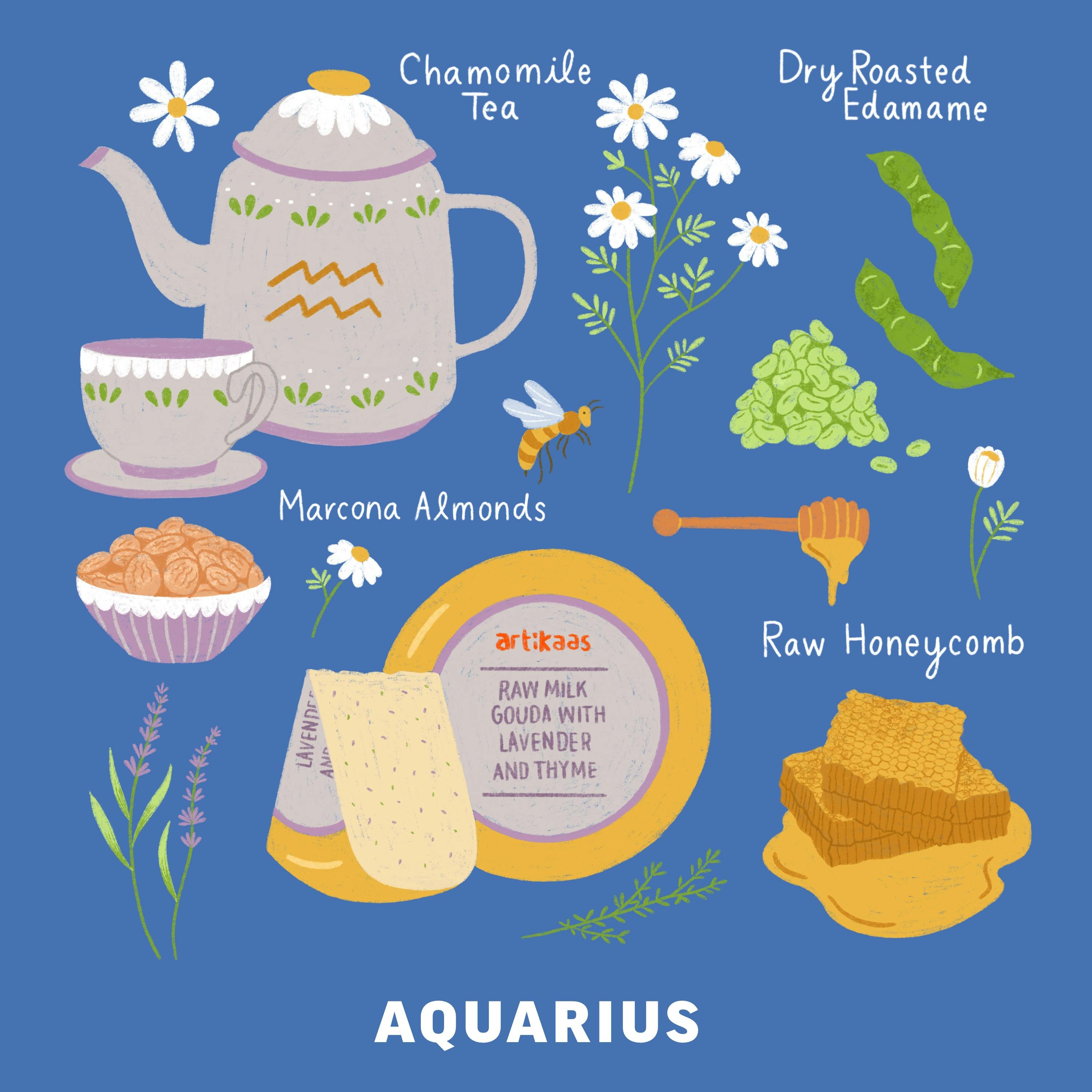 ♒︎ AQUARIUS (January 20 - February 18)
Aquarius love to switch things up and add their own unique twist to whatever they happen to be dreaming up—if you find them in the kitchen, they won't be the ones blindly following a recipe! The Lavender & Thyme Gouda would add that extra je ne sais quoi they're looking for.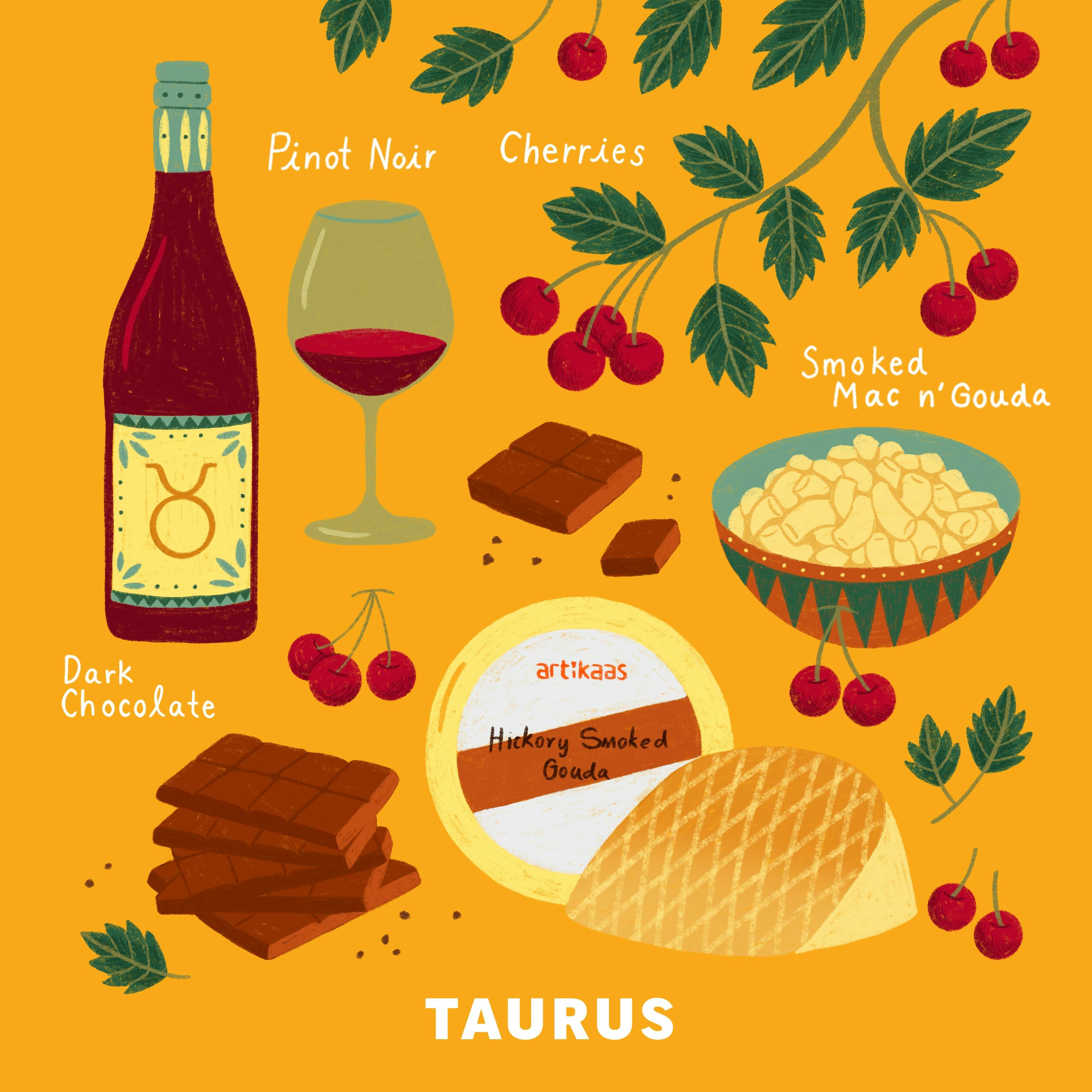 ♉︎ TAURUS (April 20 - May 20)
Perhaps the ultimate foodie of the Zodiac, Taurus loves taking their time to savor every bite and love comforting indulgences. The Hickory Smoked Gouda features exceptional cheese cold smoked over Hickory wood to infuse a velvety, toasty smokiness—perfect for the Taurus palate.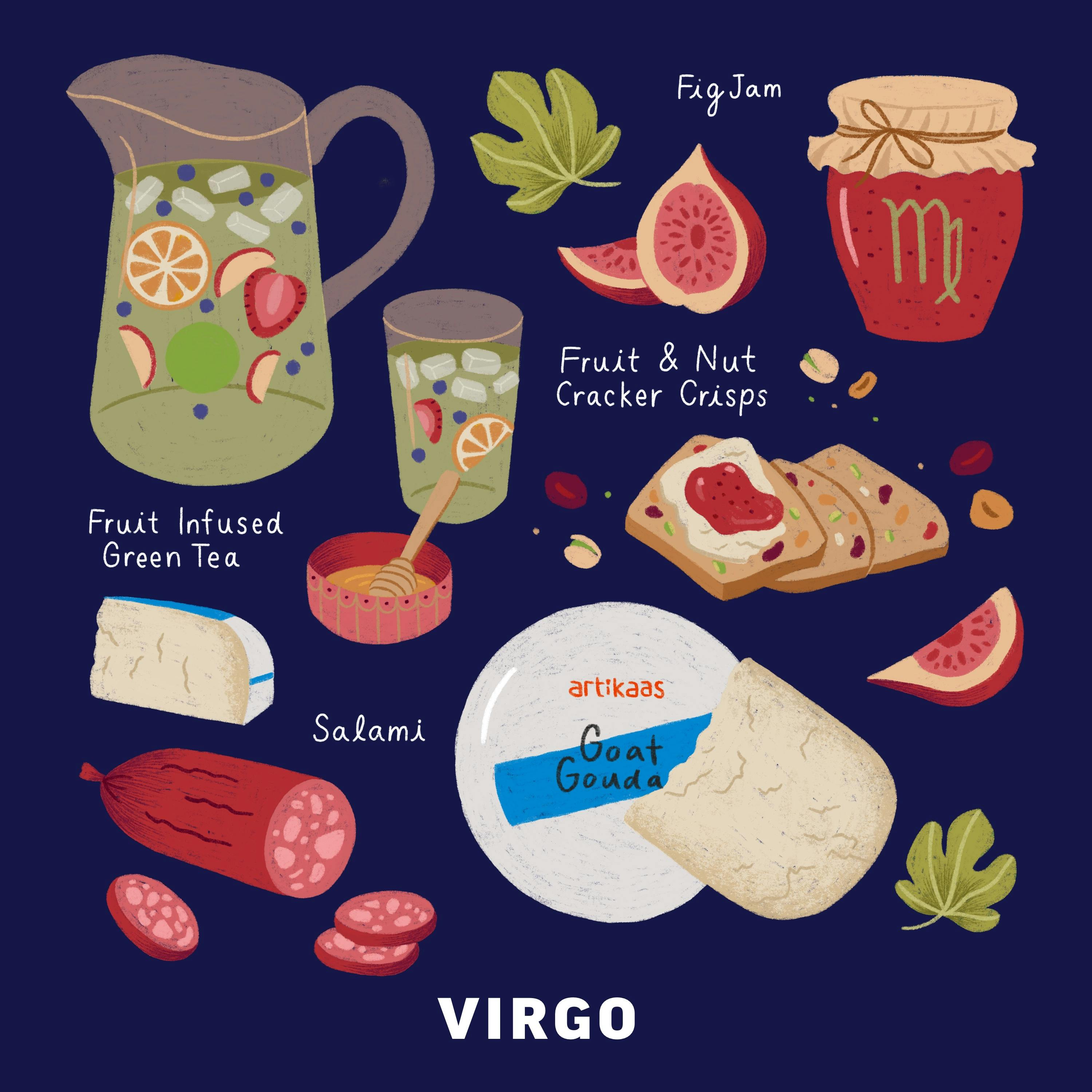 ♍︎ VIRGO (August 23 - September 22)
With a no-frills, meticulous palate and admiration for technical prowess, the Virgo would be well-matched with the Goat Gouda, which won the 2021 Sofi Awards Gold 🏆. This cheese was blindly evaluated amongst hundreds of entries by judges on flavor, texture, appearance, aroma, and ingredient quality. The Virgo would be pleased with its craftsmanship and would enjoy it with other artisanal goodies.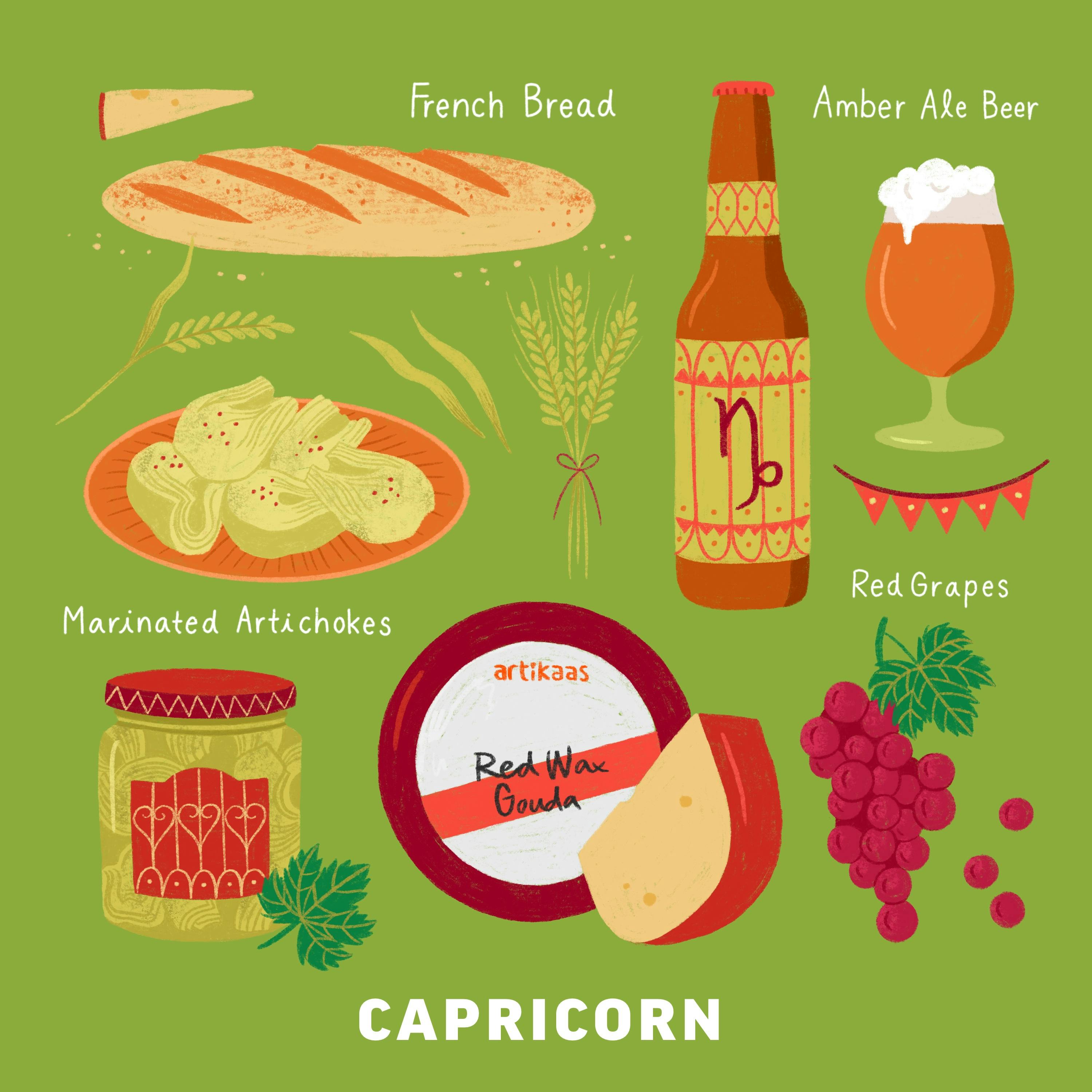 ♑︎ CAPRICORN (December 22 - January 19)
Capricorns value quality over quantity and like to indulge with more traditional foods—the Red Wax Gouda couldn't be a better fit. This savory, satisfying Gouda is a classic, and the Sea Goat would appreciate it with other charcuterie staples like a warm baguette and fresh grapes off the vine.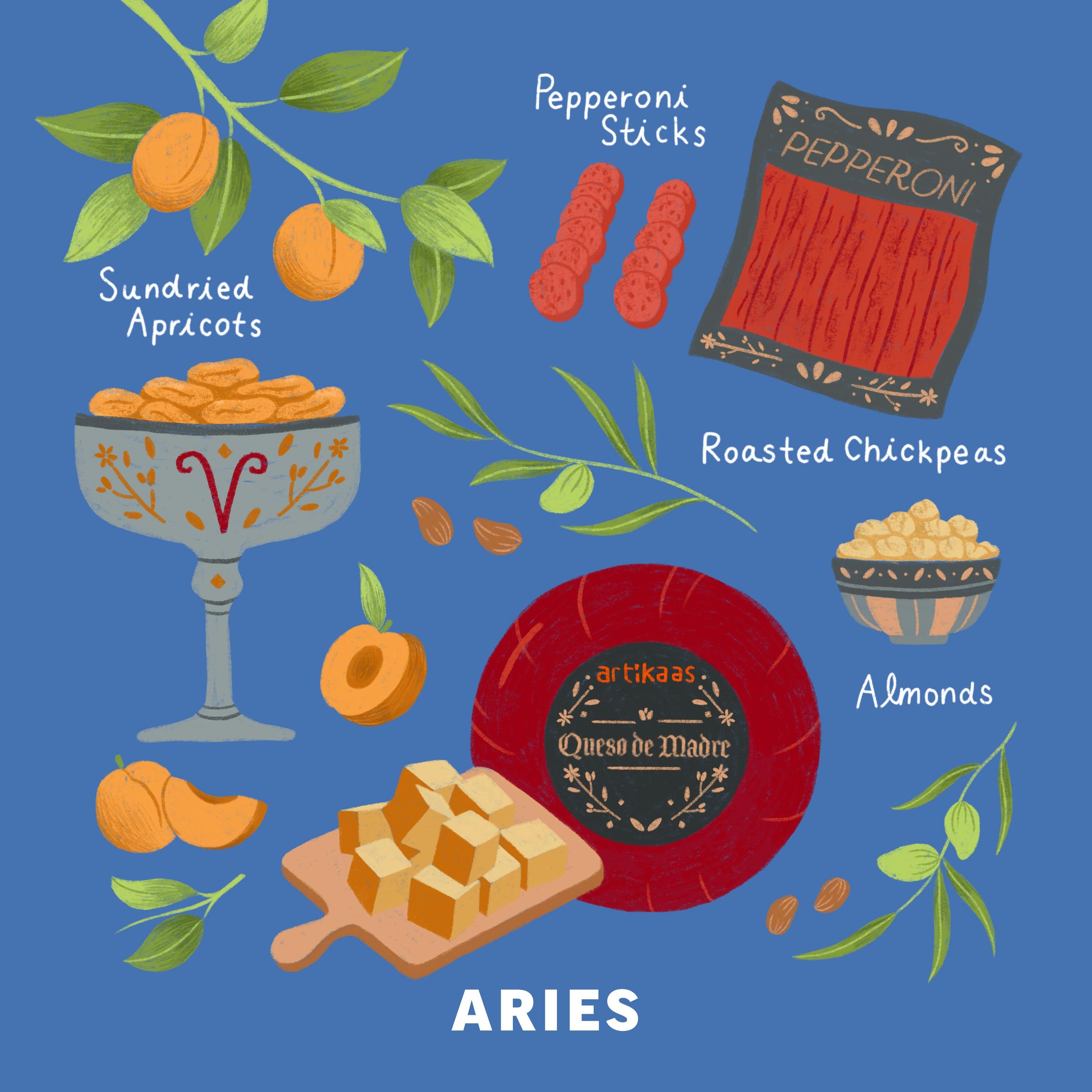 ♈︎ ARIES (March 21 - April 19)
This Queso De Madre is a splendid cheese for the active Aries who is always on the go, as it's delicious anytime, anywhere. The spontaneous Ram will also need a variety of packable snacks to munch along with this gouda!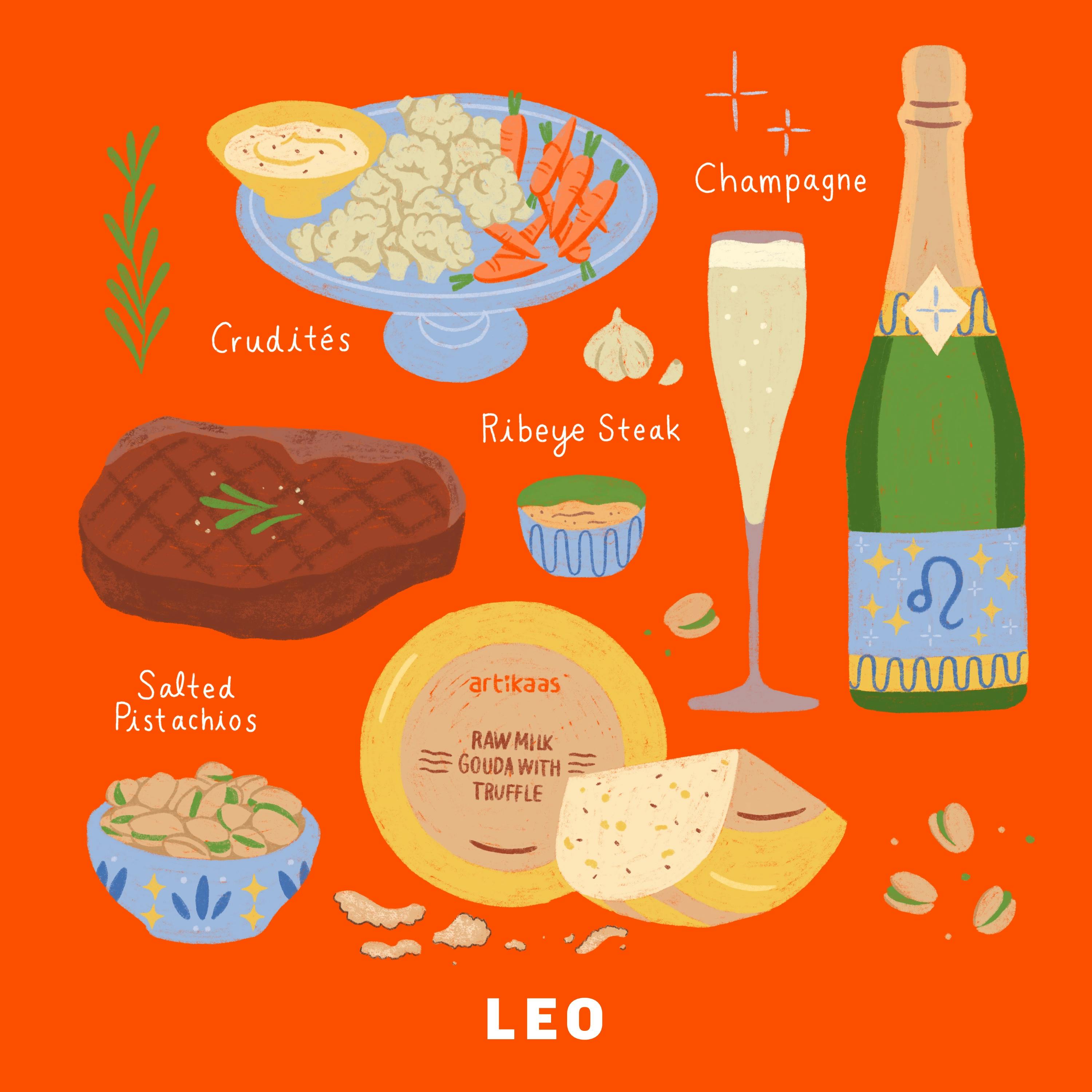 ♌︎ LEO (July 23 - August 22)
With a love for luxury and all things gourmet, the stately Leo would be pleased with a decadent Truffle Gouda. Of course, it should be paired with other delicacies like 🥂 to round out the meal for these joyous bon vivants.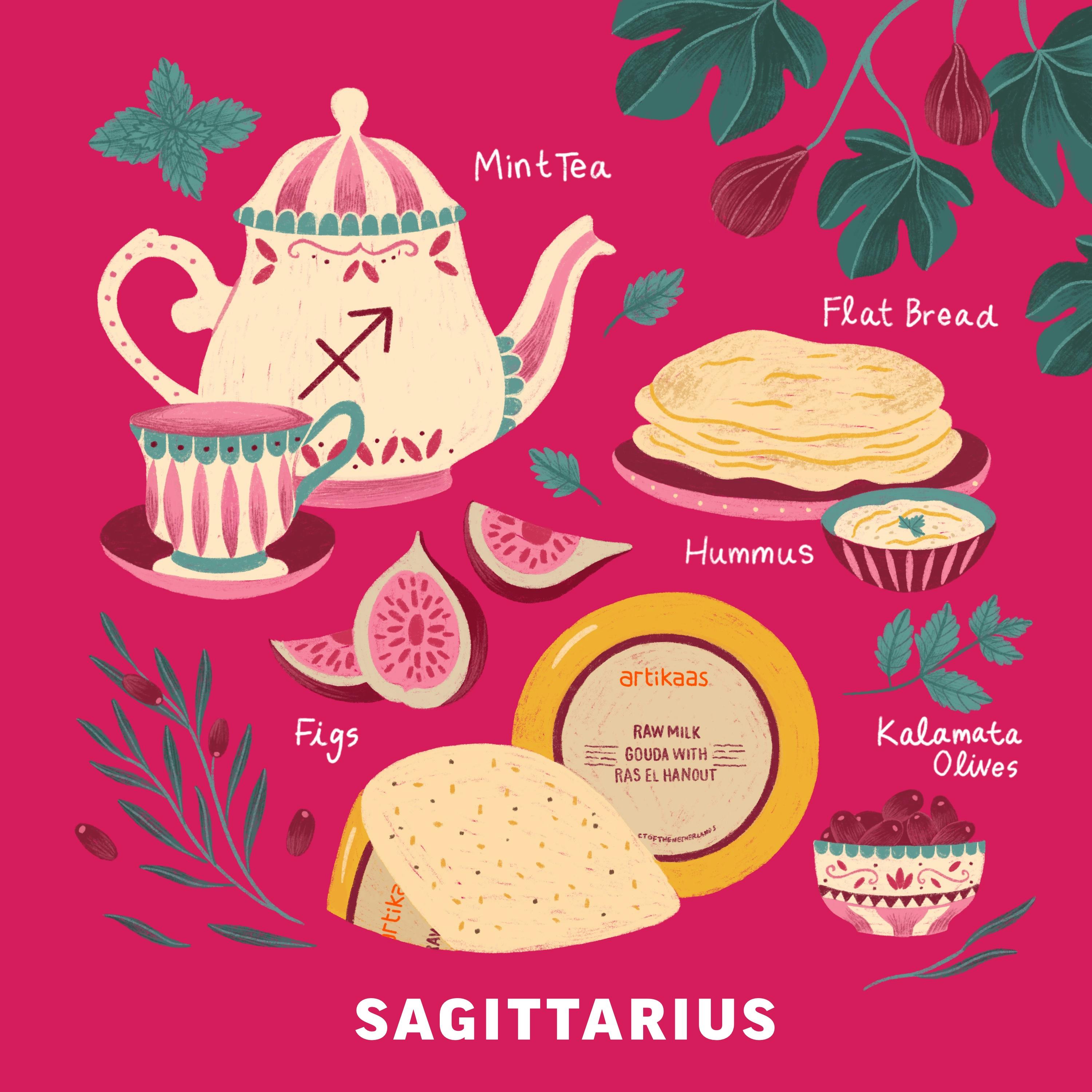 ♐︎ SAGITTARIUS (November 22 - December 21)
For these adventurous travelers who don't like to be bored and prefer foreign, exotic flavors, the Ras El Hanout Gouda will transport the taste buds to North Africa with its unique mix of spices. Risk-taking Sagitarrius love to fully immerse themselves in whichever culture they're exploring, so they should go ALL IN with other treats from the region.
Craving MORE cheese in your life? Give us a follow on Instagram at @ArtikaasGouda! We're always sharing must-know gouda recipes (like this Gouda Mac n' Cheese with Truffles dish!) and charcuterie styling tips!