French onion soup and pizza are two classics that are great on their own—but together, they are unstoppable! This delicious and comforting recipe boasts the umami notes of rich, caramelized onions complimented by a splash of sweet sherry wine and the nutty, buttery flavors of our Youngsters Baby Swiss.
It's the perfect meal for your next cozy night in. And for a truly out-of-this-world tasting experience, pair it with a glass of Pinot Grigio!
Yields 1 12-inch pizza
Cooking time: 1 hour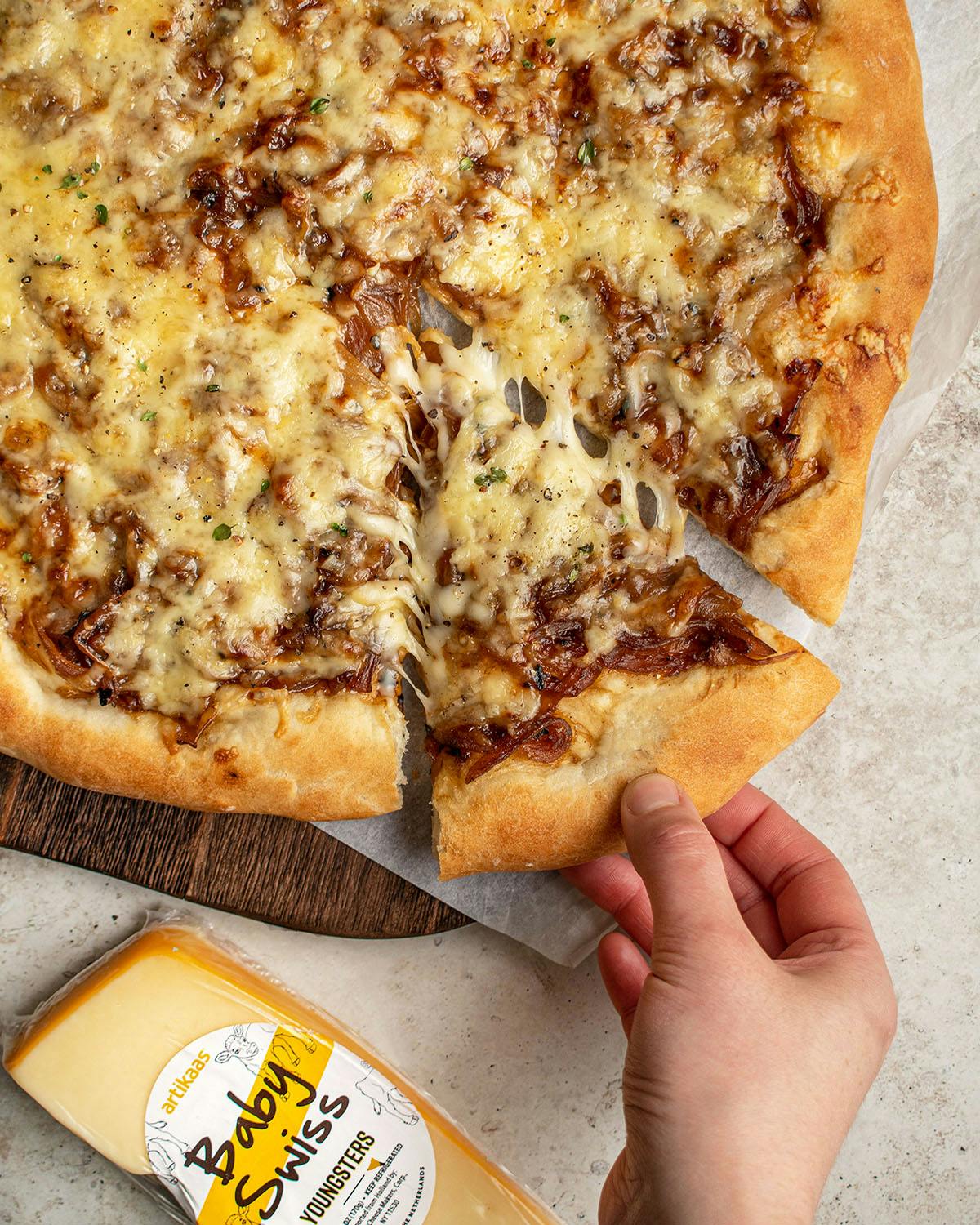 INGREDIENTS
2 tablespoons butter
2 medium onions, thinly sliced
½ teaspoon salt
3 tablespoons sherry wine
½ cup beef stock
1 lb pizza dough
4 ounces shredded Artikaas Youngsters Baby Swiss
2 ounces shredded gruyere cheese
1 teaspoon fresh thyme
freshly cracked black pepper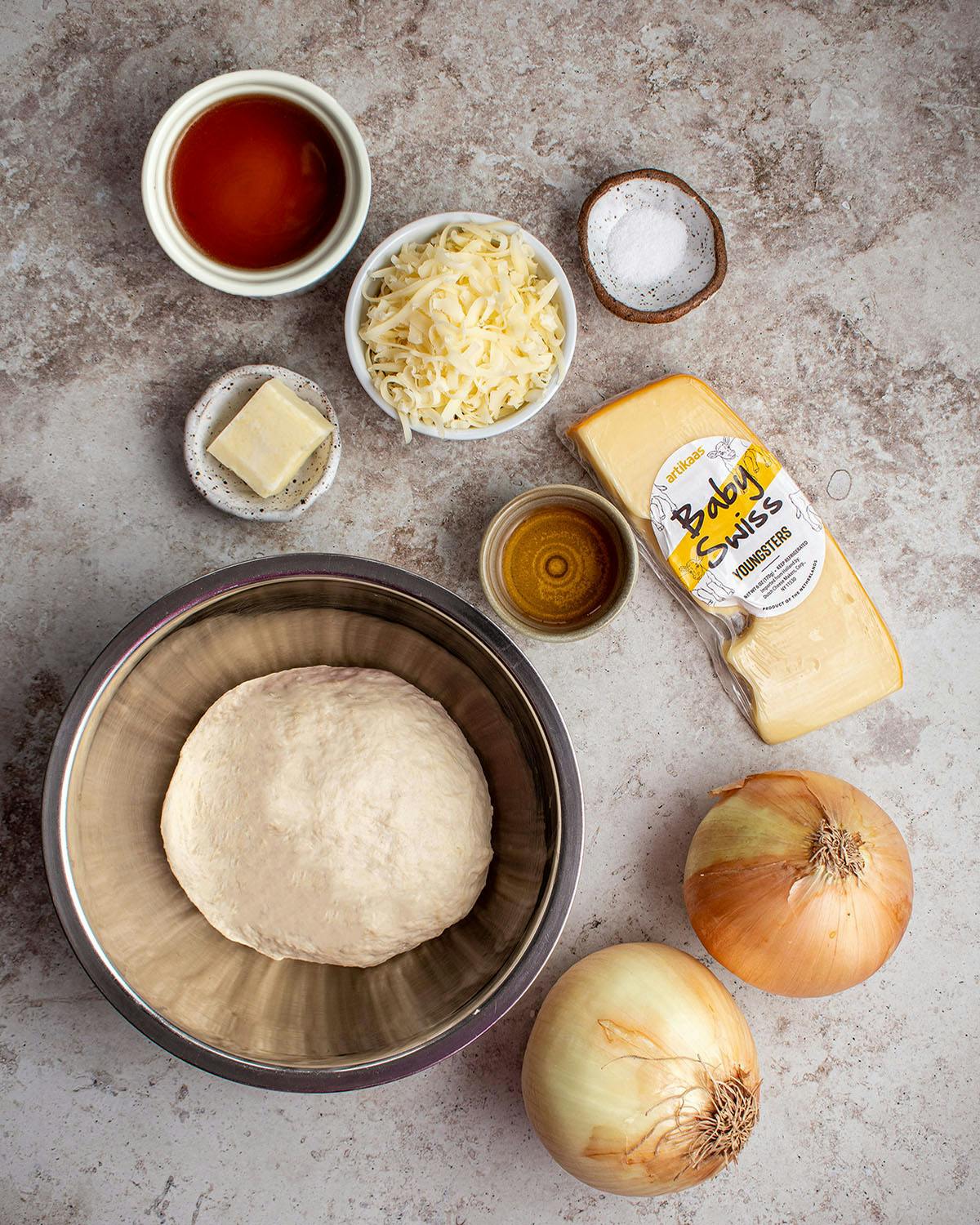 HOW TO MAKE
Preheat oven to 550°F.
Melt butter in a large saute pan over medium heat. Add onions and season with salt. Saute for 8-10 minutes, or until onions have softened. Reduce heat to low and continue to cook until onions are deeply caramelized, about 40-45 minutes.
Add sherry wine and beef stock and increase heat to medium-high. Bring to a simmer and continue to cook until almost all of the liquid has evaporated. Remove from heat and let cool.
Roll out pizza dough into a 12-inch circle. Top with onions, spooning any liquid on top.
Sprinkle grated Swiss cheese and gruyere evenly on top. Bake pizza for 8-10 minutes or until the cheese is melted and the crust is lightly charred. Remove from heat and sprinkle thyme and freshly cracked black pepper on top. Serve immediately.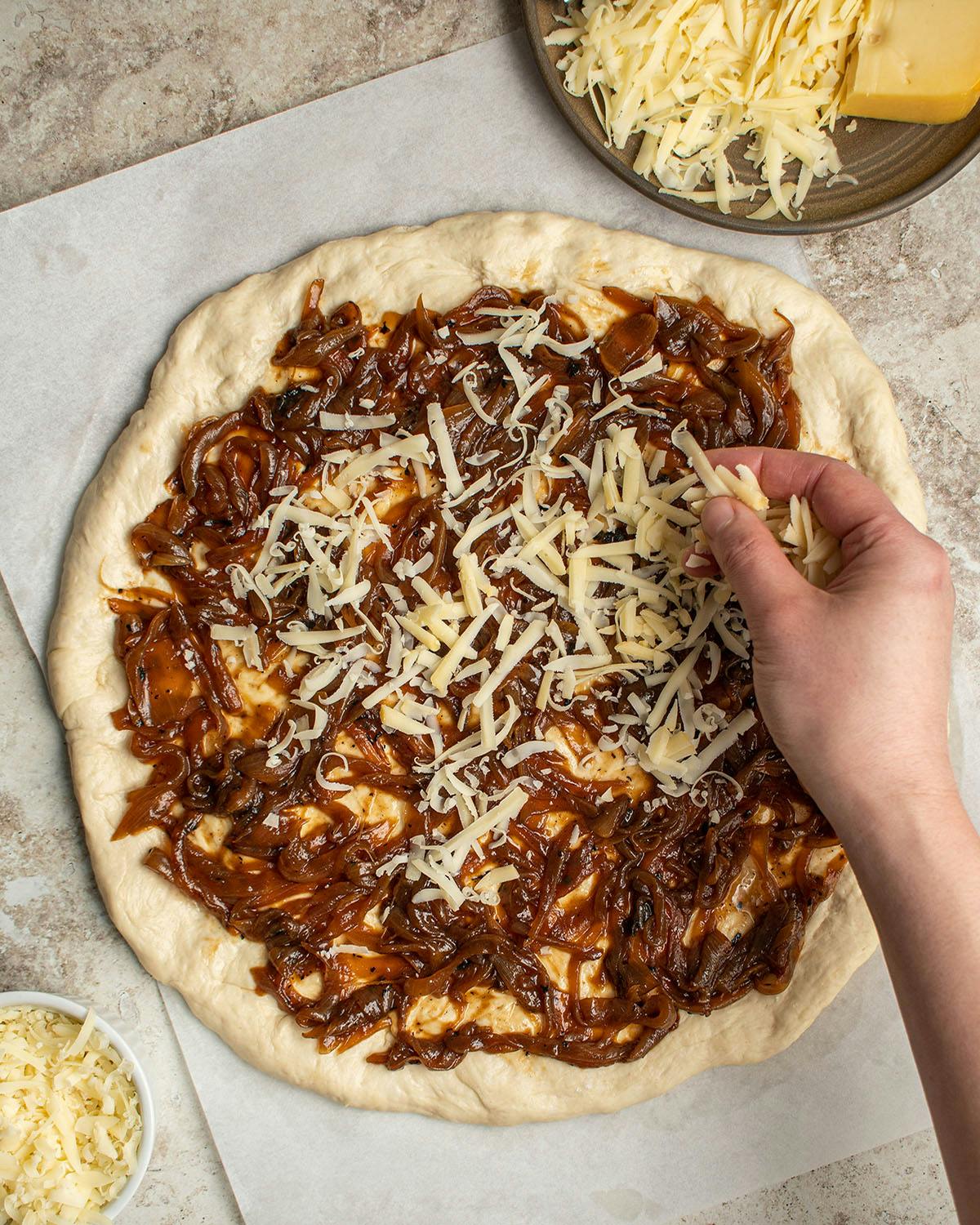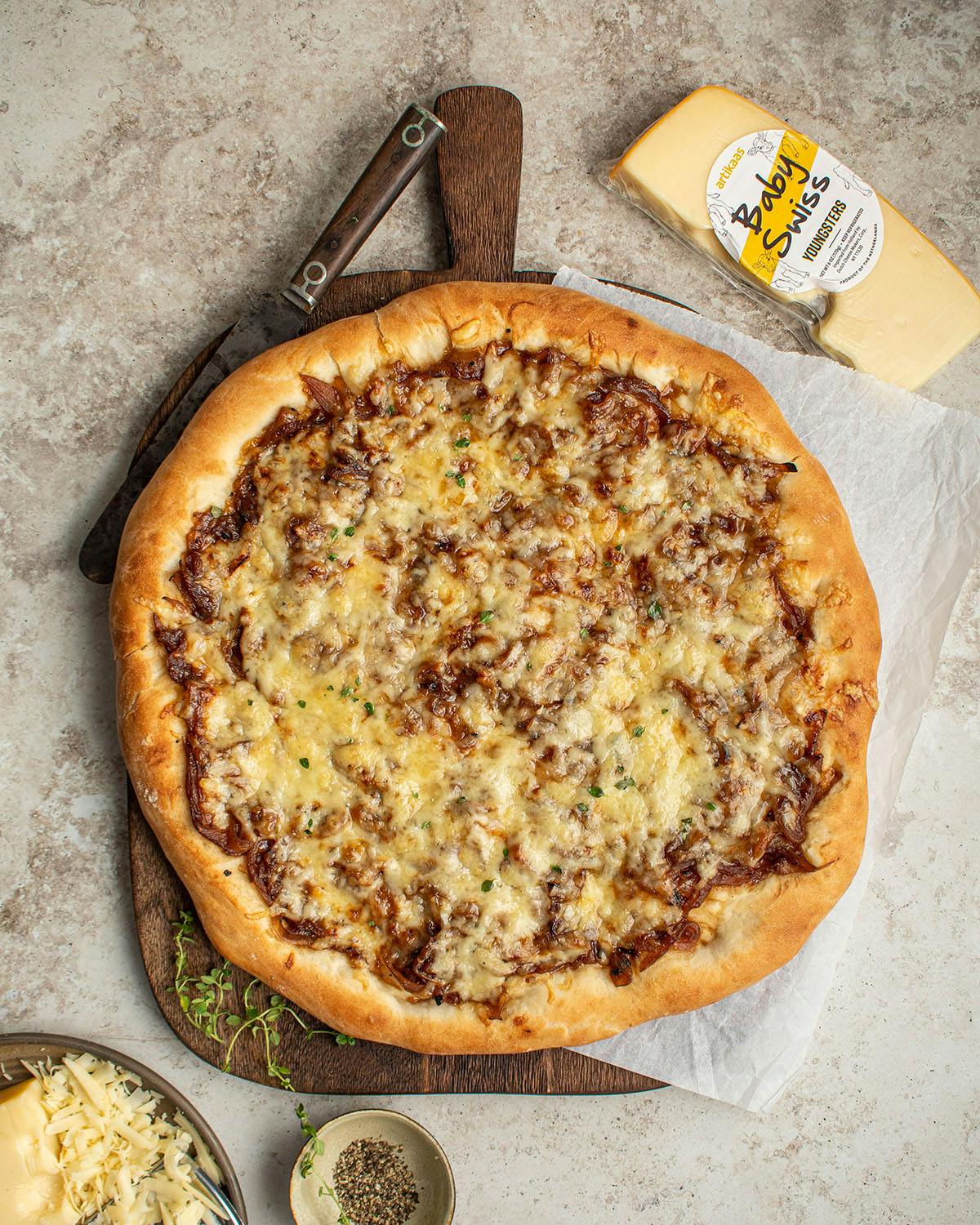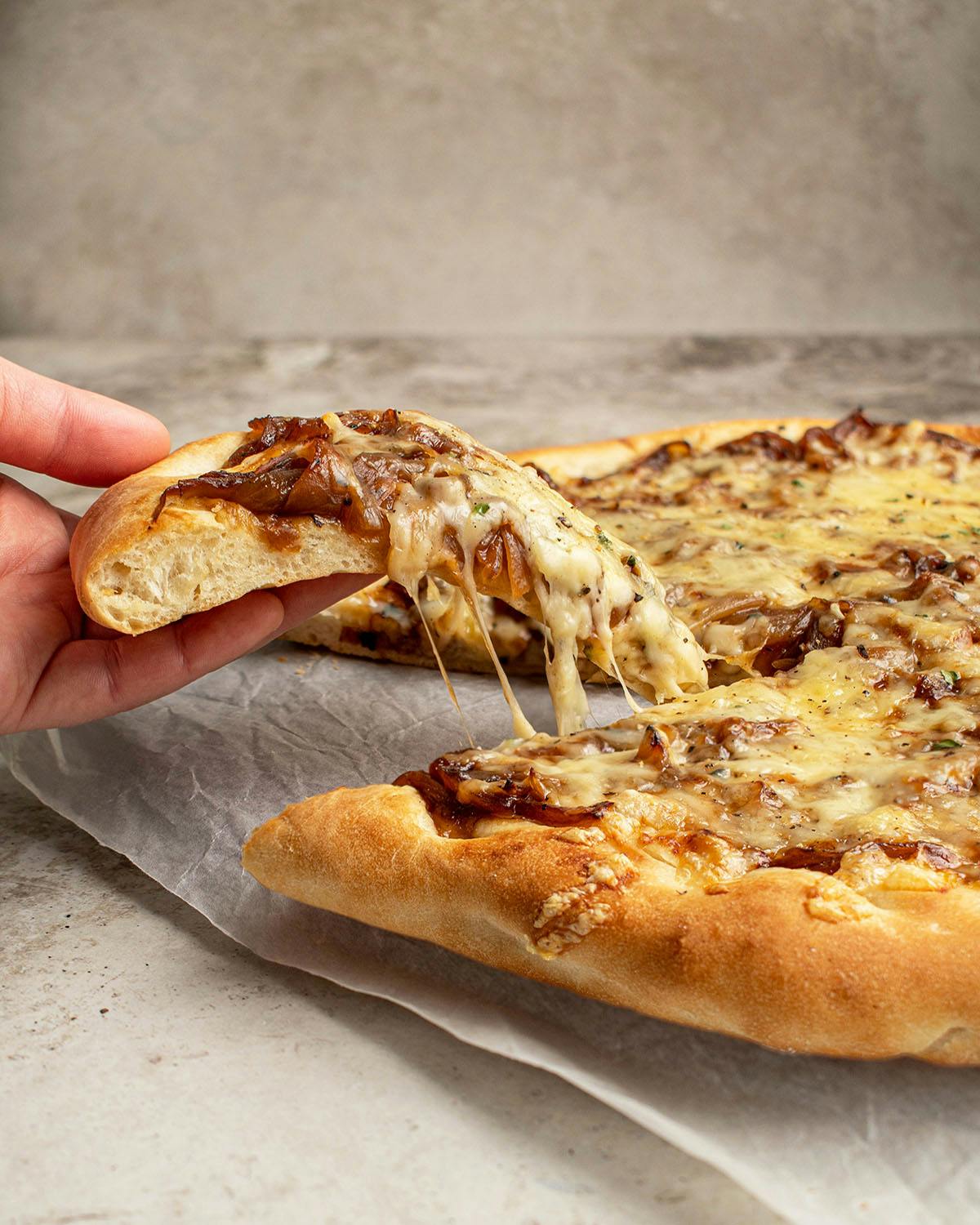 Recipe by Christine Ma