These crispy cheese smoked Gouda tacos combine the best of both worlds: a crispy, crunchy cheese exterior with a gooey and melty cheesy inside. Made with Artikaas Youngsters Hickory Smoked Gouda and stuffed with adobo-style chicken, these tacos are smoky and vibrant, with just a little kick of heat.
Find Youngsters Hickory Smoked Gouda at your local Whole Foods!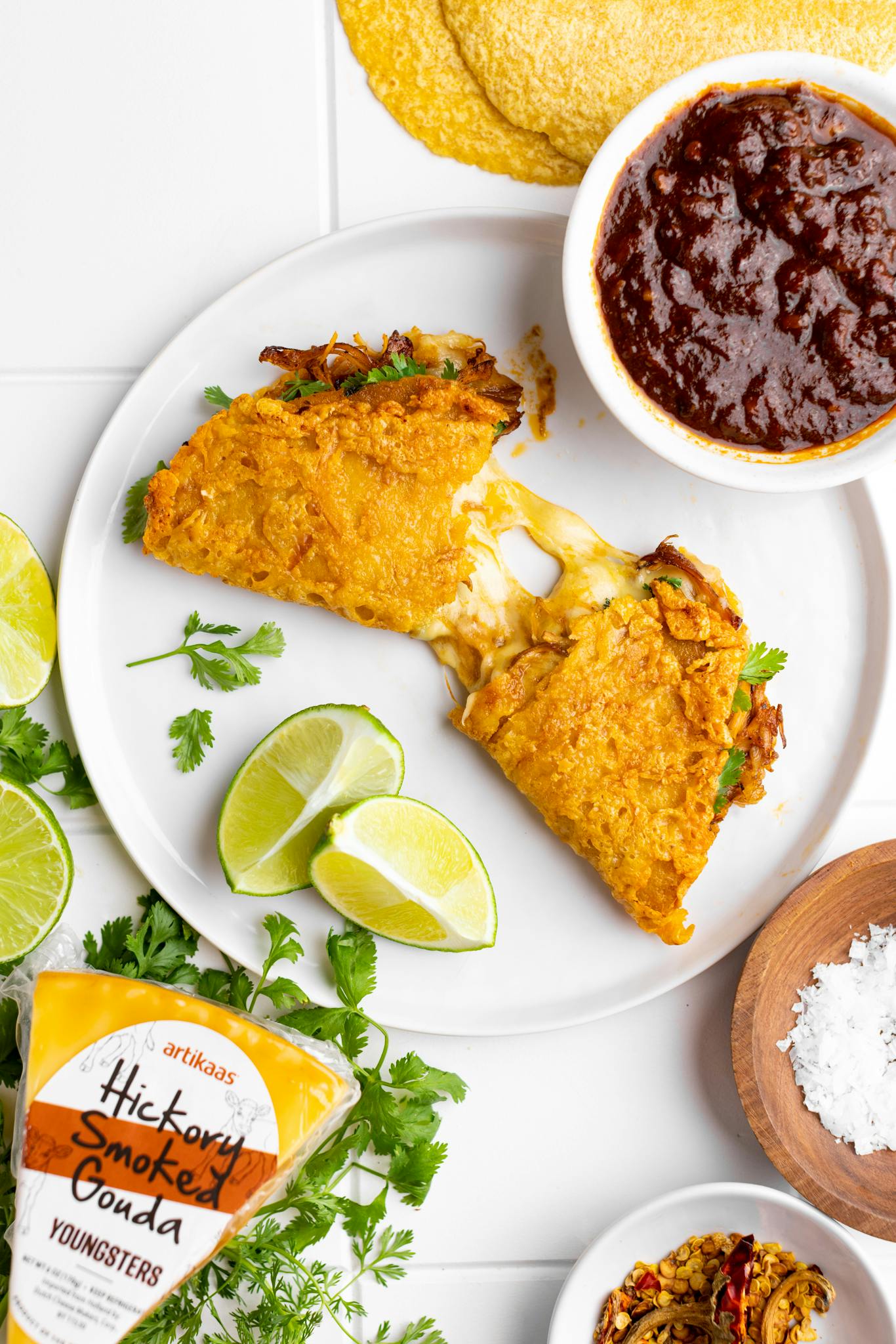 INGREDIENTS
Adobo-style Pulled Chicken
2 dried chile pasilla also called chili negro
2 dried guajillo chilis
4 chicken thighs bone-in, skin removed
5 cloves garlic minced
1 medium onion rough chopped
1 dried bay leaf
1/2 tsp oregano
1/2 tsp smoked paprika
2 tbsp tomato paste
3 cups chicken broth
1/2 bunch cilantro cleaned, stems on
olive oil
salt
Taco Assembly
5, 6-inch corn tortillas
Artikaas Youngsters Hickory Smoked Gouda 6 oz wedge
Cilantro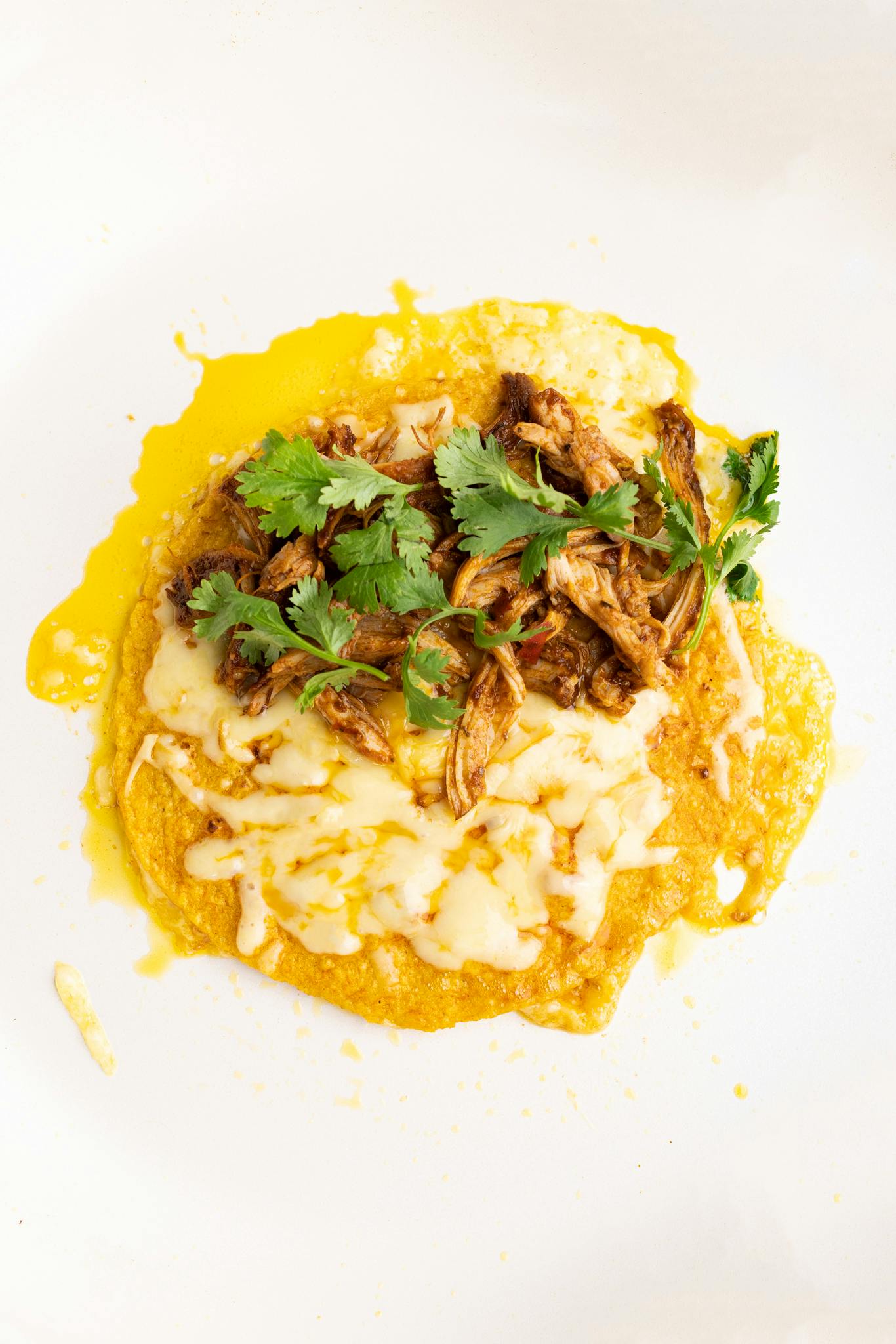 HOW TO MAKE
Place a medium sauté pan on the stove over low-medium heat. Tear the chilies up into large pieces, discarding the tops and toast them in the pan for 2-3 minutes. Remove and place on the side.

Add a small drizzle of olive oil to the pan. With a generous pinch, salt both sides of the chicken and sear the thighs. Cook for approx. 3 minutes on each side. Remove and place on the side.

Keeping all the chicken fat and juices in the pan, add an additional tbsp of olive oil. Add the garlic, and onions. Cook for 2-3 minutes until the garlic is soft and fragrant. Add the tomato paste, oregano, bay leaf, smoked paprika, and toasted chilies. Cook for another 2-3 minutes.

Add the chicken broth, and the half-bunch of cilantro (not chopped) into the pot. Simmer for 15 minutes or until the chilis are soft.

Using a blender or immersion blender blend the sauce until smooth. Salt to taste, start with ¼ tsp of salt and increase if needed. Return back to the pan and add the chicken. Simmer the chicken until the meat falls off the bones (30-40 minutes).
Taco Assembly
Grate Artikaas Hickory Smoked Gouda, and separate into 5 portions.

Heat a frying pan over medium heat. Once hot add ½ a portion to the pan, spreading it over a 6-inch diameter. Place the corn tortilla over the cheese (optional to dip the corn tortilla in the chicken sauce). Top it with the other ½ portion of Gouda.

Cook for 2-3 minutes until the cheese begins to crisp up (adjust the time if needed). Add the chicken and a few leaves of cilantro and flip the close. Remove from the pan and proceed to make the remaining cheesy tacos. Serve on the side with some of the extra sauce.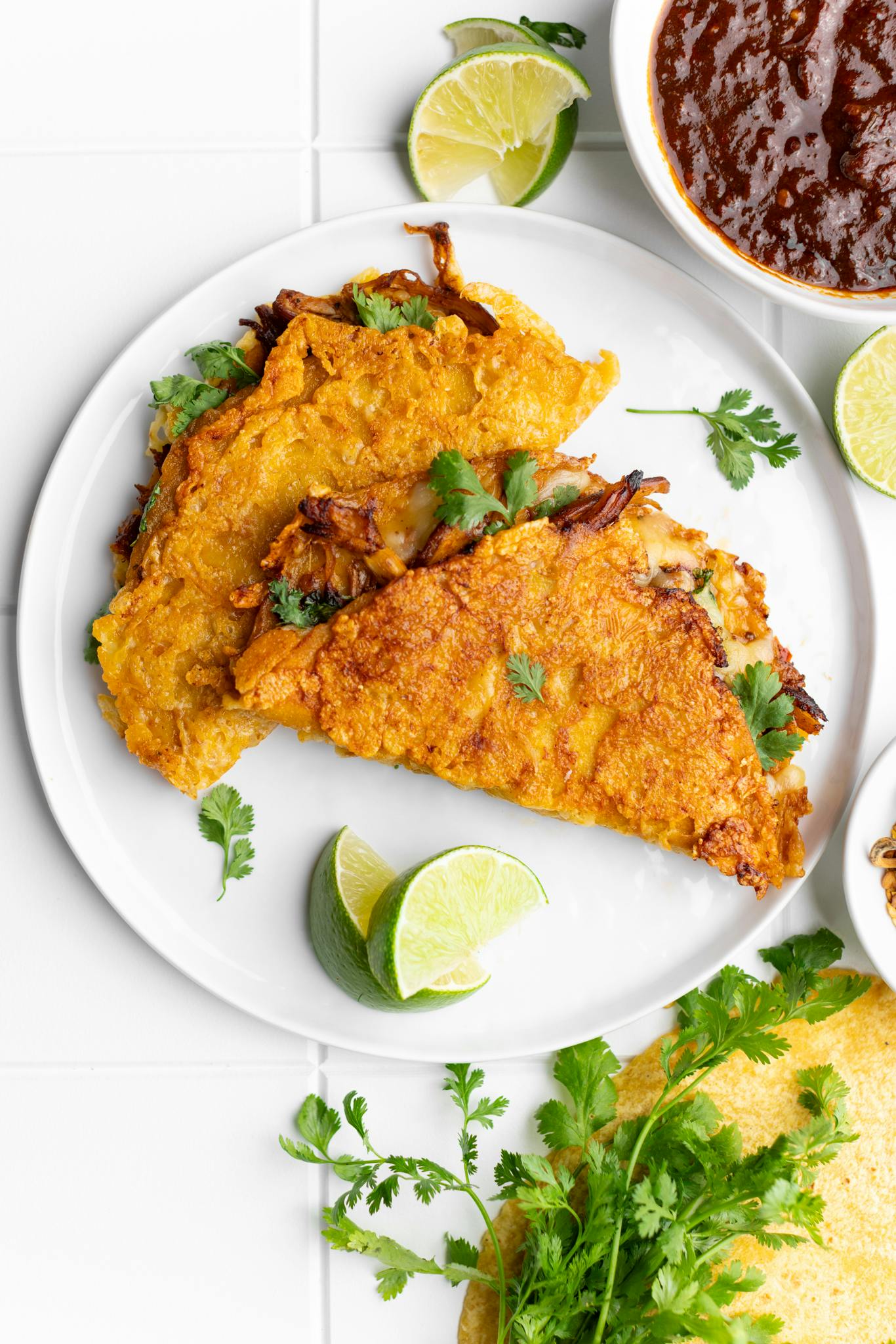 Recipe by Eden Nosal, @TheBoldAppetite