This cocktail is light, refreshing, and decadently smooth. The wine, when infused with the aged gouda, really becomes a creamy, full-bodied white wine. The more subtle underlying notes will change depending on what riesling and Prosecco you choose to use, but most rieslings will share a subtle flavor profile of peach, apple, or other fruity notes.
The Gouda sorbet adds a savory flavor and silky texture to the cocktail - a true delight. When added to the prepared glasses a dazzling fizzle show takes over - making it perfect for any celebration!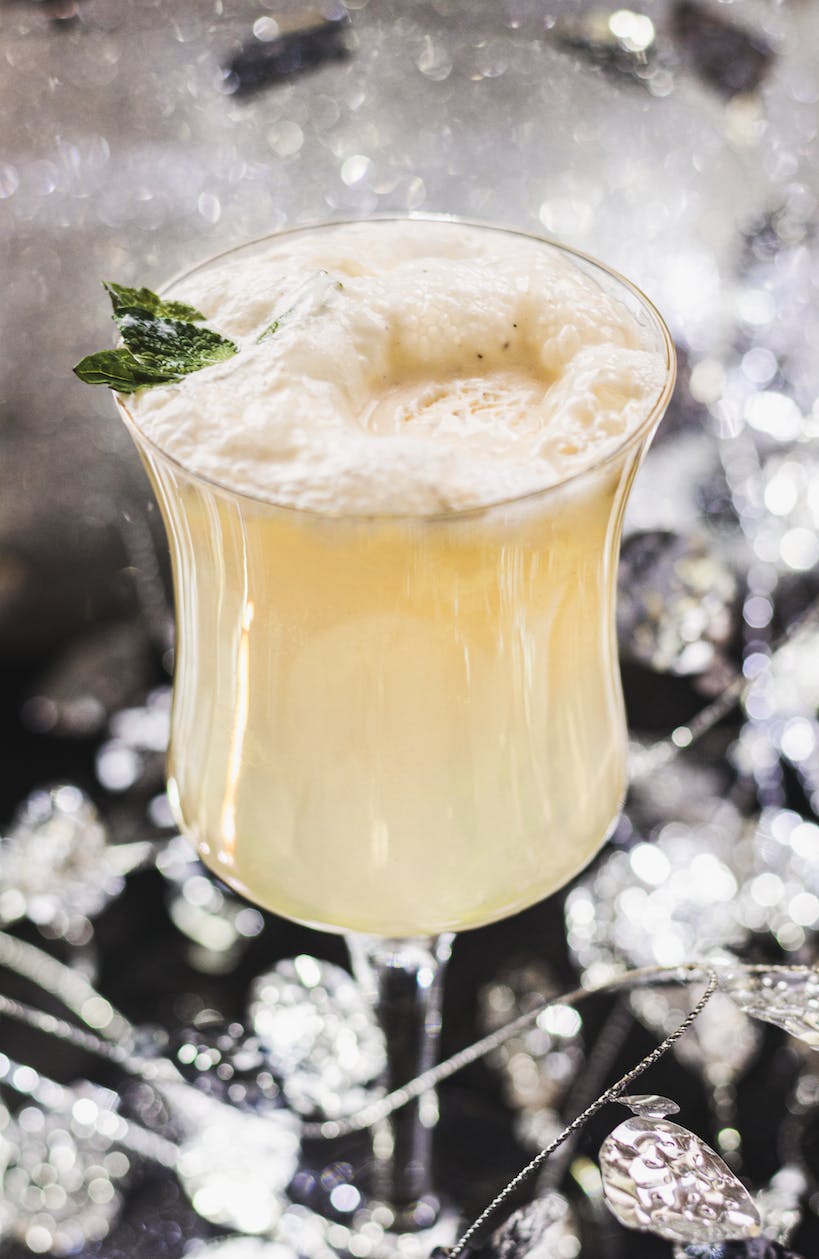 Serves 4-8
INGREDIENTS
For the Gouda Sorbet
For the Cocktail
1 bottle dry riesling
1 bottle Prosecco
8 ounces Artikaas Vintage Lot-36 Gouda, quartered
Vodka, to taste
gouda sorbet
mint leaves, to garnish
DIRECTIONS
For the Gouda Sorbet
Begin by beating your cream cheese in a large bowl until smooth. In a saucepan over medium-high heat, bring the sugar and water to a boil, stirring until the sugar has dissolved completely. Remove from the heat and slowly incorporate the sugar and water mixture into the cream cheese. Whisk until smooth. Mix in the vanilla extract and shredded Artikaas Vintage Lot-36 gouda. Let the mixture chill for a minimum of one hour and then process in an ice cream maker or follow a no-churn method. Keep in the freezer until you are ready to serve your cocktails.
For the Cocktail
In Advance: Pour the bottle of riesling into a large pitcher. Add in your quartered Artikaas Vintage Lot-36 gouda. Let infuse at room temperature for a minimum of 4 hours. If infusing overnight, place in the refrigerator before going to bed. Once infused, remove the gouda quarters and strain the riesling through cheesecloth to remove any remaining gouda bits.
Upon Serving: Gather your preferred cocktail glasses and fill each one approximately 1/3 of the way full with the gouda infused riesling. Add in one shot (or preferred amount) of vodka to each glass. For those feeling adventurous, you can experiment with adding your flavored vodka of choice. Caramel flavored vodka pairs nicely. Fill the glasses the rest of the way with freshly popped Prosecco. Add in a small scoop of the gouda sorbet for a creamy cocktail and garnish with fresh mint leaves. Make a toast and enjoy!