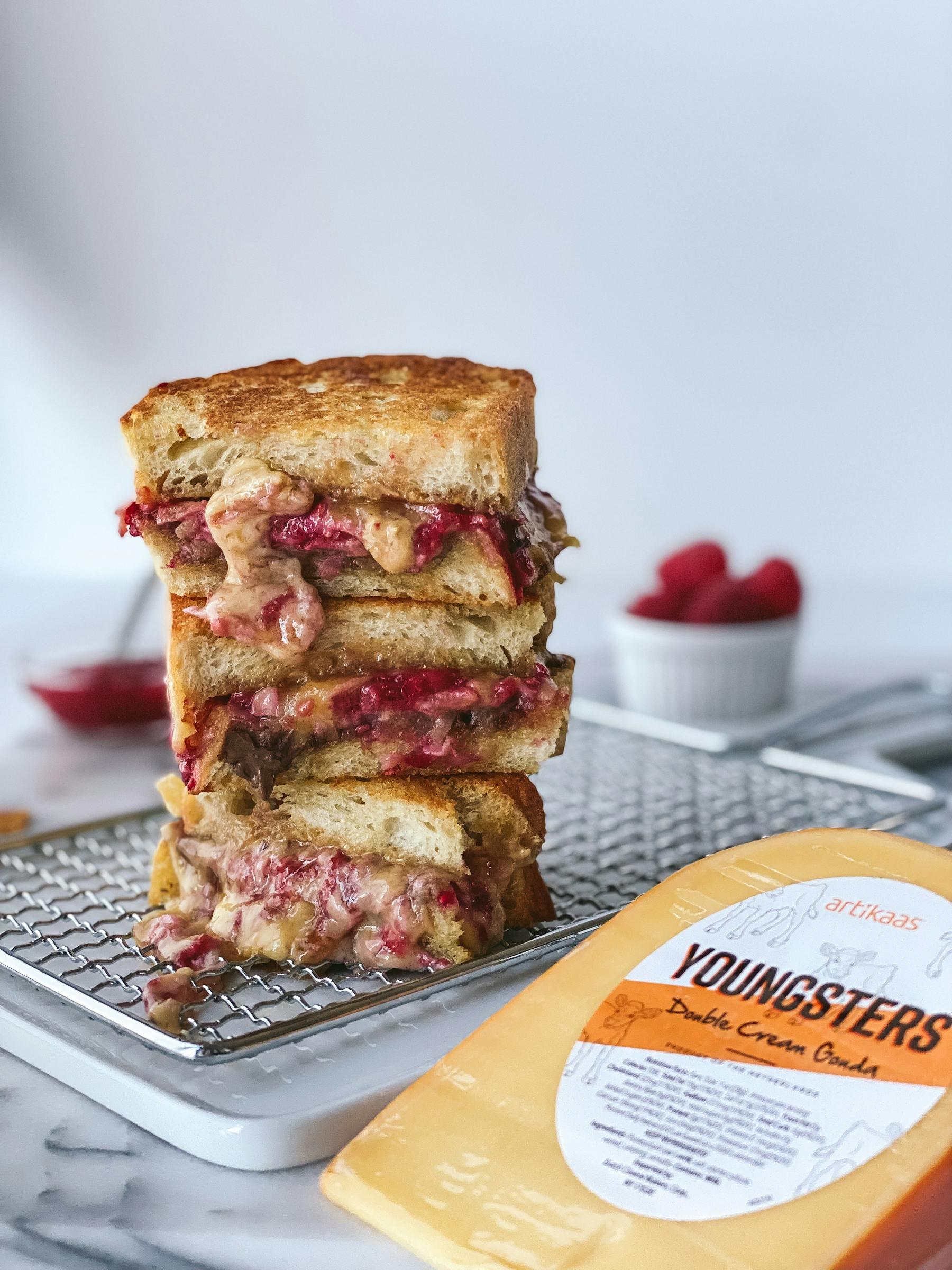 You love grilled cheese. You love PB&J. So why not try a sweet and savory combo to bring all your favorites together in just one sandwich? This irresistible take on grilled cheese satisfies the taste buds on all levels with a creamy smooth peanut butter, rich chocolatey hazelnut spread, homemade raspberry jam, and velvety smooth double cream gouda. A flavor experience you'll want to have more than once!
Recipe and photography by Stephanie Surowiec of www.dinnerclubdiaries.com
INGREDIENTS
8 thick slices of artisan white bread
8 ounces Artikaas Youngsters Double Cream Gouda, shredded
4 tablespoons smooth peanut butter
4 tablespoons chocolate hazelnut spread
4 tablespoons fresh raspberry spread (see recipe below)
4 tablespoons softened butter (for grilling)
DIRECTIONS
Spread 1/2 tbsp butter on the outer sides of all 8 slices of bread, and place on a tray butter side down.
On 4 slices, spread 1 tbsp peanut butter on each.
On the other 4, spread 1 tbsp chocolate hazelnut spread.
Place a generous heap of shredded Gouda onto all 8 slices, about 1 oz per slice.
Add raspberry spread atop the 4 slices with peanut butter.
Carefully close each sandwich so that you have the raspberries sandwiched right in the middle.
Grill in a nonstick skillet about 5 minutes per side on medium heat, or until bread is golden brown and cheese is melty. If needed, reduce heat to low and cover pan with lid to melt the cheese further.

FRESH RASPBERRY SPREAD
6 ounces fresh raspberries
1 tablespoon sugar
1 tablespoon lemon juice
1 teaspoon cornstarch
In a small saucepan, combine raspberries and sugar over medium low heat until the raspberries start to break down, just a few minutes. Smash the berries against the sides of the pan to release their juices. Whisk together the lemon juice and cornstarch to form a slurry, then whisk that into the raspberries. Bring to a boil, then reduce to a simmer until the mixture has thickened.