Creamy smoked Gouda risotto stuffed in a meaty Portobello mushroom topped with crispy pancetta, and fresh herbs. Made with Artikaas Smoked Goat Gouda, these stuffed mushrooms are smoky, tangy, and impossible to just eat one.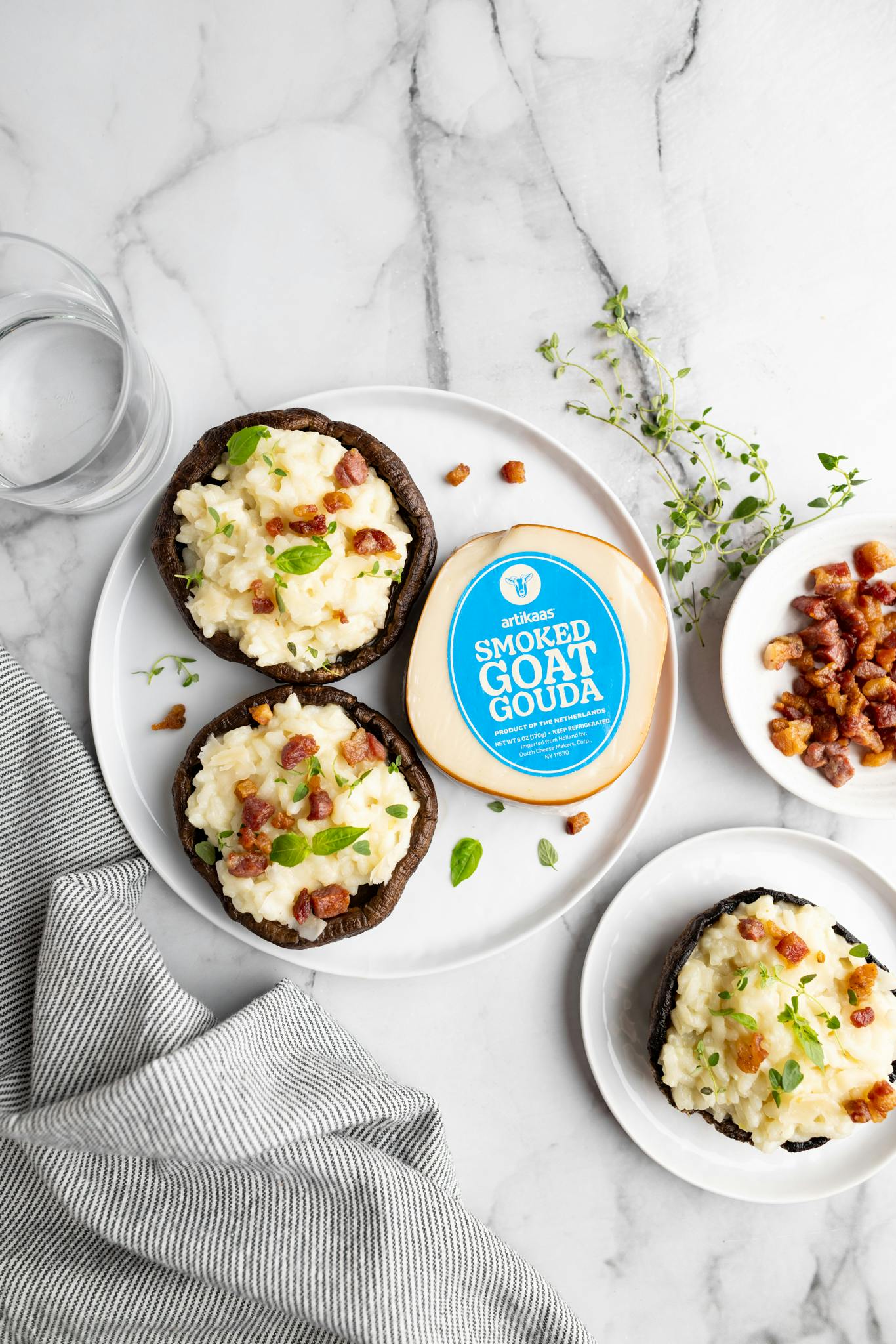 INGREDIENTS
Makes 8-10 medium mushrooms
Smoked Goat Gouda Risotto
4 oz cubed pancetta
3 cloves garlic minced
1 shallot minced
1 cup Arborio rice
4-5 cups chicken broth
6 oz Artikaas Smoked Goat Gouda 4oz for the risotto, 2oz to top

Mushrooms + Assembly
8-10 medium Portobello mushrooms
olive oil
fresh herbs basil, parsley
HOW TO MAKE
Smoked Goat Gouda Risotto
Warm the broth separately on the stove.
In a wide pot on medium heat add the pancetta. Render down until crispy, approx. 5-7 minutes depending on the size. Remove the pancetta, leaving the fat in the pan, and place on the side.
Lower the heat and add shallots, garlic and a ¼ tsp of salt. Sweat and cook down for 2-3 minutes until fragrant and soft.
Add Arborio rice and mix to combine. Toast rice for 3-4 minutes until it starts to become translucent.
Add the first round of broth. Depending on the pan add broth until it just covers the risotto. (could be 1 cup to 1 ½ cups). Give it a quick mix, a shake of the pan to ensure all grains are covered and cook until rice absorbs the majority of the broth. Mix every few minutes to avoid the rice from sticking.
Add more broth and repeat the above steps. This is also the place to salt, add ¼- ½ tsp of salt. This will vary depending on how salty the broth you are adding is.
Once almost all the broth has been added (approx. 4 cups), but not completely absorbed (15-18 minutes of cooking) give it a taste. Rice should still be loose, yet al dente. If it is still hard add more broth ¼ cup at a time and cook down. Finished risotto is loose (not watery), creamy in texture, and cooked through.
Once done turn off the heat and fold in 4 oz of Artikaas Smoked Goat Gouda.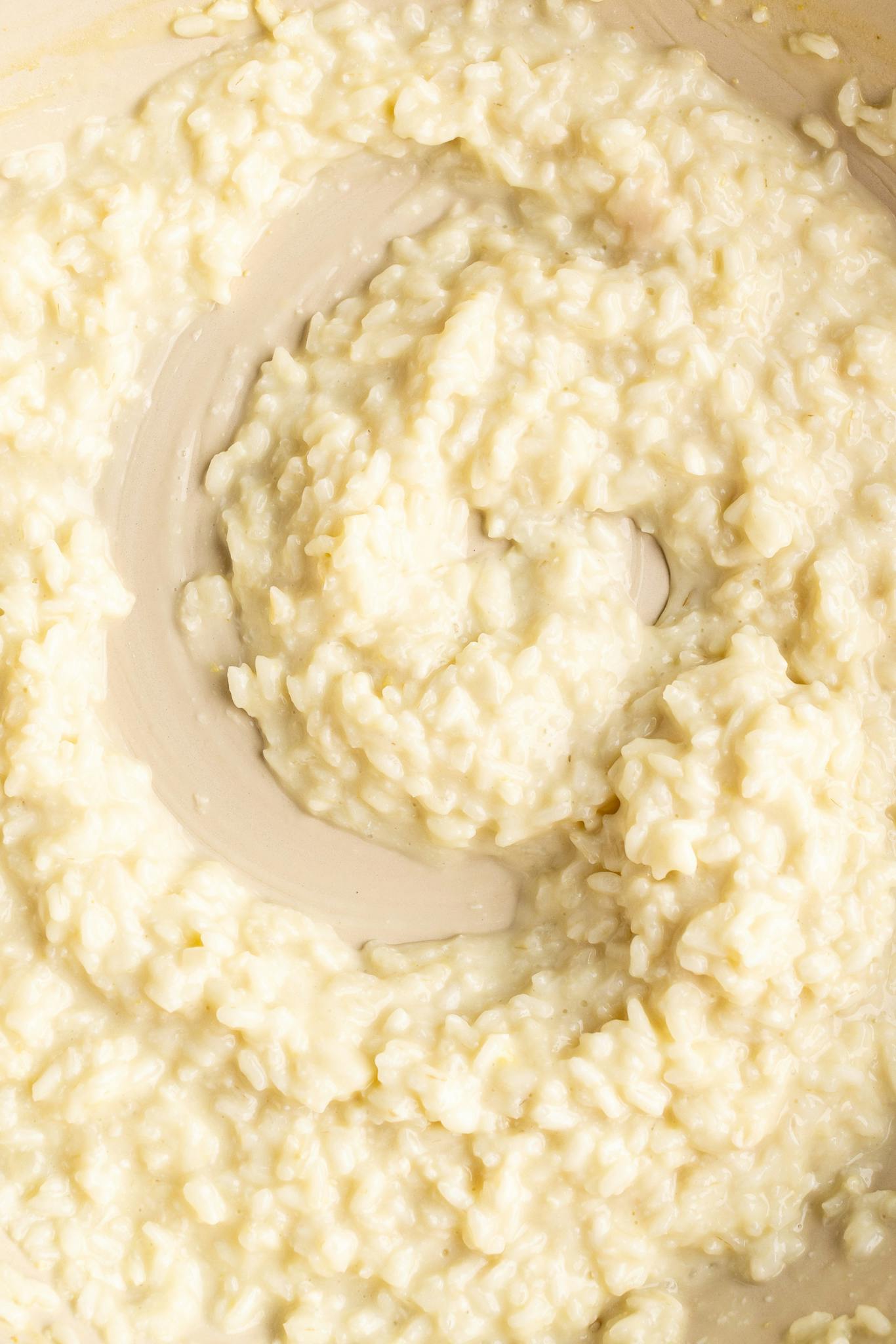 Mushrooms + Assembly
While the risotto is simmering on the stove preheat the oven to 400℉.
To prep the mushrooms, score the steam and pull it out.
With the mushroom in the palm of your hand, scoop out the gills.
Place the prepared mushroom caps on a parchment-lined sheet pan and brush them with olive oil and a sprinkle of salt. Roast for 7-8 minutes. Remove from the oven and flip them over to allow them to release moisture and drain approx. 5 minutes.
Once the mushrooms have drained, turn them over and generously top them with the risotto, pancetta, fresh herbs, and remaining smoked goat Gouda.