Can we all agree that this dip is absolutely GOURDgeous? Featuring our Youngsters Ginger and Pumpkin Seed Gouda, it will have you feeling the spirit of the season in no time.
Ultra-gooey and cheesy, this autumnal dip plays up the hints of ginger and garlic in the Gouda with a touch of maple syrup and a bit of smoky paprika. Pumpkin puree helps stabilize the melty cheese mixture, and maple-glazed bacon bits, a touch of thyme, and more pumpkin seeds give it an elevated texture and a punch of extra flavor!
INGREDIENTS
1 small sugar pumpkin (about 1 1/2 – 2 lbs)
1 tsp olive oil
4 strips of uncured bacon
3 tbsp + 2 tsp maple syrup, divided
6 oz Artikaas Youngsters Ginger & Pumpkin Seed Gouda, grated
2 tsp cornstarch
¾ – 1 cup evaporated milk
¼ cup canned pumpkin puree
½ tsp smoked paprika
2–3 tsp roasted unsalted pepitas, for topping
1 sprig thyme, leaves picked, for topping (optional)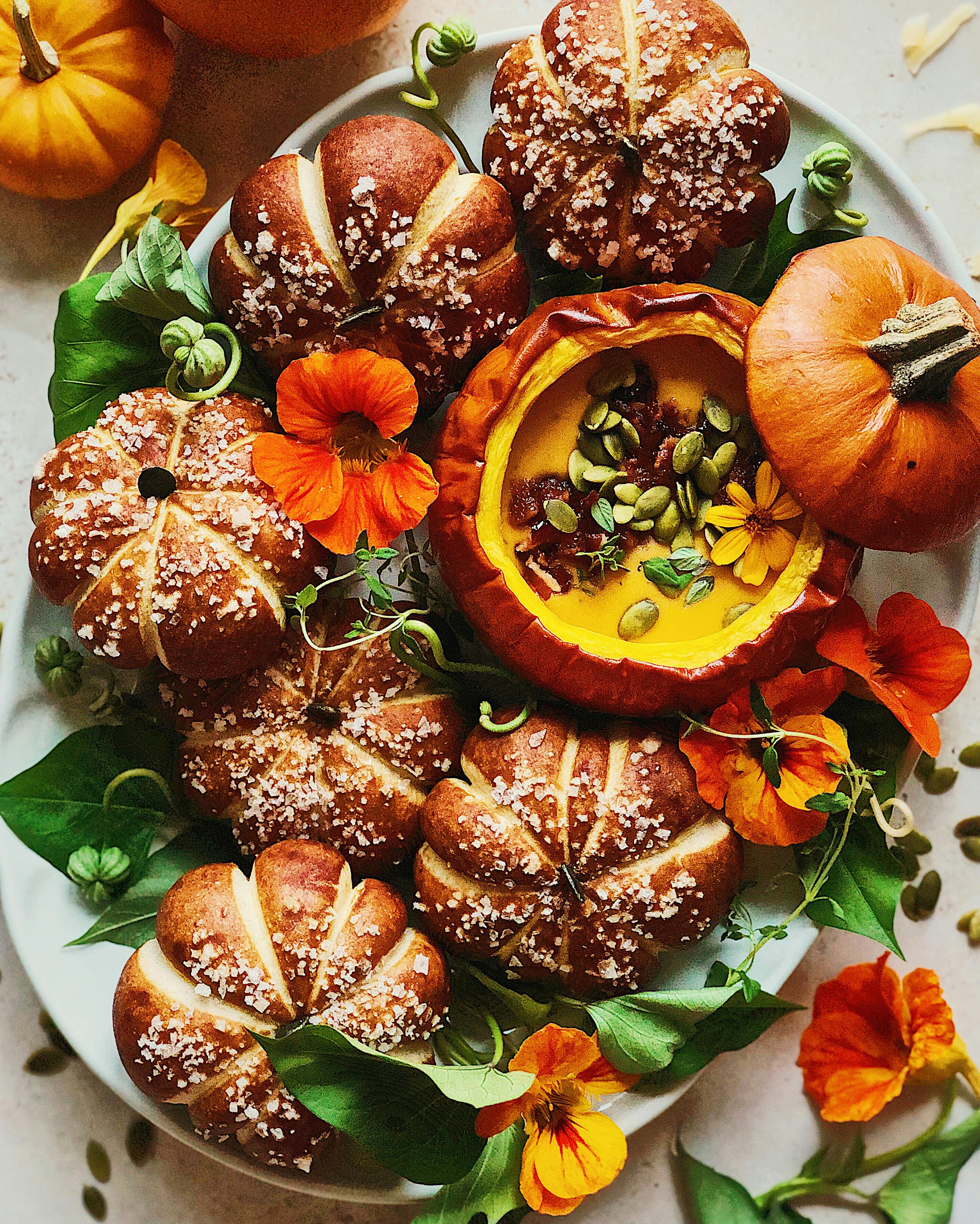 HOW TO MAKE
Preheat oven to 425°F.

To make the roasted pumpkin vessel: Carefully cut off the top 1 ½ inches of the pumpkin. Remove and discard seeds and pulp. Rub the interior with olive oil to coat with a thin layer. Place pumpkin vessel and lid on a baking sheet and bake for 50–60 minutes, until tender.

To make the bacon topping: Lay strips of bacon on a separate rimmed baking sheet lined with foil or parchment. Pour 3 tbsp of maple syrup over the bacon and use a pastry brush to make sure the syrup is distributed evenly and coating each strip. Bake at 425°F for 12–14 minutes, or until bacon starts to stiffen. Remove and transfer to a separate plate; bacon will continue to crisp and develop a nice gloss from the syrup as it cools. (Note: Bacon can be cooked in the same oven while the pumpkin is roasting.)

To make the Gouda dip: In a small saucepan, toss the cheese and cornstarch together until the cheese is evenly coated. Add ¾ cup evaporated milk and the pumpkin puree and turn the heat on low. As the cheese begins to melt, whisk constantly to create a smooth consistency. Once the mixture is even and smooth, whisk in paprika and the remaining maple syrup.

To serve: Place the roasted pumpkin on the serving dish. Pour in Gouda dip. Break some of the bacon into small bits and add on top of the dip, along with a sprinkle of pepitas and thyme leaves (if using). Set the remaining bacon aside to top-up later, or serve alongside the dip. The Gouda dip will thicken as it cools. To reheat the remaining dip, add 1 tbsp evaporated milk and heat on low, whisking until smooth again. Add additional evaporated milk as desired for a thinner consistency.

When dipping into the cheesy Gouda-ness, be sure to scoop up some of the inside of the roasted pumpkin as well!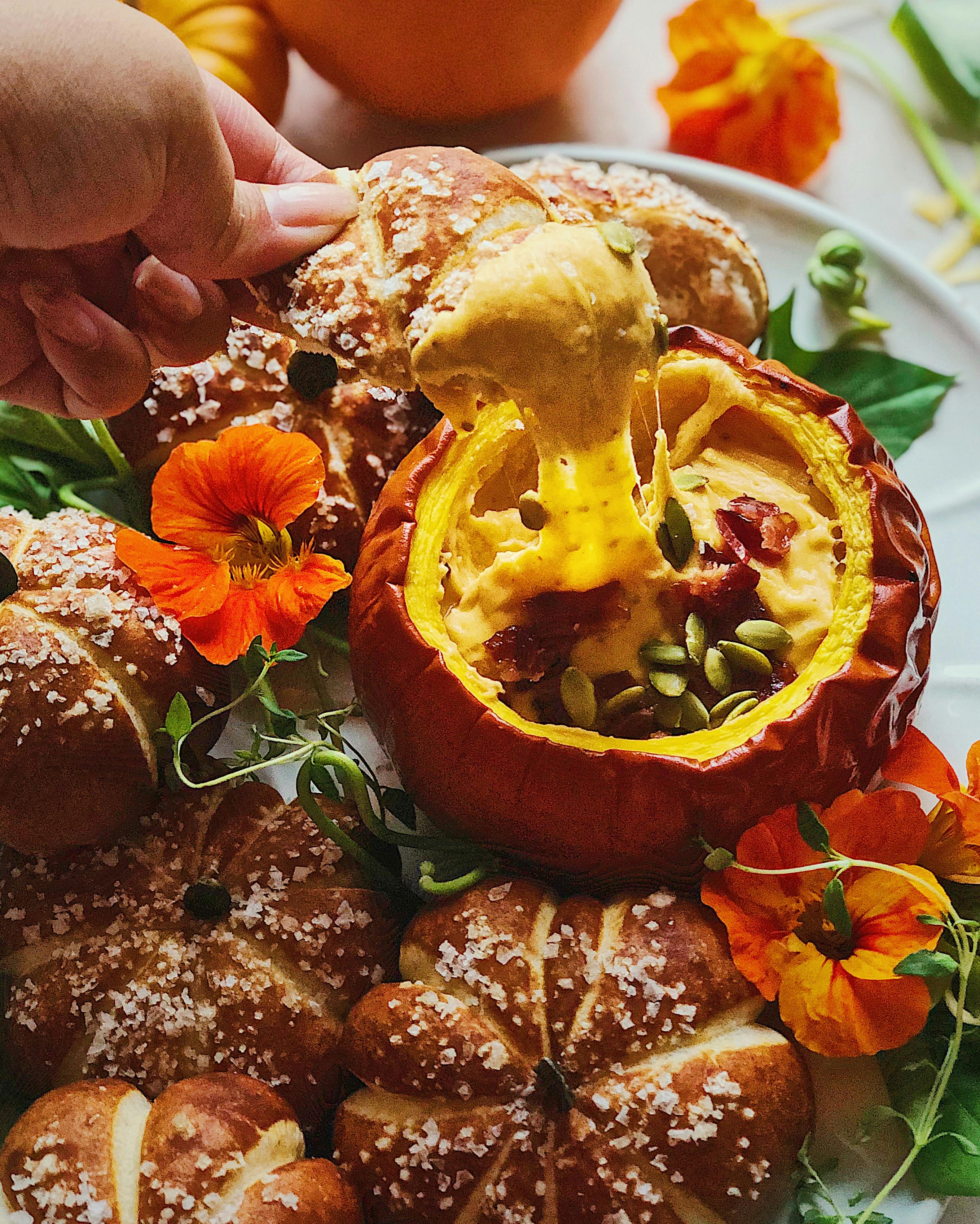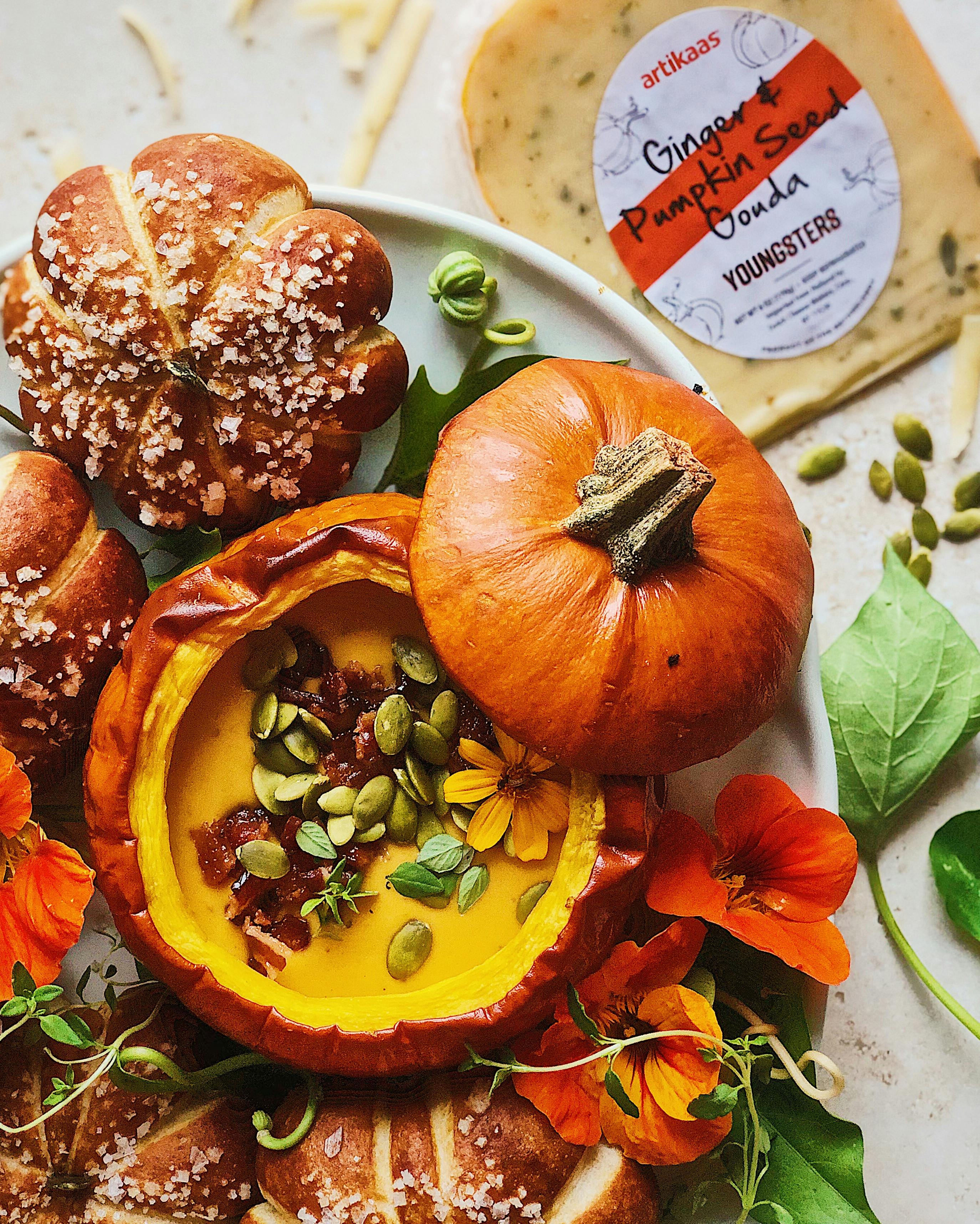 Recipe by Lily Morello, @LilyBubbleTea