Recipe & Photograph by The Bold Appetite
Have some leftover mashed potatoes sitting in the fridge? Don't let them go to waste! Use them to whip up these quick and simple crispy, cheesy croquettes. Croquettes are fun little bites of mashed potato rolled into balls and fried to perfection. The fun thing about them is that you can stuff them with whatever your heart desires. Ours are stuffed with Youngsters Pesto Gouda for a fun green surprise inside! Think fresh basil and a savory umami flavor. YUM and so easy to make.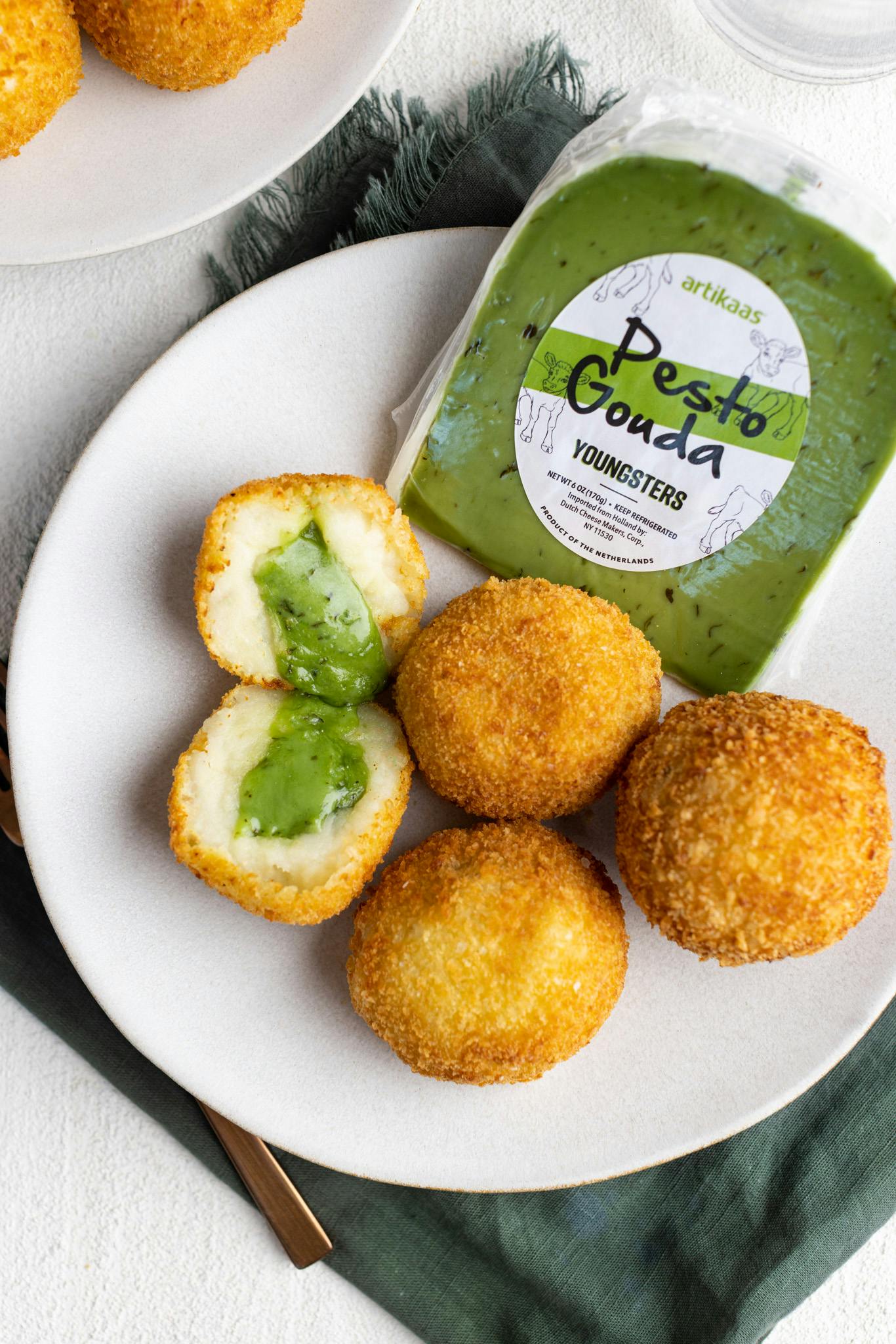 Serving: 14 croquettes
Ingredients
2 lbs russet potatoes peeled, chopped in large 1/2 inch - 1 inch pieces
3 tbsp milk
3 tbsp butter
1 tsp salt
1 cup flour
2 eggs
2 cups panko bread crumbs, unseasoned
canola or vegetable oil
Instructions
Bring a large pot of salted water to a boil. Once at a boil carefully drop in the potatoes and cook them until fork tender.
Drain the potatoes, and while hot add in the butter, milk, and salt. Either mash them by hand or run them in a stand mixer with the paddle attachment until smooth. Mashed potatoes should be dense, not runny or thin. Refrigerate for an hour to cool them down before forming the croquettes.
While you are waiting for the mashed potatoes to cool, set up the breading assembly line. Put the flour in its own bowl, beat the eggs in another, and finally add the panko to a final bowl. Give each bowl a pinch of salt to ensure the croquettes are seasoned throughout.
Cut the Artikaas Youngsters Pesto Gouda Cheese into 14 small 1/2" cubes.
To assemble, place 3 tbsp of mashed potatoes in your hand and roll each portion until you form a ball. Press the Pesto Gouda in the center and roll again to ensure the cheese is fully covered by potato. Roll each ball in flour, then egg, then panko.
After all the balls have been formed, start heating up the oil. You need the balls to be completely submerged, so adjust the amount of oil you need to achieve this. Heat the oil to 350° F.
Once heated, fry a few balls at a time, being careful to not overcrowd the pot. Adjust the heat to maintain a 350°F-360°F oil.
Cook each ball for 3-4 minutes until golden brown. The maximum time the croquettes can fry for is 4 minutes, any longer and the potatoes get too hot and can burst through the breading.
Once done, spoon each ball out and place on a drying rack or a paper towel to cool. Enjoy!