Everything you love about Thanksgiving in one perfectly pleasing pot pie!
Featuring our Youngsters Cranberry Gouda, these savory pies have a cornucopia of flavor—sweet, tart cranberries compliment the succulent roast turkey and creamy goodness of this beautiful Dutch cheese.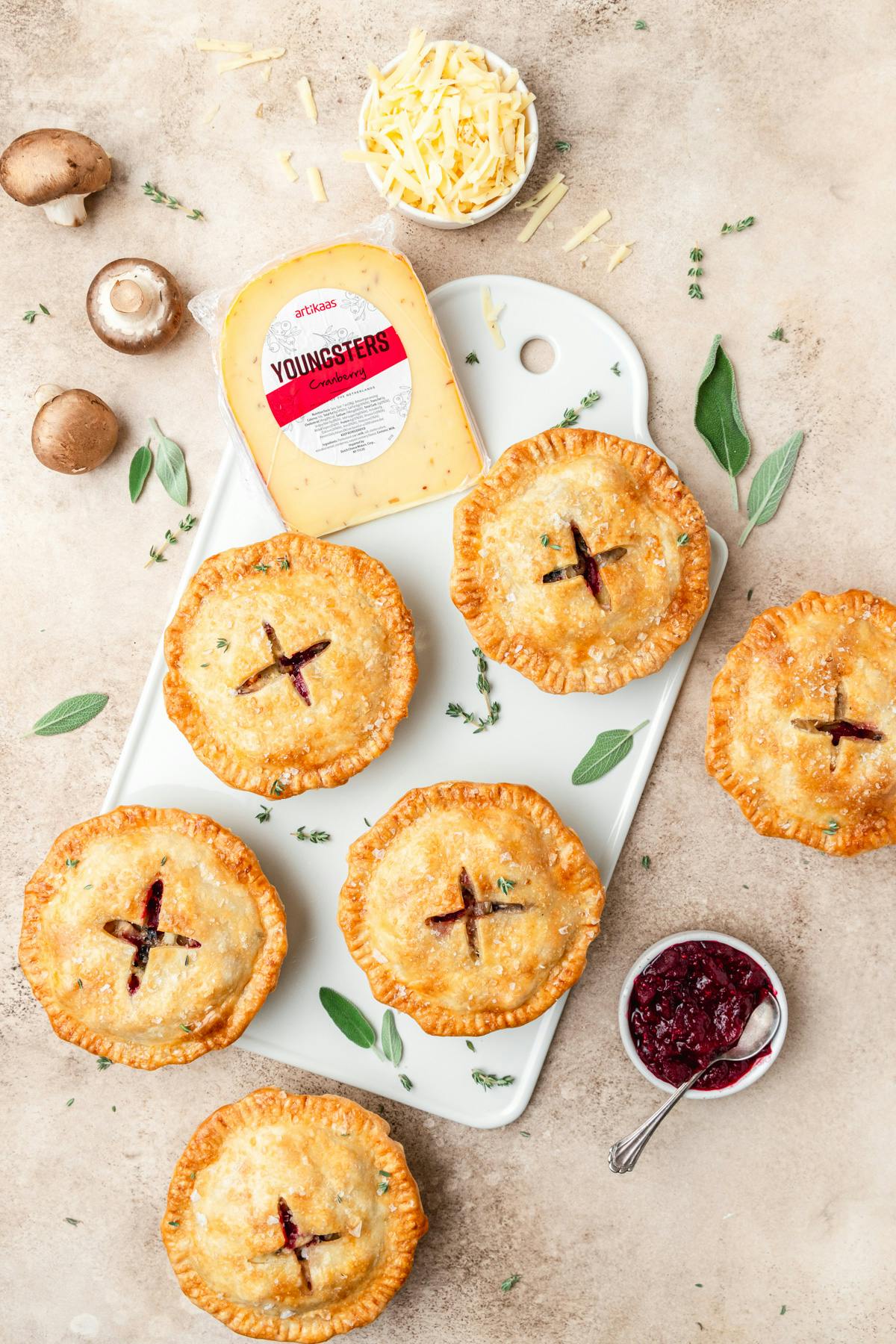 INGREDIENTS
Makes: 8
Prep time: 1 hour
Cook time: 40 minutes
Total time: 1 hour 40 minutes
Filling
2 tablespoons unsalted butter
1 small onion, diced
4 ounces cremini mushrooms, sliced
1 ½ cups Yukon gold potatoes, finely diced
2 tablespoons fresh sage, chopped
1 teaspoon fresh thyme
2 tablespoons all-purpose flour
1 cup chicken broth
1 ½ cups shredded cooked turkey (can substitute shredded chicken)
6 ounces Artikaas Youngsters Cranberry Gouda, shredded
½ cup cranberry sauce
Salt and pepper, to taste
Mini Pies
Homemade pie dough*
1 large egg, beaten for egg wash
Flaky sea salt (optional)
*You can use your favorite homemade pie dough or use the following recipe!
Pie Dough Ingredients:
¾ cup unsalted butter, cold
2 cups all-purpose flour
½ teaspoon salt
¼ cup water, cold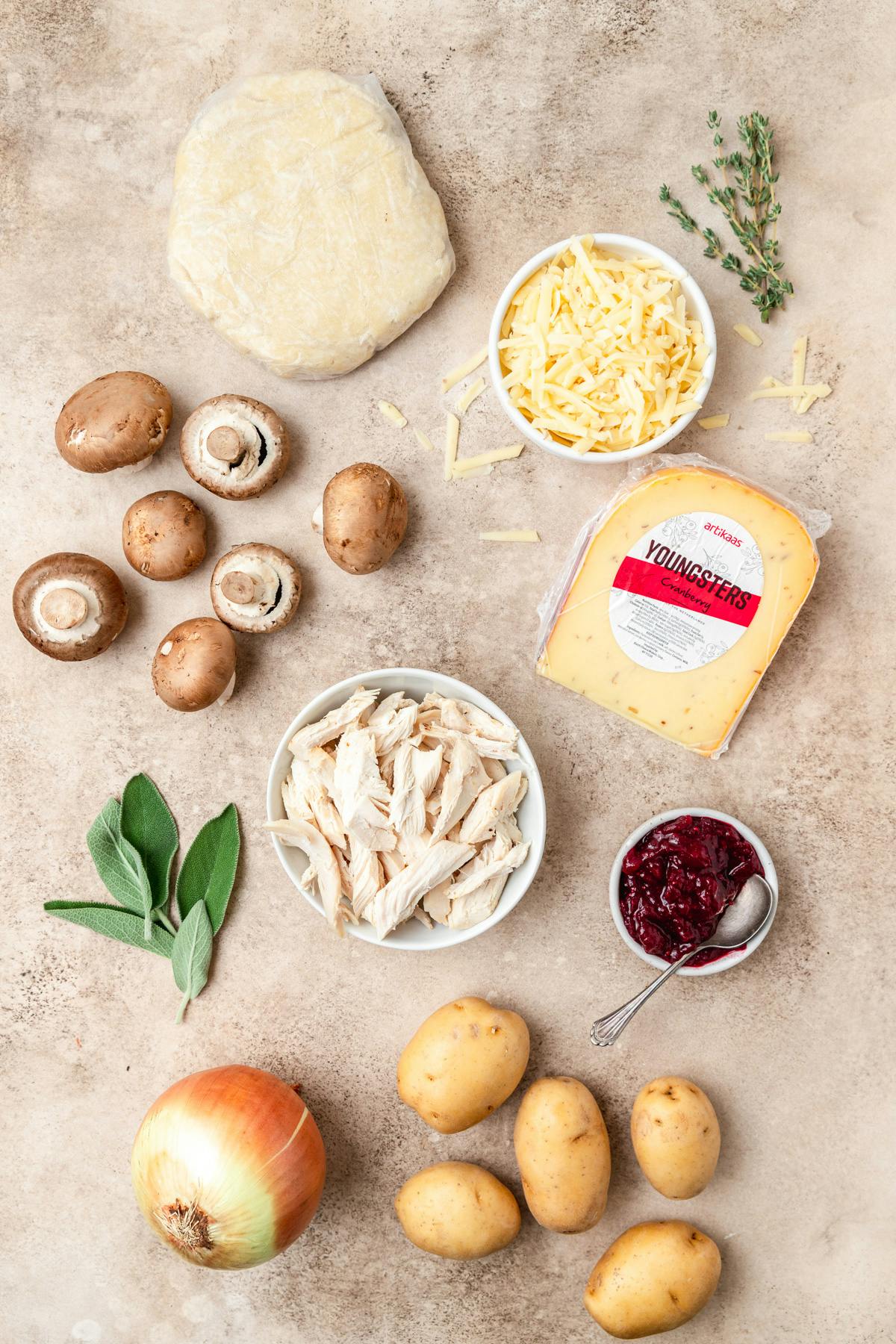 HOW TO MAKE
Cut butter into small cubes and place in the fridge to firm up while you get the rest of your ingredients together.
Combine flour and salt in a medium-sized bowl.
Add in the cold chunks of butter; combine with your hands until large crumbs form.
Add cold water and combine until dough forms a nice ball but is still slightly sticky.
Take the formed ball of dough and separate into 2 equal sections. Shape into slightly flattened disks. Wrap the disks in plastic wrap and chill in the fridge for at least 30 minutes. This is important to keep the butter from melting so that the crust will be nice and flaky.
While the dough is chilling, make the filling.
Mini Pot Pies:
Filling
In a large pan over medium-high heat, add the butter, onions, and sliced mushrooms and sauté for 5-7 minutes, or until softened.
Add in the finely diced potatoes and fresh herbs and continue to cook for another 8-10 minutes or until soft.
Stir in the flour and let cook for 1-2 minutes, then slowly stir in the chicken broth and simmer for about 5 minutes or until the filling has thickened.
Season to taste with salt and pepper.
Gently fold in the shredded turkey, shredded Artikaas Cranberry Gouda, and cranberry sauce.
Remove the filling from heat and set aside to cool slightly.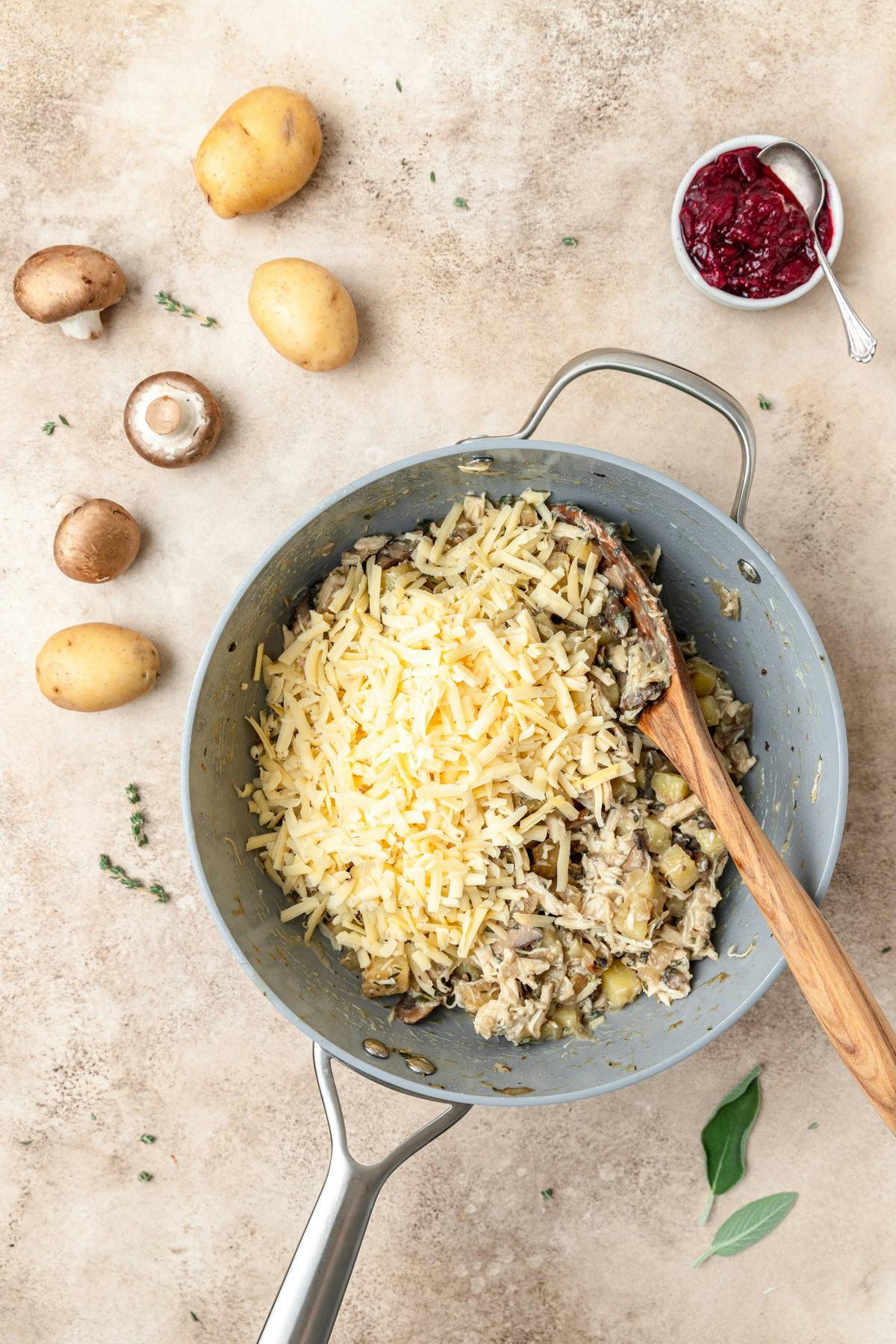 Assembly
Preheat the oven to 400°F.
Remove half the pie dough from the fridge and on a lightly floured work surface, roll out dough to about ¼-inch thick. Cut dough into circles slightly larger than your mini pie pans (you can also just make one big pie instead). Gently form the dough into the mini pan pans, then fill with the slightly cooled turkey filling.
Repeat with the second half of the pie dough and then top each mini pie with a second circle of dough. Seal the edges together with a fork and be sure to cut a slit in the top of the dough to allow steam to escape.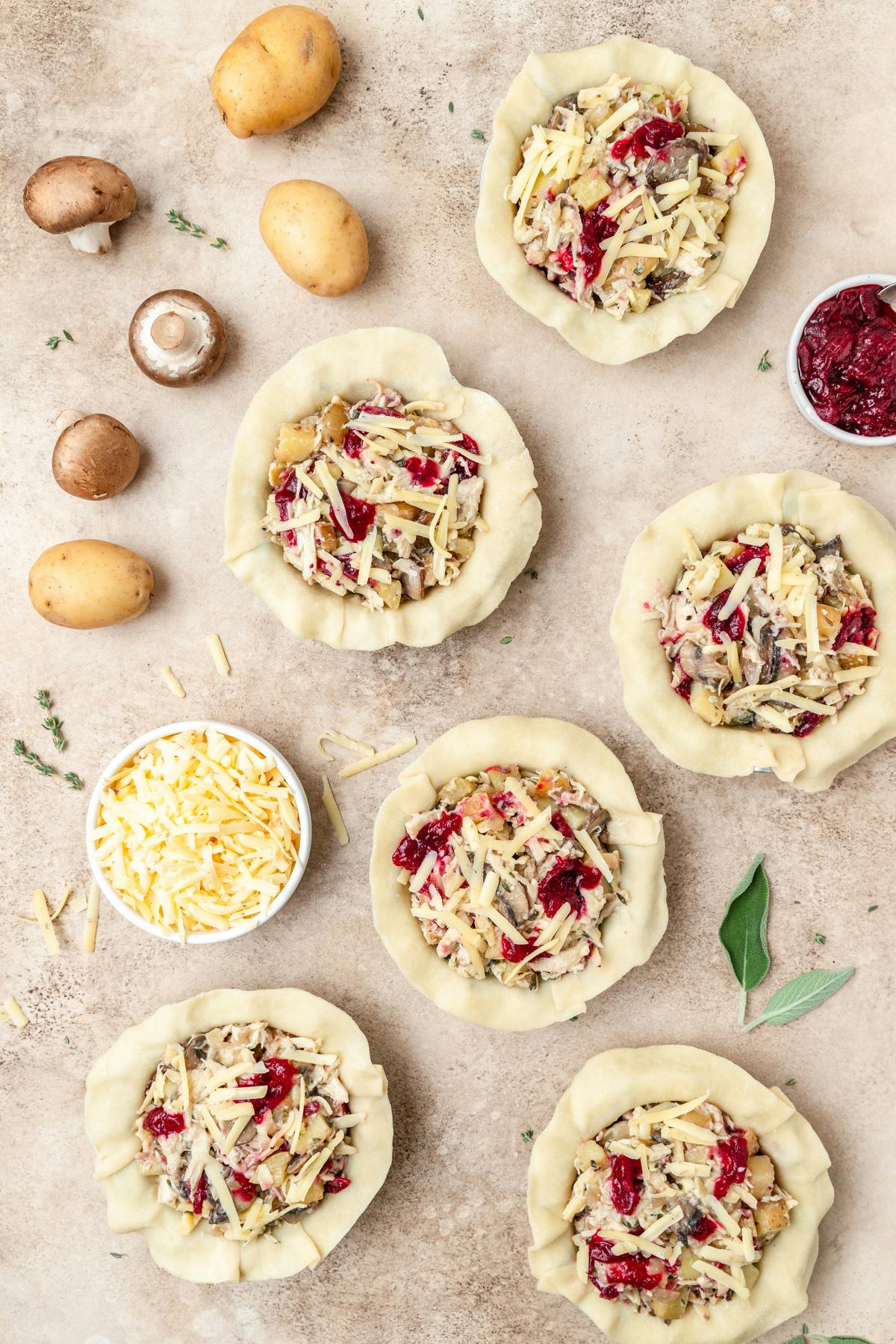 4. If desired, lightly brush the tops of the mini pies with egg wash and sprinkle with flaky sea salt.
5. Bake at 400°F for 30-45 minutes or until the crust is golden brown and the filling is bubbling.
6. Serve & enjoy!