If you love a savory scone, you are going to fall hard for these Brown Butter Sage Gouda Scones featuring our delectable Vintage Lot 8. The salty-sweetness of this 8-month aged Gouda, paired with the nuttiness of browned butter and the earthiness of fresh sage, is a flavor combination that will have you feeling extra cozy this autumn.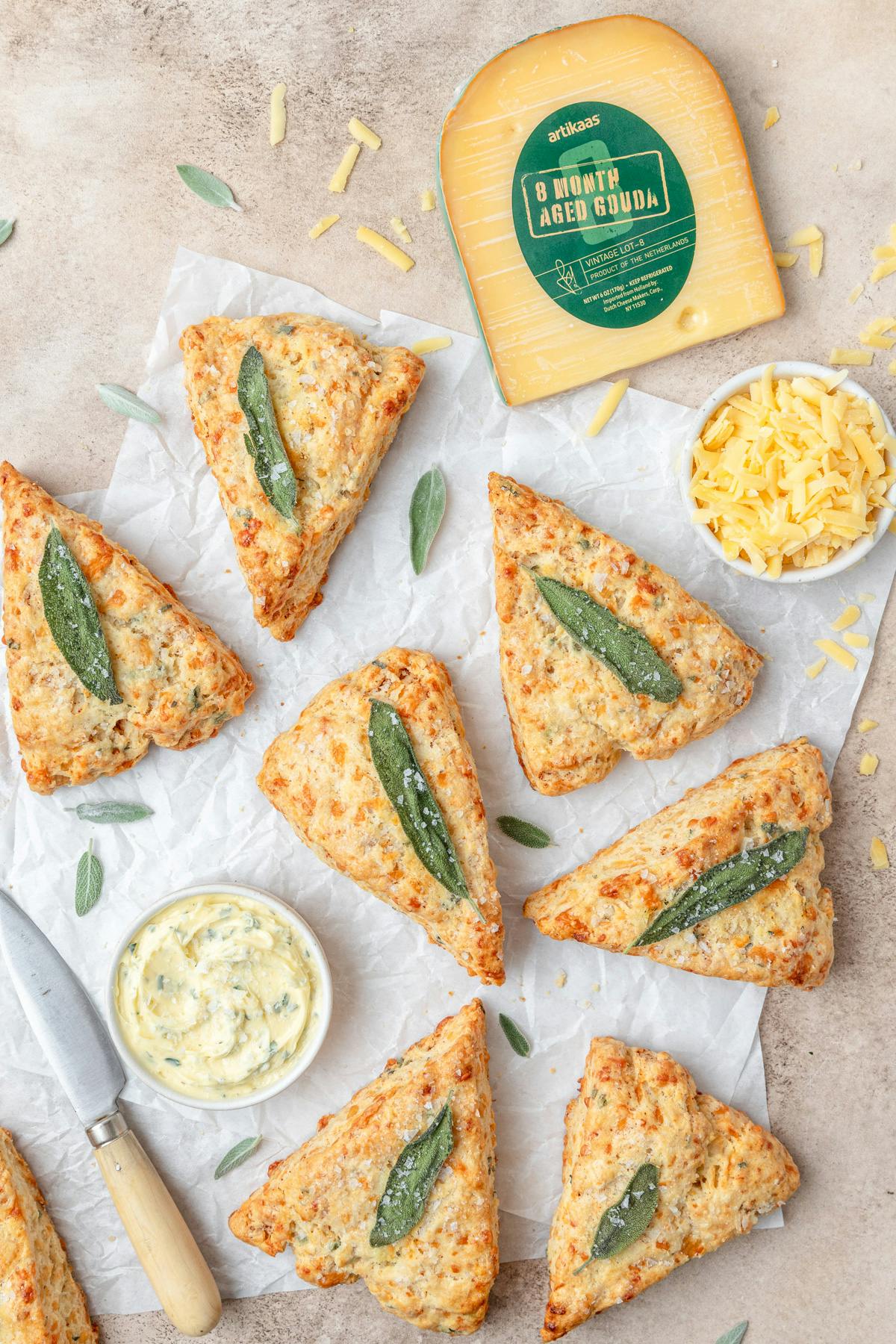 INGREDIENTS:
Makes: 8
Prep time: 20 minutes
Cook time: 20 minutes
½ cup heavy cream
1 large egg
2 cups all purpose flour
1 tablespoon baking powder
2 teaspoons granulated sugar
½ teaspoon salt
½ cup browned butter
6 ounces Artikaas Vintage Lot 8 Aged Gouda, shredded
1 tablespoon fresh sage, chopped
Top with:
Fresh sage leaves
Flaky sea salt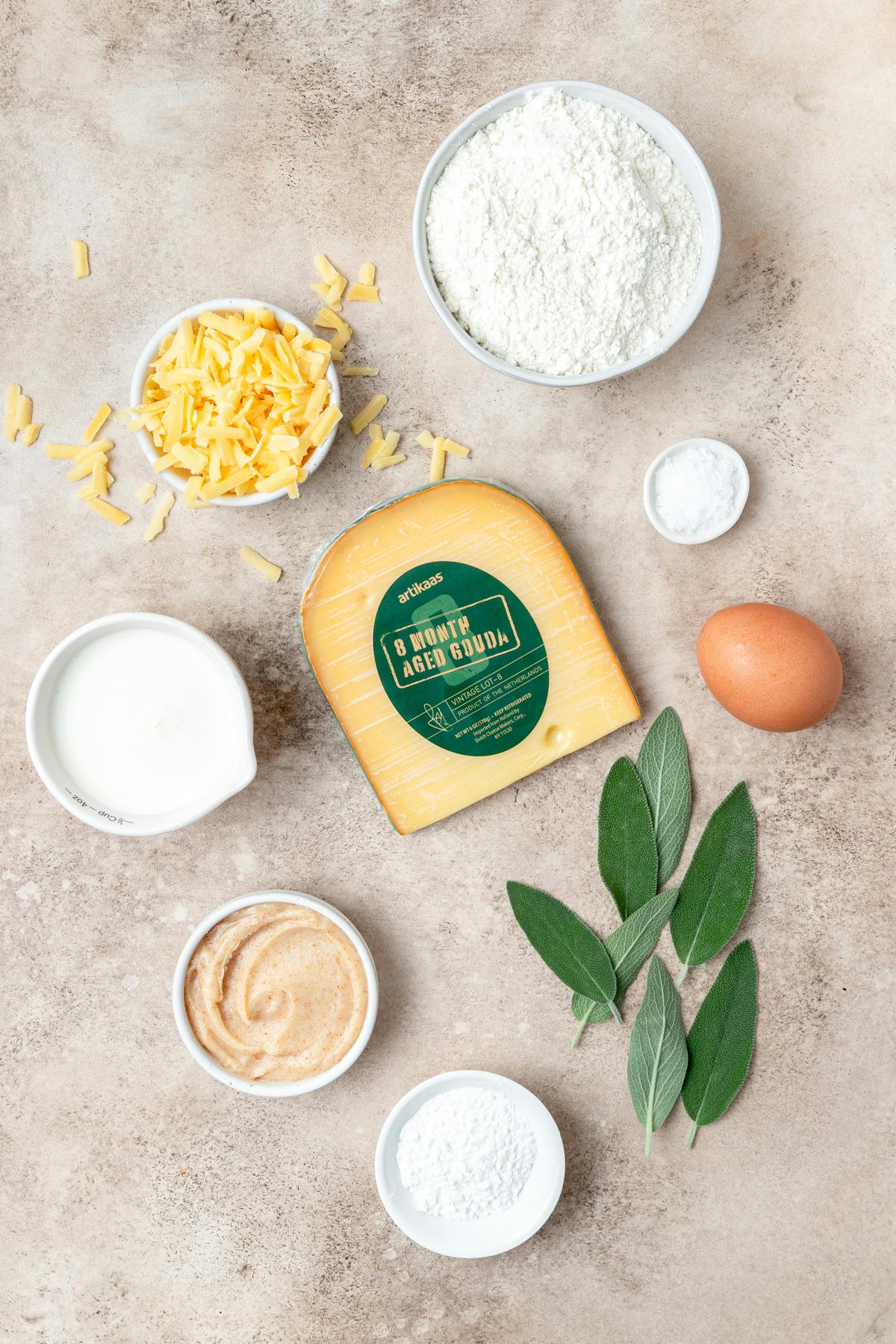 HOW TO MAKE:
Line a baking sheet with parchment paper and set aside.
In a small bowl, whisk together the heavy cream and egg, then set aside.
In a medium bowl, whisk together the flour, sugar, baking powder, and salt. Then use your hands (or a pastry cutter) to press the cold brown butter into the flour until it's fully incorporated but you still have pretty large chunks (about quarter sized).
Add in the sage and shredded Artikaas Vintage Lot 8 Aged Gouda and mix in until it's also coated in the flour.
Slowly drizzle the wet ingredients over top, combining as you go. Continue mixing until the dough just comes together. The dough will be slightly sticky. If too dry, add in more cream 1 tablespoon at a time.
Transfer the dough to a lightly floured surface and gently press into an 8 inch round disc.
Use a sharp knife to cut the dough into 8 triangles.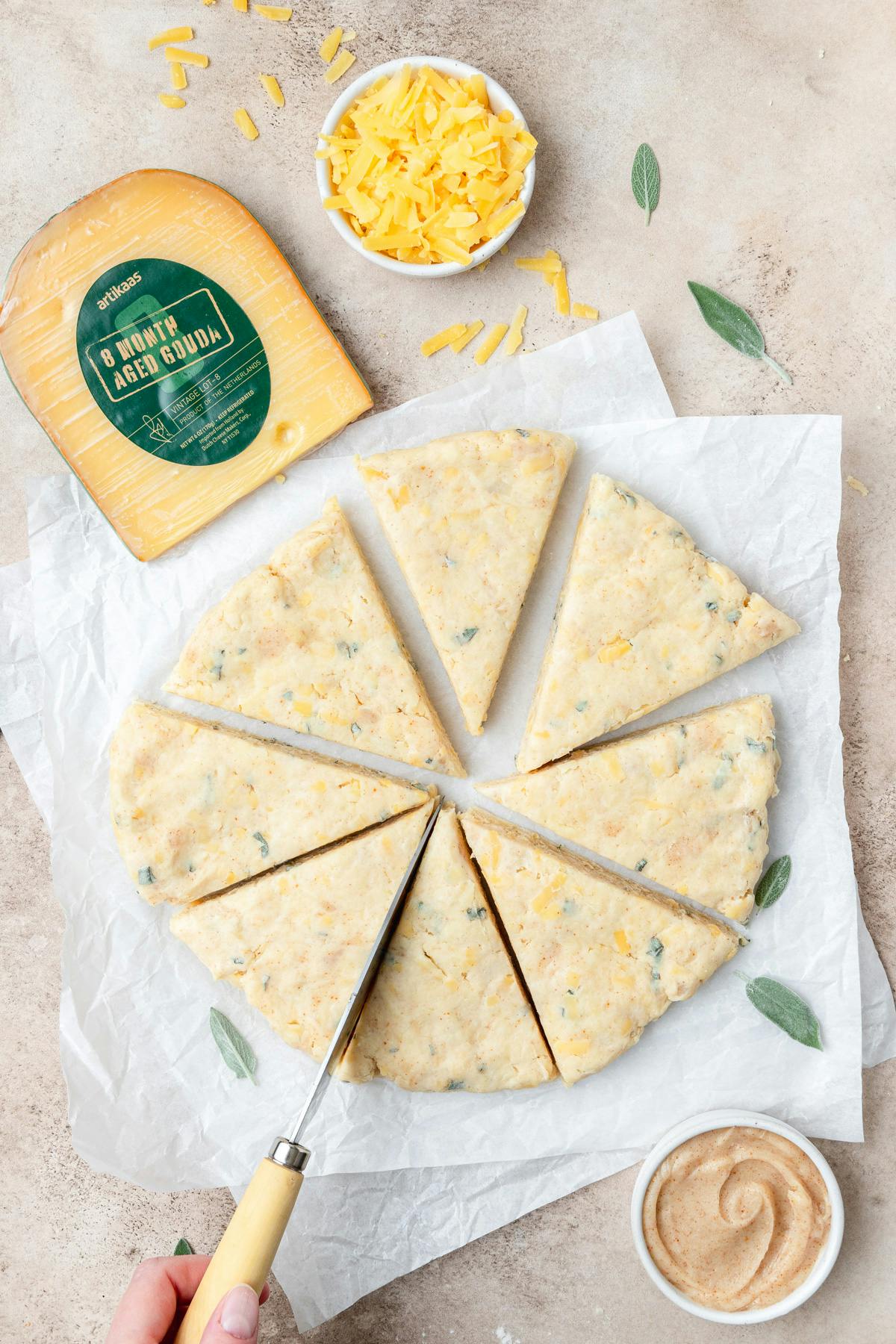 8. Place the scones a few inches apart on the lined baking sheet. Press a large sage leaf onto the top of each scone. Then lightly brush the tops with cream and sprinkle with flaky sea salt if desired.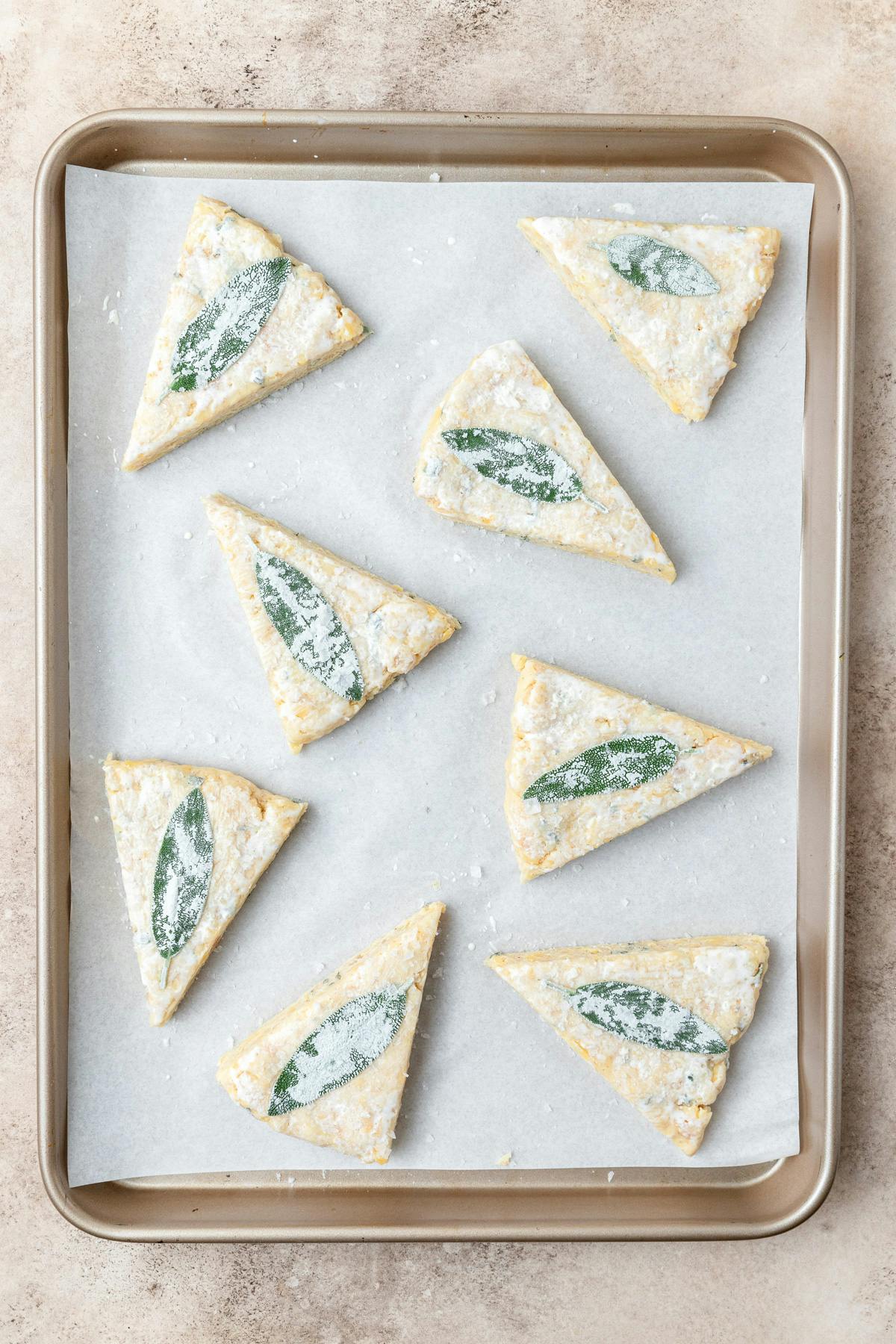 9. Place in the fridge for 15-20 minutes to firm back up.
10. While the scones are chilling, preheat the oven to 400°F. Bake at 400°F for 18-24 minutes or until the tops are golden brown. Remove from the oven and transfer to a wire rack to cool.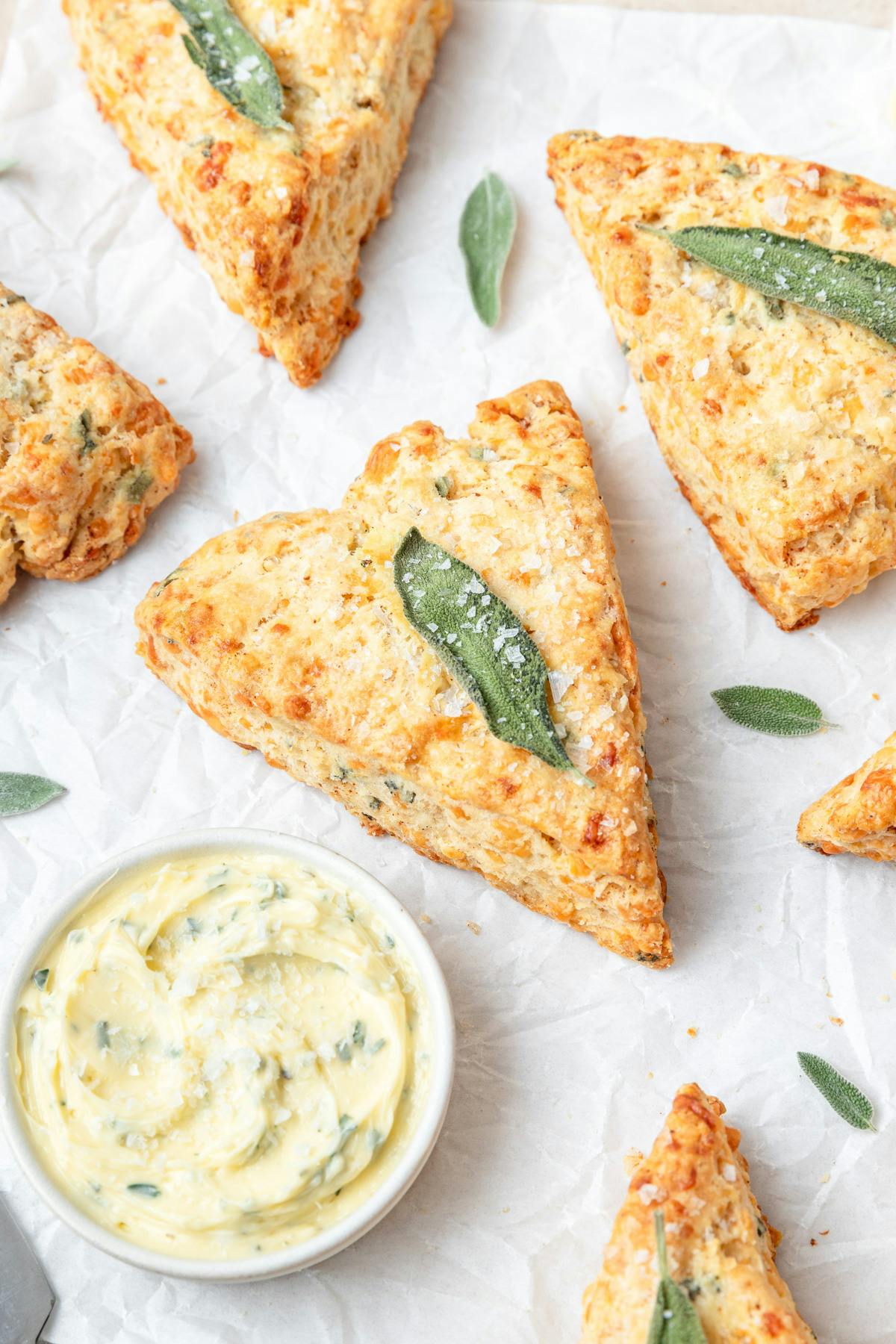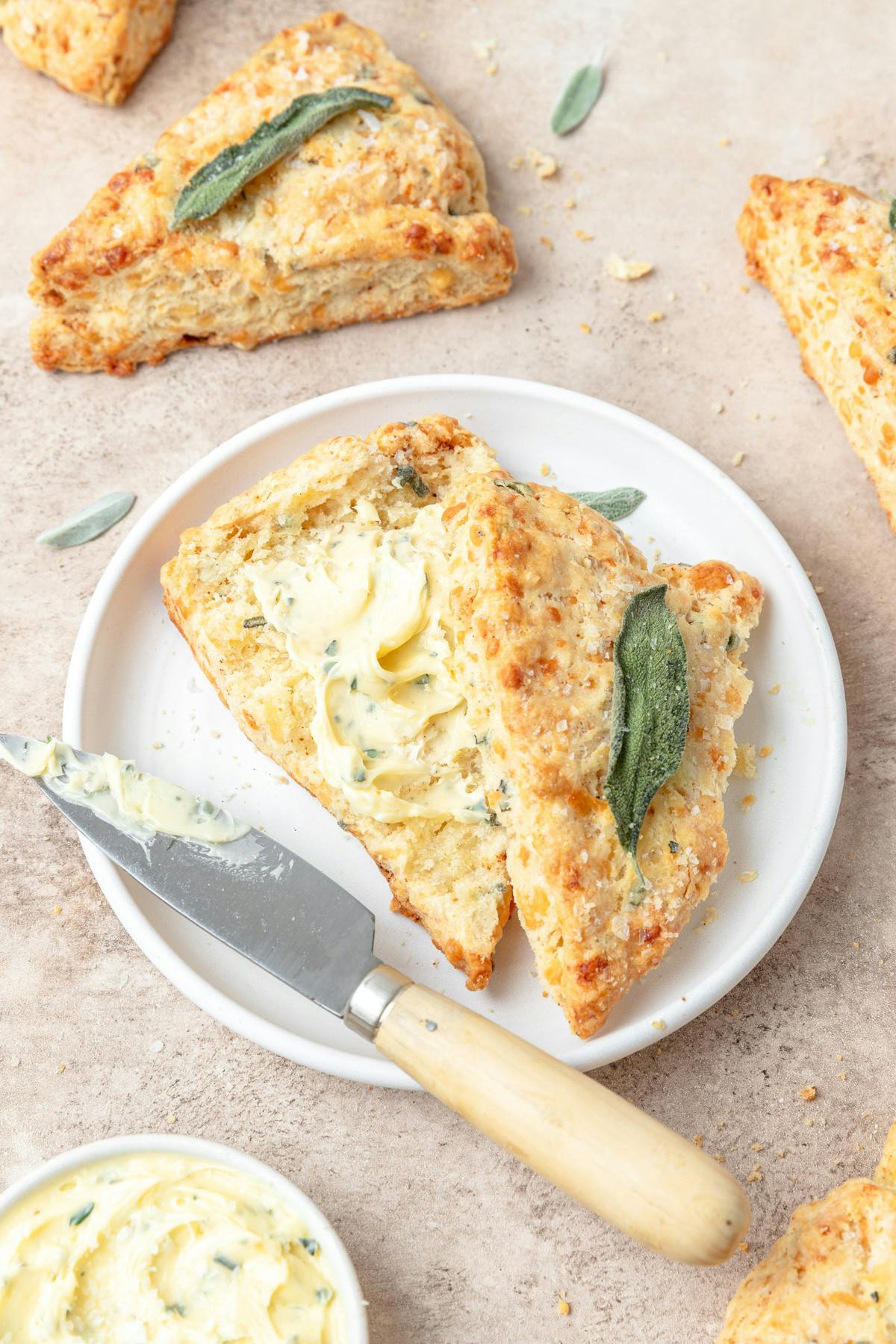 Optional: How to Make Browned Butter
In a medium-sized pot, melt unsalted butter over medium heat, stirring frequently. Watch closely for the butter to develop brown specs and a nutty aroma. Once you start seeing brown specs, let cook for just a few seconds longer (watch very carefully or it will burn).
Remove from the heat and pour into a small bowl so that it doesn't continue to cook.
Set aside and let cool for about 20 minutes in the fridge until soft and pliable. If you don't want to use browned butter you can just use room temperature unsalted butter.
Eat these delicious scones alone or pair them with a comforting soup!