Amanda Seamans @Stir.Taste.Smile is at it again—and this time, she's really outdone herself: pairing our Vintage Lot 18 with homemade dark chocolate ice cream!
These Vintage Lot Ice Cream Cookie Sandwiches are the definition of "decadent." But it's important to live life with no regrets, right?
Enjoy!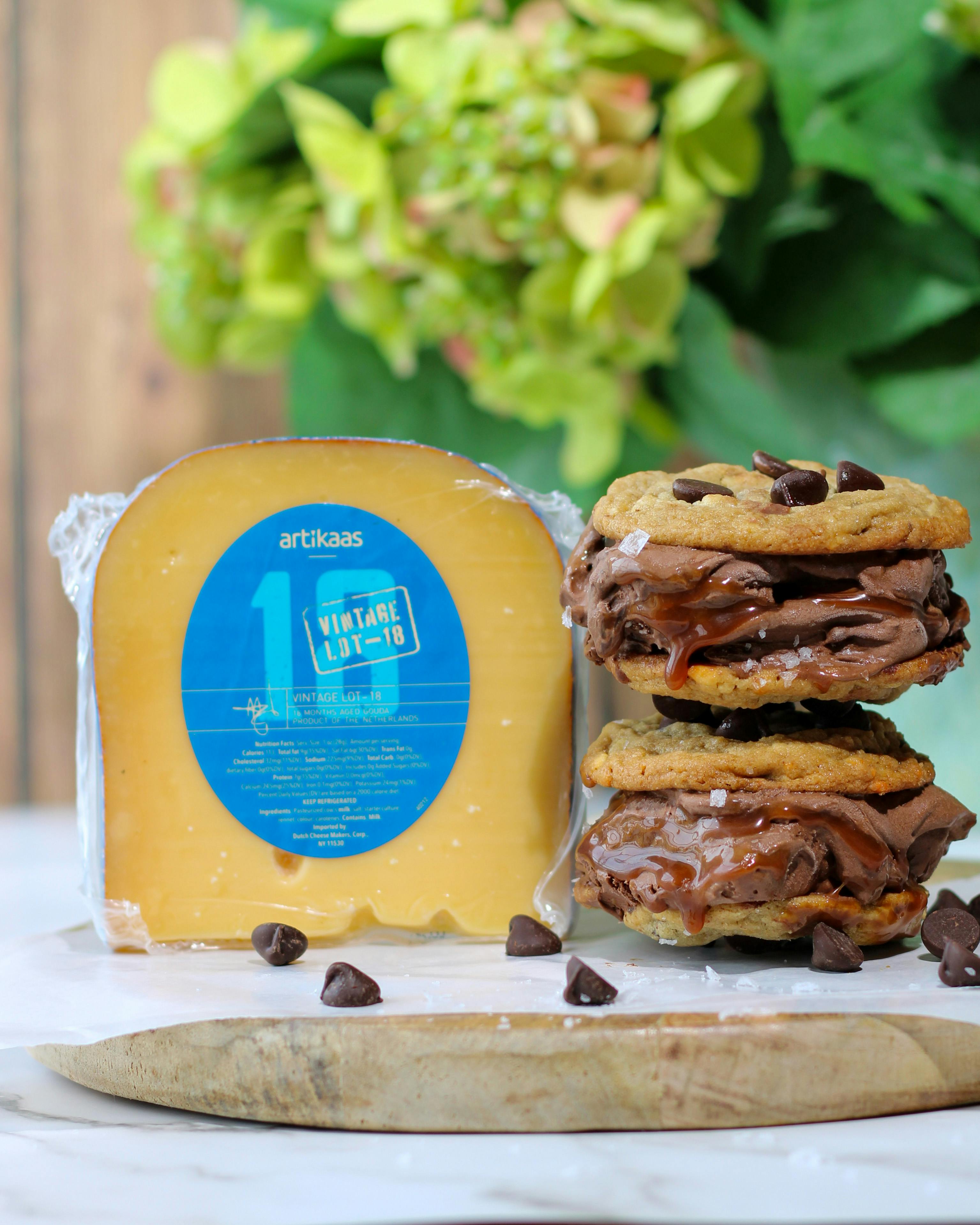 Vintage Lot 18 COOKIES
155 grams salted butter cold and cut
into 1/2 inch cubes
143 grams dark brown sugar
90 grams granulated sugar
1 egg cold
1 tsp vanilla extract
8.5 oz all purpose flour
1/2 tsp baking soda
1 tbsp cornstarch
6 oz chocolate chips
ICE CREAM
2 cups heavy cream
14 oz sweetened condensed milk
3 oz dark chocolate, melted
3 oz cocoa powder
Pinch of salt
1 tsp vanilla
1/2 cup caramel sauce
COOKIE METHOD
Preheat the oven to 350F. Whisk together the dry ingredients in a medium bowl and set aside. Grate the cheese on a box grater, mix with the dry ingredients.
Using beaters or the paddle attachment on a stand mixer, on medium speed cream the butter and sugars until fully combined and fluffy, about 2 minutes.
Add the egg and vanilla extract, beat until combined, about 30 seconds.
Scrape down the sides of the bowl and the bottom of the bowl, make sure to get everything incorporated.
Slowly add the dry ingredients with the mixer on low until all of the dry is combined. Scrape down the sides of the bowl. Add the chocolate chips, mix until thoroughly combined but do not over mix.
Line cookie sheets with parchment paper, this recipe makes 19 cookies, the amount of cookies on each cookie sheet depends on the size of your cookie sheet. 6 cookies per sheet should be perfect.
Using a medium size cookie scoop, portion out the dough or portion out 48 gram balls.
Bake at 350℉ for about 12-15 minutes or until golden around the edges.
ICE CREAM METHOD
Beat the heavy cream until stiff peaks form, set aside in the refrigerator.
Beat the sweetened condensed milk, melted chocolate, salt, vanilla, and cocoa powder until combined.
Place the whipped cream in the bowl with the chocolate mixture. Beat until fully combined.
Pour into a parchment lined 9x5 pan, swirl the caramel into it. Freeze for 12 hours