Recipe and Photography by Nina Napolitano of Nina's Pasta Project
INGREDIENTS
For the Dough
For the Filling
2 large sweet potatoes
1 teaspoon cinnamon
pinch nutmeg
salt and pepper, to taste
1 egg
80g Artikaas Raw Milk Walnut Hazelnut Gouda, shredded
For the Sauce
150g high quality butter
1 stick cinnamon
40g pecans, chopped
handful sage leaves
2 teaspoons apple cider vinegar (optional; a splash bourbon also works amazingly well here)
3-4 amaretti cookies, crushed, for garnish
Artikaas Parèggio shavings, for garnish
DIRECTIONS
Start by making your pasta dough. Create a well with your flour and crack in your eggs. Beat the eggs with a fork, and begin gradually incorporating in flour. When the mixture is the consistency of a thick custard, switch over to using a bench scraper. Finally, knead with your hands for at least ten minutes, until the dough comes together and is smooth and elastic. Cover and let rest while you make your filling.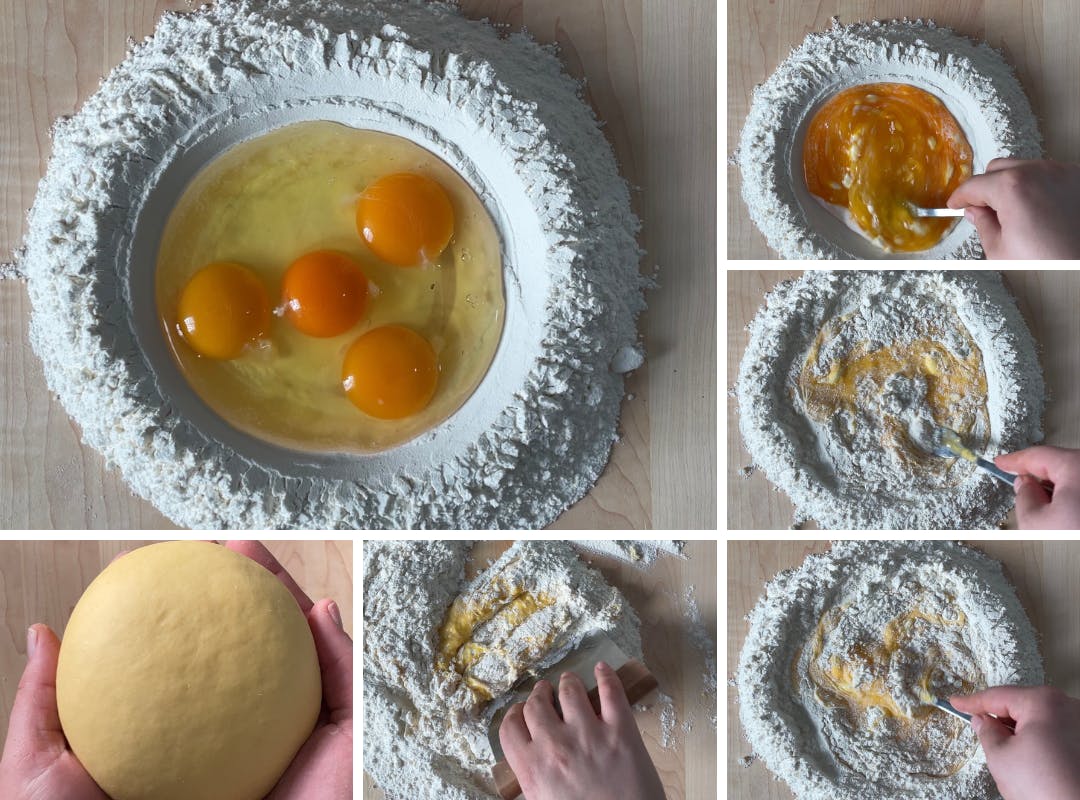 Poke holes in your sweet potatoes with a fork, and roast at 400 degrees Fahrenheit until tender. Once cool enough to handle, cut the potatoes in half and scoop out the flesh. Blend in a food processor with the spices, salt, pepper, and egg until smooth. Mix in the shredded Raw Milk Walnut Hazelnut Gouda.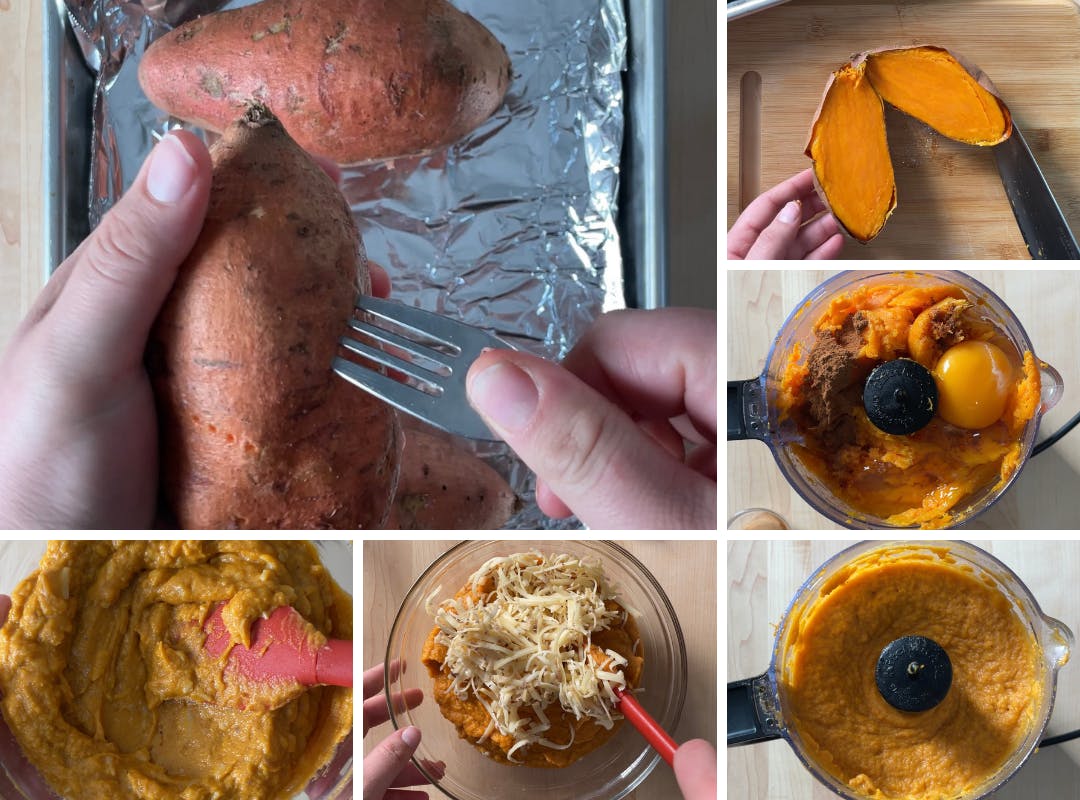 When both your dough and filling are ready, you can begin to assemble your tortelloni. Roll out your dough until it is very thin - if using a Marcato Atlas pasta machine, roll out to setting number 6. Cut your pasta into about two-and-a-half inch squares, scoop or pipe a dollop of filling in the center, and close as shown below.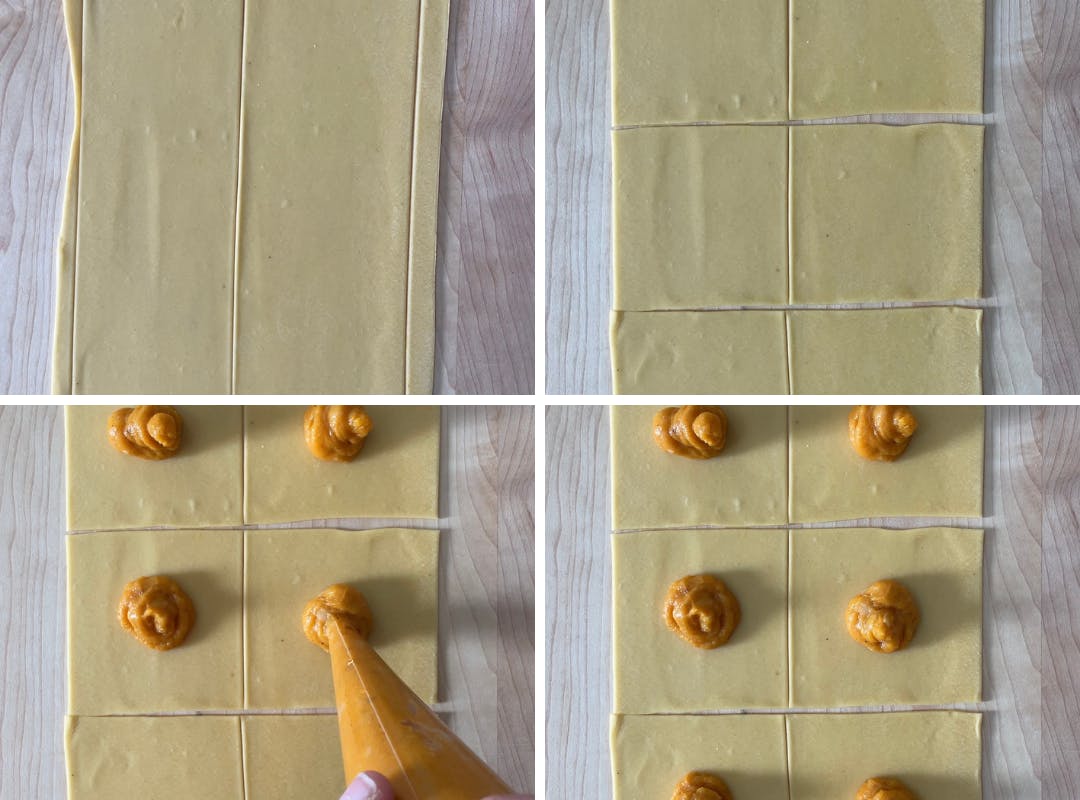 Fold each square in half to create a triangle, sealing well. Next, use your fingers to crease the edges of the triangle. Wrap the ends around two fingers and seal together. Repeat until you have used all your dough and filling. Keep the pasta on a towel or a floured sheet pan to keep it from sticking. You can also cover the pasta with another towel while you make the sauce, to keep it from drying out.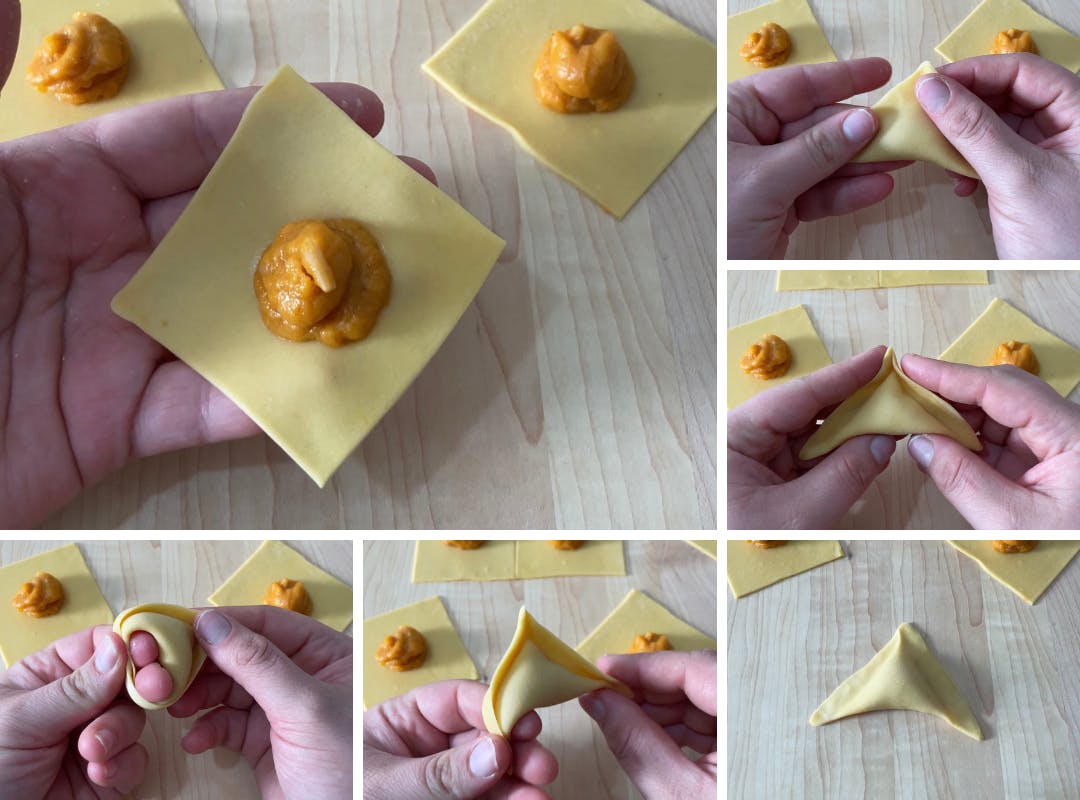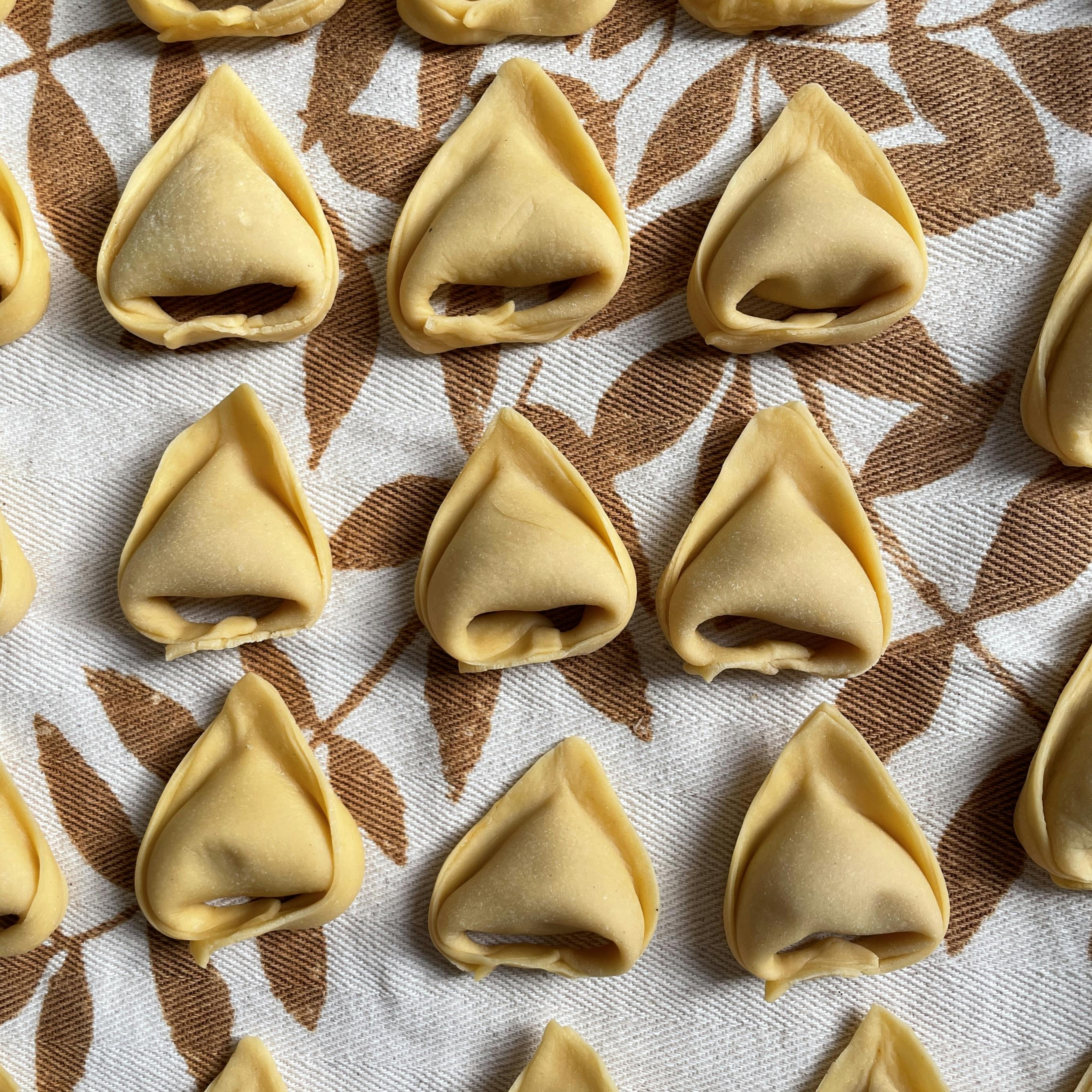 For the sauce, begin by making brown butter. Be sure to make the sauce as you boil the water for the pasta, as both need to be ready at the same time. Begin by heating the butter over medium heat, with the cinnamon stick in the pan, until it melts and begins to froth. After a few minutes, add in your pecans, and as the color starts to visibly change and deepen, your apple cider vinegar or bourbon, if using. Stir constantly, to avoid burning.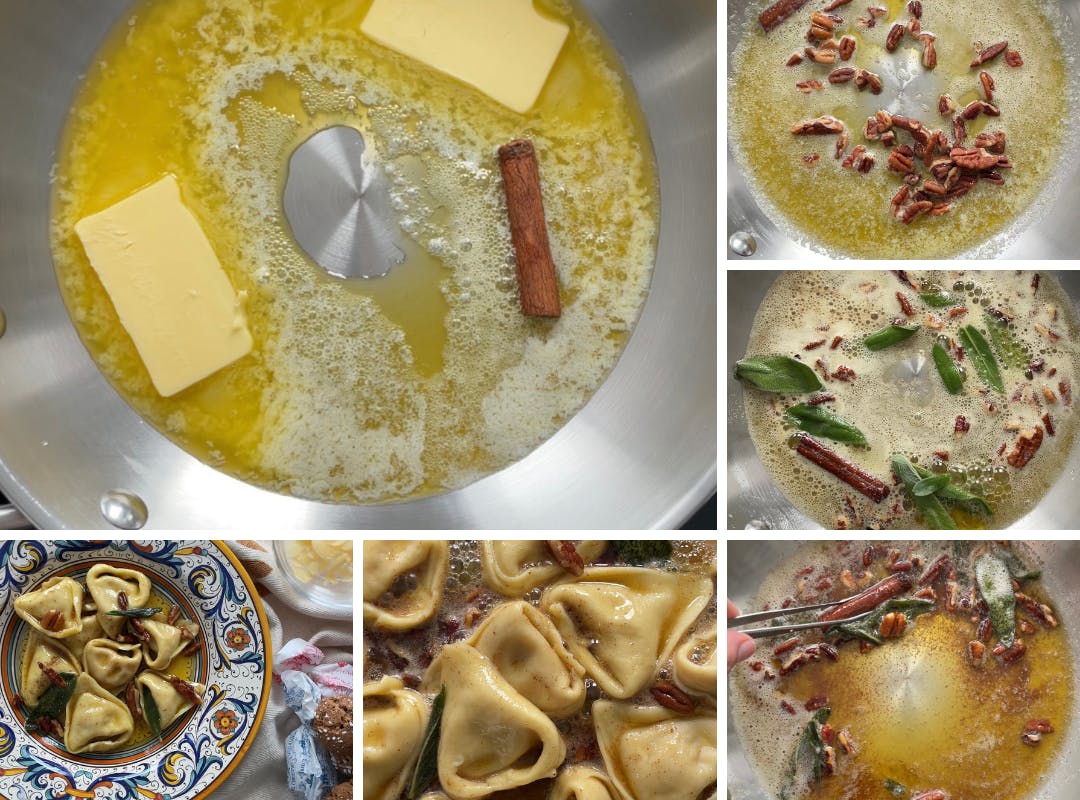 After roughly 5 minutes of total cooking time, when the butter is golden brown and has a nutty aroma, add in your sage leaves and cook for a few more minutes. Cook your pasta at this stage, as it will only take a few minutes, too. Make sure you have salted your pasta water well.
Finally, remove the cinnamon stick, and add the tortelloni directly into the sauce, over low heat, and simmer together for just a minute or two.
Remove your pasta from the heat and serve immediately, with a sprinkle of the crushed amaretti and some shavings of the Parèggio.