Recipe and Photography by Stephanie Surowiec www.dinnerclubdiaries.com.
Level up your next barbecue by serving these Smoky California Chicken Club Sandwiches! Italian-marinated, grilled chicken breast is topped with Youngsters Hickory Smoked Gouda. Adding to the melty cheese is a charred Smoky Jalapeño Mayonnaise, and the sandwich is finished off with crispy bacon, tomato and avocado to make that perfect "California Club."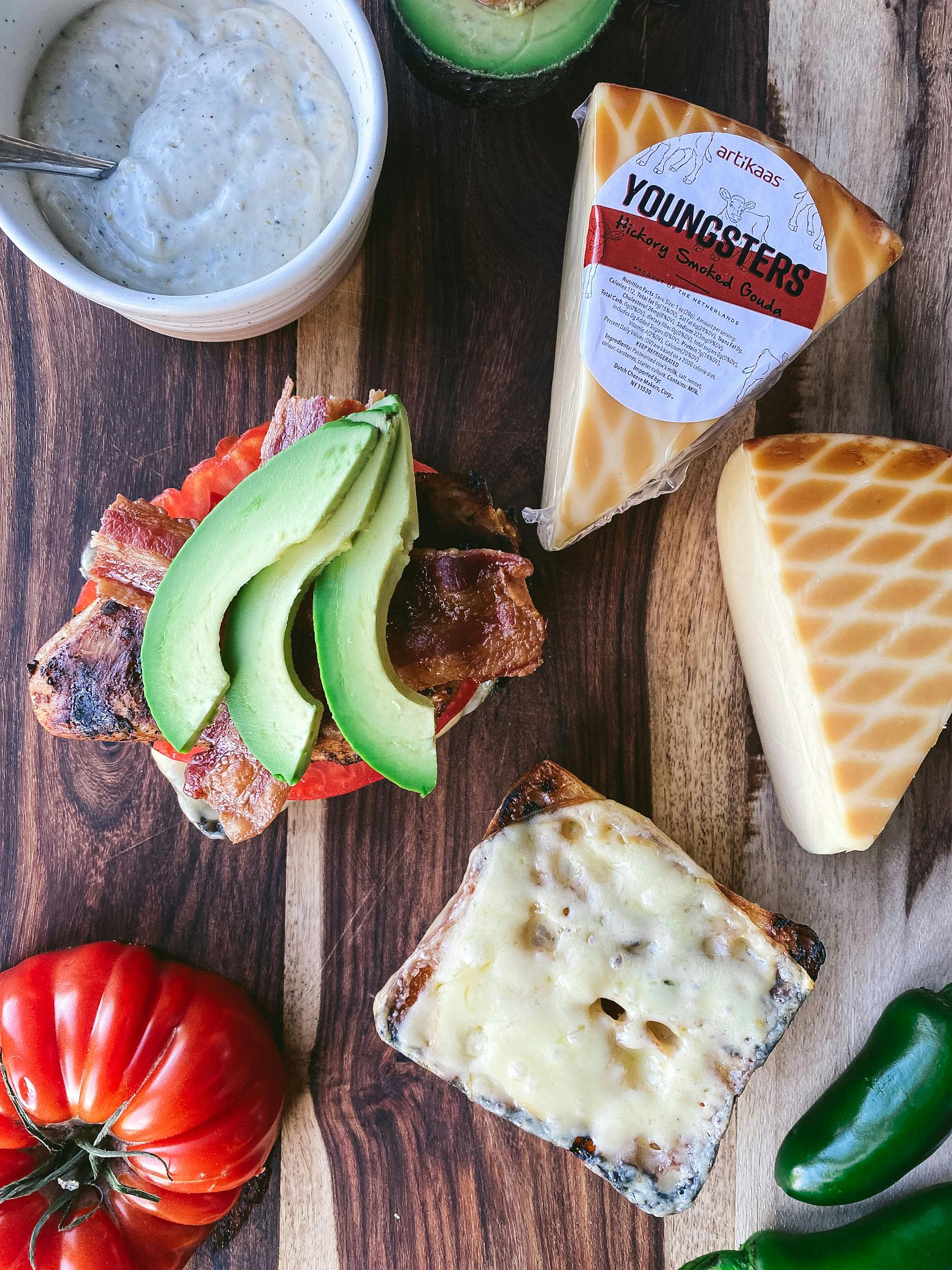 INGREDIENTS:
8 ounces sliced Artikaas Youngsters Hickory Smoked Gouda
4 boneless, skinless, Italian-marinated chicken breasts, about 6 oz each (see recipe below)
4 thick slices of cooked bacon
1 large heirloom tomato
1 ripe avocado
4 ciabatta rolls
Smoky Jalapeño Mayo (see recipe below)
INSTRUCTIONS:
Marinate the chicken overnight or for at least 2 hours. Place in a zip-top bag with the following: 1/2 cup olive oil, 1/4 cup red or white wine vinegar, 1 teaspoon garlic powder, 1 teaspoon dried oregano, 1 teaspoon dried basil, 1/2 teaspoon onion powder, 1/2 teaspoon crushed red pepper flake, 1/2 teaspoon paprika, 1/2 teaspoon salt, 1/2 teaspoon pepper, juice of 1 lemon.
Make the Smoky Jalapeño Mayo.
Over a gas flame on the stovetop, or using the broil function on the oven, char 2 Jalapeño peppers until they are completely black. Place in a covered bowl about 15 min to steam, and then when cool enough to handle, rub off all the charred skin. Remove stems and place roasted peppers into a small food processor. (I included the seeds of one, not both, Jalapeños, but add seeds based on your preferred spice level.) Combine with 1/2 cup mayo, 1 tablespoon fresh lemon juice, 1/2 teaspoon garlic powder, 1/2 teaspoon smoked paprika, 1/2 teaspoon salt. Blend together and refrigerate until ready to serve.
TO SERVE:
Slice ciabatta rolls in half, brush with olive oil, and toast lightly on the grill. Set aside. With the grill at about 400 ℉, cook your chicken breasts about 5-7 minutes on each side, or until internal temperature reaches 165 ℉. At the end of grilling, top each breast with about 2 oz of thinly sliced Youngsters Hickory Smoked Gouda and close grill top to melt the cheese. Place each chicken breast on the bottom half of ciabatta roll, and spread Smoky Jalapeño Mayo on the top half. Top chicken with slices of tomato, avocado and crispy bacon and put it all together! You can do this!