Recipe and Photography by Albana Shkupi
There's something immediately happy and comforting about pizza hugged in molten melty cheese. It's almost a universal welcome. This Barbecue Fig Chicken Pizza with Artikaas Youngsters Goat Gouda is an elegant yet easy creation that's perfect for wowing your family and friends.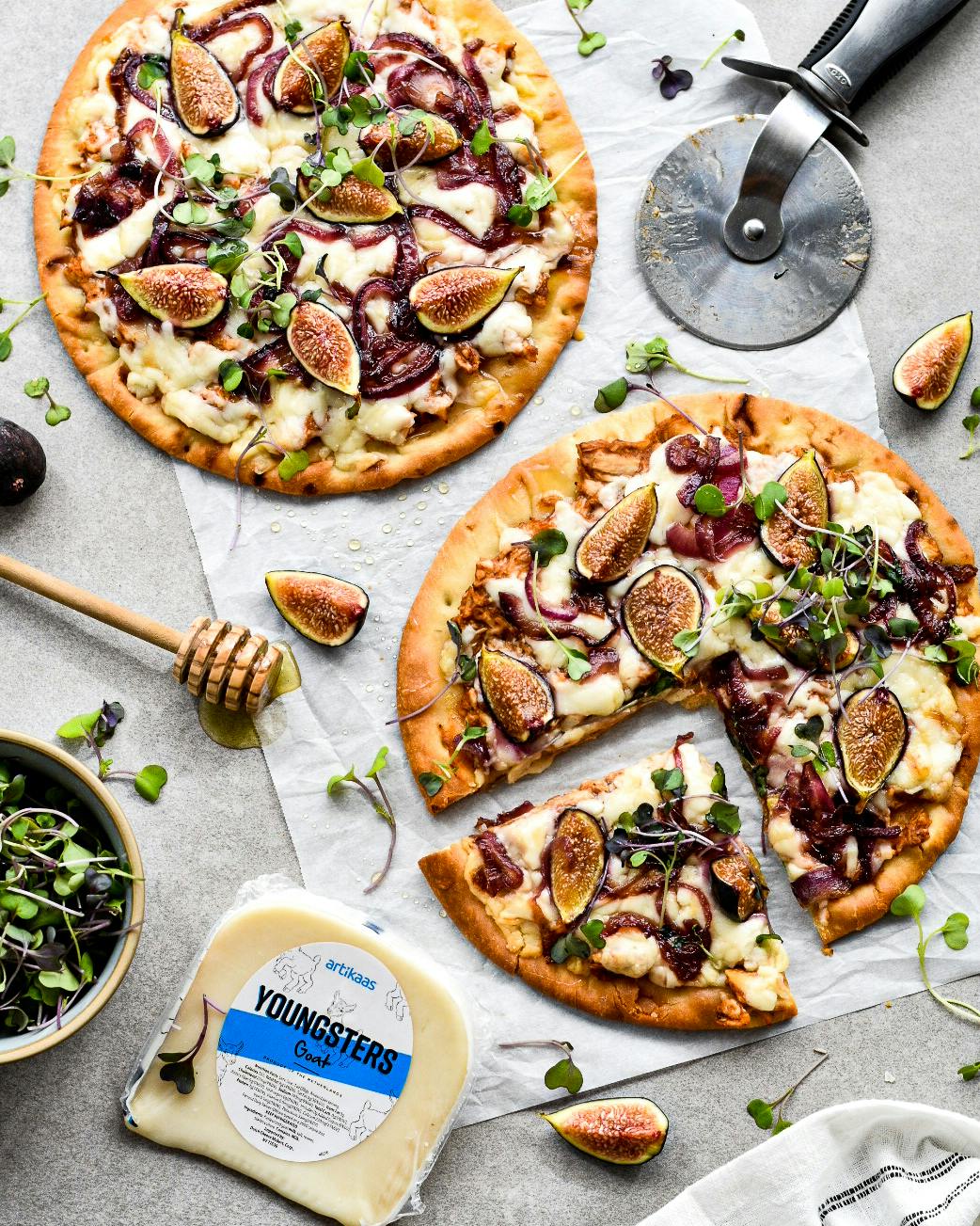 Pizza is all about having fun and playing with flavors and textures. When it comes to crust, it's your canvas for exploring different combinations. It's the ultimate vehicle to fuse the worlds of sweet and savory or bring different cuisines together!
Youngsters Goat Gouda adds a level of creaminess and tang that takes this pizza from special to extraordinary!
INGREDIENTS
2 store bought pizza crusts, naan, or favorite pizza dough
8 ounce package Youngsters Goat Gouda
1 cup cooked chicken, shredded
1/2 cup barbecue sauce honey flavored
8 ounces fresh figs, quartered
1 red onion, caramelized
honey, for drizzling
microgreens or arugula for topping
DIRECTIONS
Preheat oven to 425 degrees.
In a medium bowl add the chicken and barbecue sauce. Stir to evenly coat chicken.
Shred the Youngsters Goat Gouda, set aside.
To assemble your pizzas, spread a layer of the barbecue chicken on top of the crust.
Even sprinkle the goat gouda over the pizzas and top with figs, caramelized onions, and a drizzle of honey.
Bake for 15 minutes until the cheese is melted and bubbly and the figs are slightly roasted.
Remove from the oven and top with either microgreens or arugula.
Slice and enjoy!