Stuffed shells are a great pasta dish to make ahead of time and throw in the oven for a quick, delicious bite. These pumpkin and gouda stuffed shells with butter and sage alfredo sauce is the ultimate fall dish you need to make.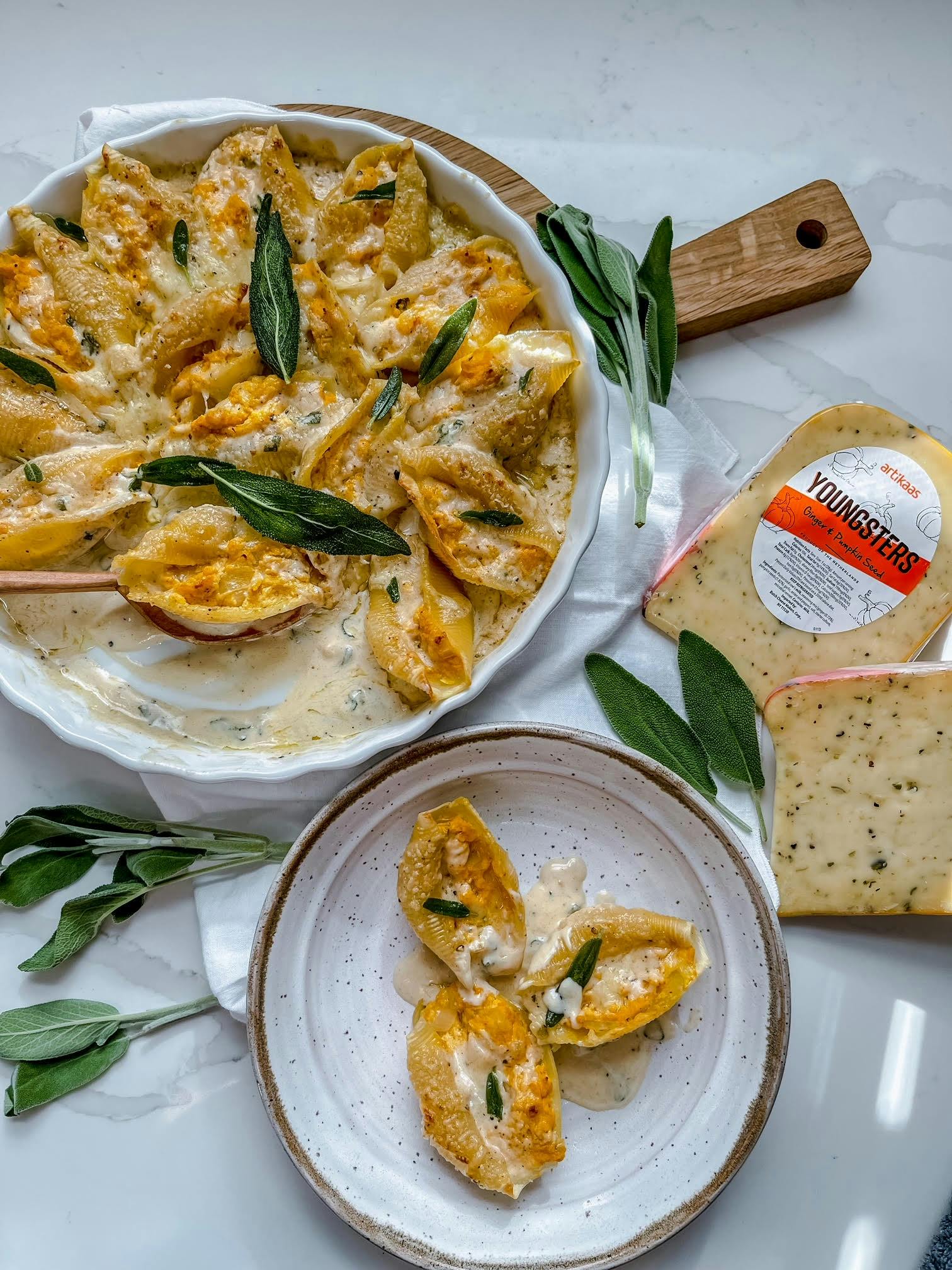 Recipe and Photography by Casey Cheek
INGREDIENTS
1/2 pound jumbo pasta shells
1 1/4 cup ricotta
1/2 pumpkin puree
1/3 + 1/3 cup Artikaas Ginger Pumpkin Seed Gouda, shredded
2 cloves garlic, minced
1 teaspoon nutmeg
1 teaspoon salt
1 teaspoon pepper
1/2 large yellow onions, diced
1 tablespoon olive oil
6 large fresh sage leaves (+plus more to fry and add on top)
4 tablespoon salted butter
1 tablespoon flour
2 cups heavy cream
pinch of salt and pepper
DIRECTIONS
Preheat oven to 400 F.
Cook the shells al dente, according to package directions.
Sauté yellow onions with half of the sage in the olive oil.
Mix together the ricotta, pumpkin, 1/3 cup shredded gouda, garlic, nutmeg, and salt and pepper. Once the yellow onion becomes translucent, add that into the mixture.
To make the alfredo sauce, heat the butter on medium high until it melts completely and starts to brown. Turn the heat down low and add in the rest of the chopped sage. Mix until fragrant a couple minutes. Whisk in the flour. Then slowly add half the cream. Keep whisking until it thickens. add in the other half of the cream and season with the salt and pepper. Let the sauce thicken again.
Add half the alfredo sauce to the bottom of your baking dish.
Once the shells are al dente and have cooled off slightly, spoon 2 tbsp of the filling into each. arrange around the baking dish.
Pour the rest of the alfredo sauce on top of the shells. Sprinkle the rest of the shredded gouda over top.
Bake for 2-25 minutes until cheese is bubbly.
Top with more black pepper and some fried sage leaves.