Recipe by Home Chef Lily Morello
Made-from-scratch focaccia stuffed with Artikaas' Hay There Raw Milk Gouda with Lavender and Thyme, topped with slices of peach and extra thyme from my garden — an easy bread recipe taken to a whole new level with the addition of summer stone fruit and a super creamy, lavender and thyme infused gouda, generously stuffed inside and melted on top. I was not exaggerating when I said this bread was cheesy!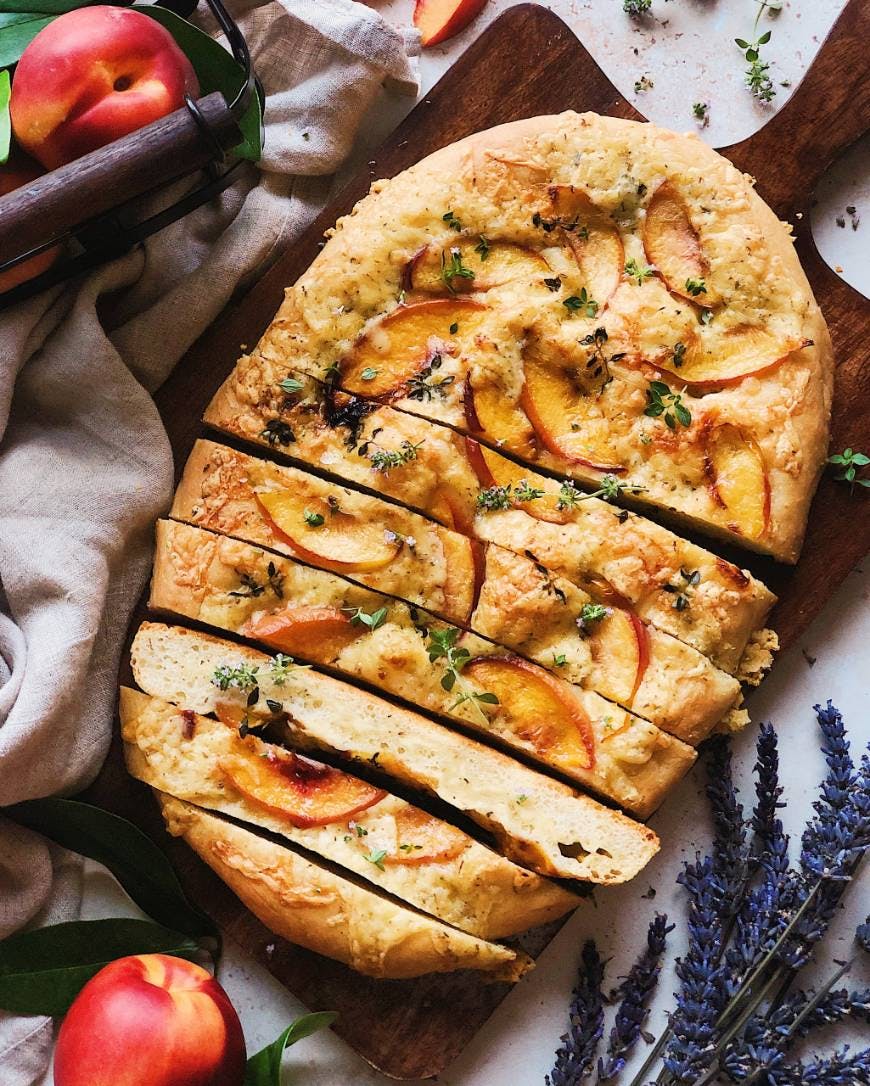 INGREDIENTS
2/3 cup warm water
2 teaspoons honey
1 1/2 teaspoons dry active yeast
1 3/4 + 1 tablespoon all purpose flour
1/8 cup extra virgin olive oil + extra for drizzling
1/2 teaspoon kosher salt
7 1/2 ounces Artikaas Hay There Raw Milk Gouda with Lavender and Thyme, grated
1 peach or nectarine, pitted and thinly sliced
1 – 2 sprigs fresh thyme, leaves picked (optional)
1/4 – 1/2 teaspoons sea salt flakes
DIRECTIONS
In a stand mixer bowl, gently combine water, honey, and yeast. Allow the yeast to bloom in a warm place for 5 minutes, or until there is a foam layer on the surface.
Fit your stand mixer with the dough hook. Set the mixer to low speed and gradually add 1 3/4 cups flour, then 1/8 cup olive oil and the kosher salt. Turn up the speed of the mixer to medium and allow the dough to be kneaded for 4 minutes. If the dough has not pulled away from the sides of the bowl, add an additional 1 tablespoon of flour. Continue to knead for 2 minutes on medium. The dough should feel very soft but should easily scrape away from the bowl and dough hook with a rubber spatula. If not, repeat the process of incorporating 1 tablespoon of flour and kneading briefly, until the dough is no longer as sticky. Roll the dough into a ball.
Generously coat the inside of the stand mixer bowl with olive oil. Roll the ball of dough around in the olive oil until coated. Cover with a damp towel and place in a warm spot to proof for 45–60 minutes, or until it has doubled in size.
Divide the dough in half. Press and shape each half into a 11" x 7" oval on a sheet of parchment paper. Cover both halves with plastic wrap or a damp towel and allow to rest again in a warm place for 20 minutes.
Meanwhile, place a rack one-third from the top of the oven and preheat to 400°F.
Generously grease a large baking tray with olive oil. Place one of the pieces of dough on the tray and spread about two-thirds of the cheese in an even layer on top. Place the other piece of dough on top of the cheese. Pinch the edges of the dough layers tightly to seal, and then tuck the pinched edges under the dough and shape back into a 11" x 7" oval.
Use fingertips to create dimples all over the surface of the dough, pressing almost all the way through. Drizzle generously with olive oil, then sprinkle the remaining cheese on top. Gently press in the peach slices, then top with a sprinkle of fresh thyme, if using.
Bake for 25–30 minutes or until the surface is golden brown, rotating once halfway. Allow bread to cool and set before slicing.