When it's BBQ season, the meat is usually the star of the show, but that doesn't mean your sides have to be boring! Everyone loves a classic potato salad and this one is the perfect addition to a summer spread. It's loaded with colorful veggies, creamy dressing, and delectable smoky Gouda. We kept it meat-free but if you want to step it up a notch, add some crispy bacon pieces!
Youngsters Hickory Smoked Gouda is ideal for shredding and melting. This Gouda is cold smoked over Hickory wood to infuse a velvety, toasty smokiness that adds a level of depth to the potatoes. Find it at your local Whole Foods or retailer.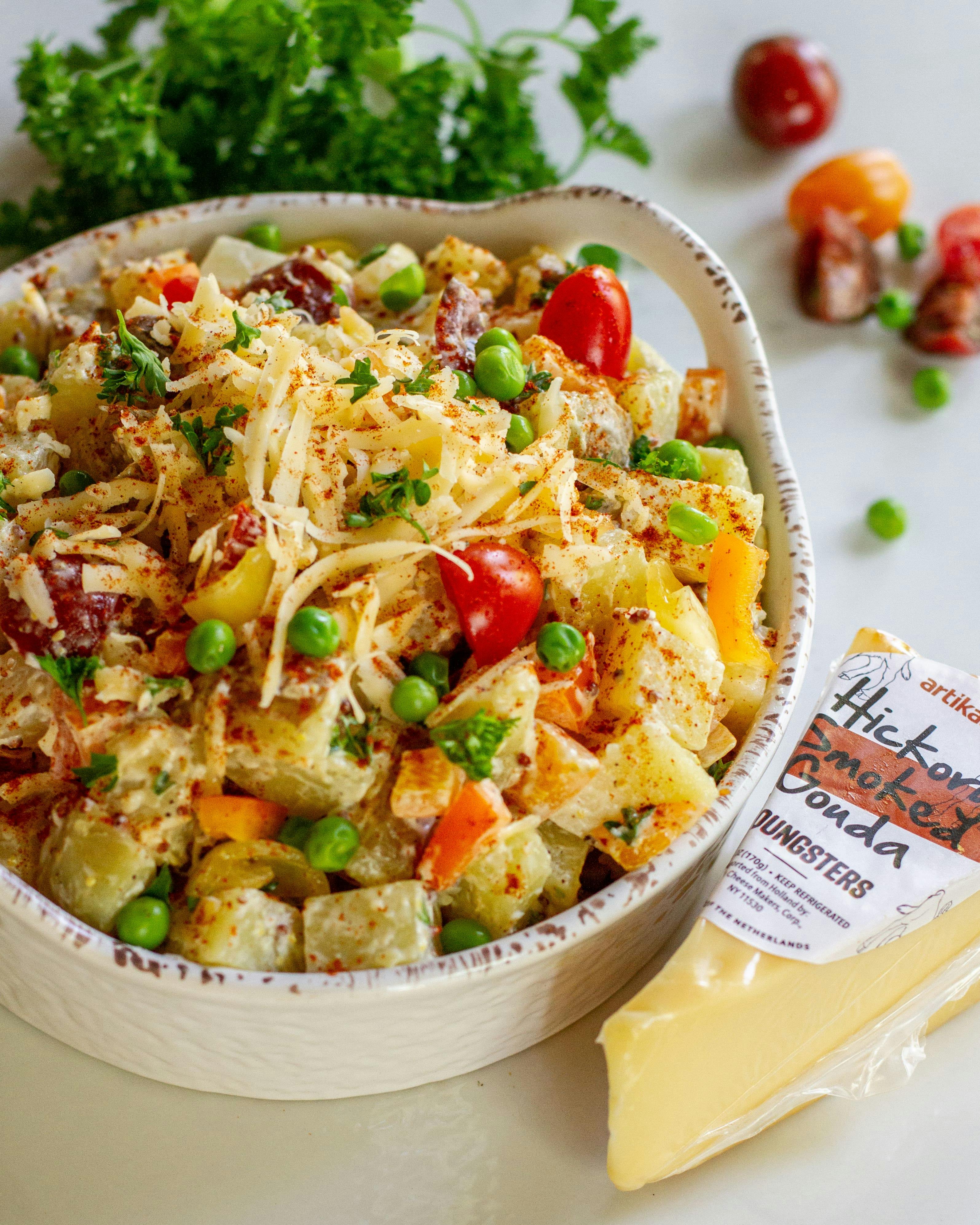 INGREDIENTS
Youngsters Hickory Smoked 6oz wedge (shredded)
6 Golden Yukon potatos
1 orange bell pepper
1 cup of peas
Parsley
1.5 cups of cherry tomatoes, quartered
2 heaping tablespoons of mayonnaise
1 tablespoon of whole-grain mustard
Salt and pepper to taste
Paprika
HOW TO MAKE
Boil a pot of water and insert the potatoes until tender with a fork. Here, we did 3 without skin and 3 with skin but it's up to your preference!
Pour frozen peas into a nonstick saucepan and add 1/2 cup of water. Cook covered over medium heat for 4-5 minutes or until heating throughout. Stir occasionally. Let stand for 1-2 minutes then drain.
Shred Youngsters Hickory Smoked Gouda and cut tomatoes and bell pepper while potatoes and peas are cooking.
Remove potatoes and cut into small cubes. Set aside to cool.
Once cool, add mayo, mustard, salt, pepper, and shredded Gouda. Mix it up. Once fully dressed, add in the remaining ingredients leaving some behind for garnish.
Garnish with some remaining ingredients and enjoy! Best served chilled.