By Amanda Seamans at Stir Taste Smile
The buttery shortbread with the savory, slightly aromatic Artikaas Raw Milk Gouda with Lavender & Thyme creates a perfectly balanced cookie that pairs beautifully with the rich, but vibrant blueberry ice cream.
This flavor is perfect in cookies because of its intense flavor that shines through and the creamy texture bakes perfectly.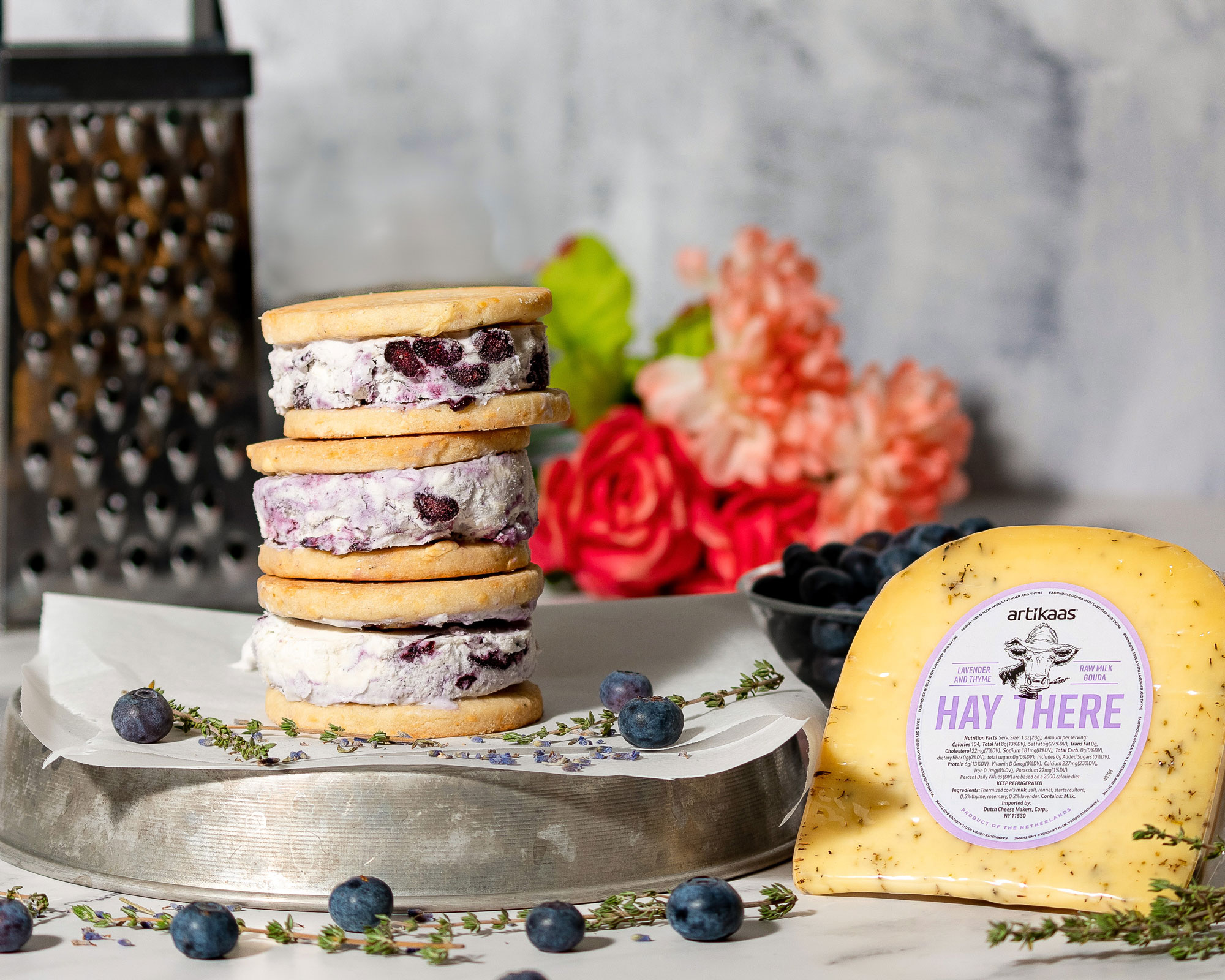 INGREDIENTS
For the Lavender Cookies
2 sticks salted butter
½ cup powdered sugar
½ tsp vanilla extract
1 ¾ cups all purpose flour
¼ cup cornstarch
For the No Churn Ice Cream Base
2 cups heavy cream
14 oz sweetened condensed milk
2 tsp vanilla extract
For the Blueberry Sauce for Ice Cream
12 oz frozen blueberries
⅓ cup water
⅓ cup granulated sugar
Zest of one lemon
2 tablespoons lemon juice
1 tsp cornstarch
DIRECTIONS
For the Cookies
Preheat the oven to 350F. Line a cookie sheet with parchment paper.
Grate the gouda cheese using a box grater. Set aside.
Using a paddle attachment on a stand mixer or beaters on an electric mixture, cream the butter, vanilla, and sugar until fully combined. Add the flour and cornstarch. Lastly, add 3/4 cup of the cheese (save the rest for topping the cookies).
Mix until a dough forms. Roll out the dough ¼ inch thick, cut out 2 inch circles, and place on a cookie sheet. Top each cookie with a small sprinkling of the leftover cheese. Bake for 12-15 minutes or until the cheese is slightly golden.
Let cool before making sandwiches.
For the Blueberry Sauce
Place the blueberries, water, sugar, lemon juice, and lemon zest in a medium saucepan. Bring to a boil, and then simmer for about 10 minutes or until the liquid is almost gone. Mix 1 tsp of cornstarch with 1 tsp of water, add it in last, stirring until slightly thickened. Let cool and place in the refrigerator until cold.
For the Ice Cream
Using beaters or the whisk attachment, whip the heavy cream and vanilla until stiff peaks form (should not fall when upside down).
Gently fold in the sweetened condensed milk until thoroughly combined. Fold in the cold blueberry sauce. Pour into a lined 9X5 loaf pan or Tupperware, and freeze until set.
Make sandwiches with 2 cookies and a medium size scoop of ice cream.