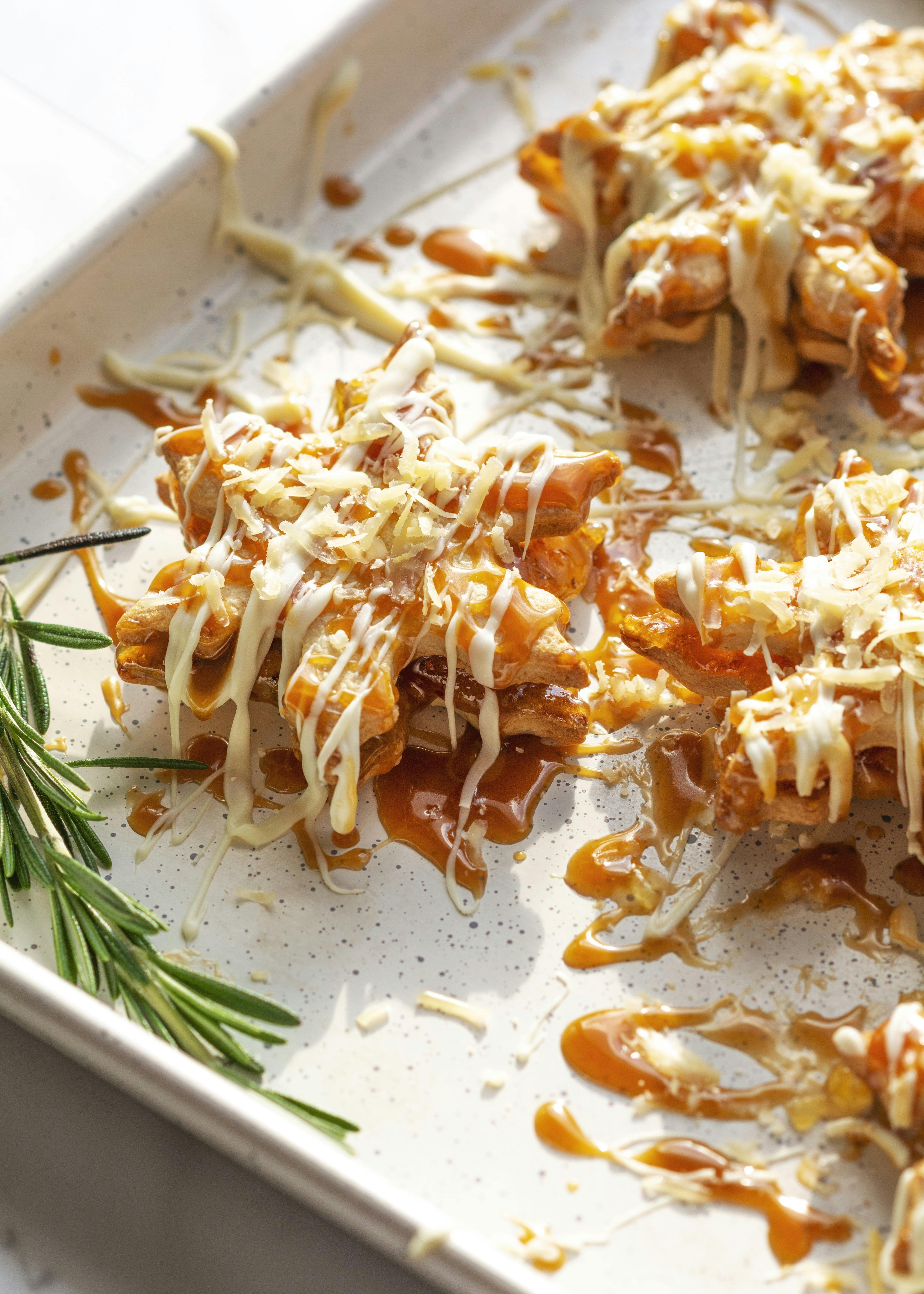 Jammy Gouda Cookie Sandwiches with salted vanilla bourbon caramel and white chocolate
INGREDIENTS
For the caramel
1/4 cup apple white grape juice
1 cup granulated white sugar
1/2 cup heavy cream
6 tablespoons unsalted butter
1 teaspoon vanilla extract
1/2 teaspoon fine sea salt
1 teaspoon - 1 tablespoon flavorful bourbon
For the cookies
1 teaspoon granulated white sugar
2 generous tablespoons dark brown sugar
1/2 teaspoon fine sea salt
1/2 teaspoon vanilla extract
1/2 cup room temperature unsalted butter
1 large egg
2 cups flour
1 cup white chocolate
your choice of fruit preserves (For a refreshing cookie, try lemon or peach preserves. For a sophisticated cookie, try fig or quince preserves.)
DIRECTIONS
For the Caramel
In a small sauce pan, mix the sugar and juice together. Once mixed, place on the stove over medium heat. Keep a close eye on the mixture, but do not stir. Wait until it becomes golden brown (approx. 10-15 minutes). Once the mixture has reached a golden brown/copper shade, remove from the heat. Immediately whisk in the heavy cream. Upon adding the heavy cream, the mixture will bubble, so take caution when pouring. Once the heavy cream is combined, add the six tablespoons of butter, one tablespoon at a time. Whisk to combine. Then, add the vanilla, sea salt, and bourbon. Use immediately or pour into a glass container and keep in the fridge for up to two weeks.
Note: The alcohol is not being cooked off in this recipe, so add as much as you are comfortable with, tasting as you go. It is very important to use a flavorful bourbon, otherwise your caramel will end up tasting only of alcohol. We used a bourbon that has notes of maple syrup, pecan, cocoa, and dried apricot.
For the Cookies
In a large mixing bowl, mix together the white and brown sugar. Add in the butter and cream with the sugar. Once creamed, add in the egg and vanilla extract. Mix until incorporated. In another bowl, mix 1 1/2 cups of flour and sea salt together. Combine into the sugar mixture, small amounts at a time. Add in Artikaas Parèggio Gouda. Your dough at this point should be fairly crumbly in texture. If the dough is still wet, add in the remaining half cup of flour. Proceed to knead your dough and then shape into a disc and let rest in the fridge for a minimum of two hours. This dough can be made in advance and can be stored in the freezer for up to three months.
Once your dough has had enough time to rest, roll it out approximately 3-5mm thick. Use your favorite cookie cutter and cut out an even number of shapes. You will need two for one cookie. Place your cutouts on a greased cookie sheet and bake in the oven at 350 degrees until golden brown (approx. 10 minutes). Once baked, remove from the oven and set aside to cool. Gather your fruit preserves of choice, caramel, and white chocolate. Once all of the cookies are cool, spread the caramel on half and a generous amount of fruit preserve on the other half. Gently press the two halves together and repeat for each cookie. Melt the white chocolate using a double boiler and warm your caramel, if necessary. Drizzle the top of the cookies with caramel and white chocolate to your liking. To finish it off, shred a bit Artikaas Parèggio Gouda over the top of your cookies and serve!