Recipe and Photography by Angela and Mark @Cooking_With_Wine
In need of unique appetizer ideas to get you through the holidays AND football season? Well, these Jalapeño and Smoked Gouda Bagel Dog Bites* will have you scoring a big touchdown with all your friends and family!
Our classic, creamy Smoked Gouda helps kick this spicy dog into a whole new league.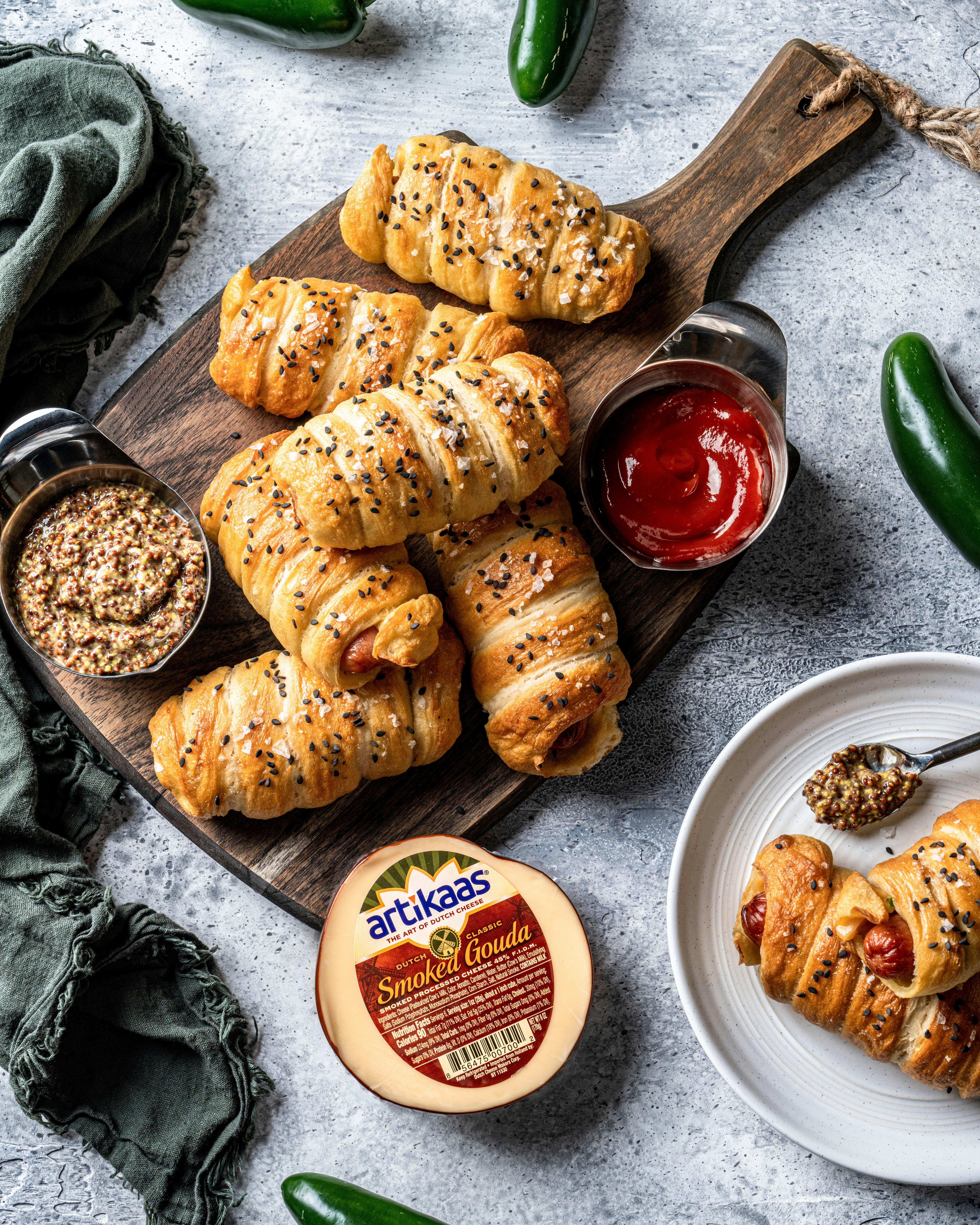 INGREDIENTS
Bagel Dough
1 cup warm water (approx 100°F)
1 tsp honey
1 tsp active dry yeast
2.5 cups all purpose flour (plus an extra 1/4 cup if needed)
1/4 tsp salt
1 tbsp butter, room temp
Filling
10 Mini hotdogs, smoked sausages, smokies (we used 4 inch long smoked hot dogs)
2 jalapeños, de-seeded and cut into strips, slightly shorter than your hotdogs
4 oz Artikaas Smoked Gouda, cut into ¼ inch thick strips—slightly shorter than your hotdogs
For Pre-Bake Boiling
large pot of water filled 2-3 inches deep
2 tbsp baking soda
1 tbsp granulated sugar
Topping
1 egg white beaten with 1 tsp water
Black or white sesame seeds, poppy seeds, flakey sea salt, or Everything Bagel Seasoning


DIRECTIONS
Make The Bagel Dough:
In the bowl of a stand mixer fitted with the dough hook, add warm water and honey and mix to combine. Sprinkle yeast on top of the water mixture and let it sit for 1 minute. Then gently mix with a spoon and allow it to bloom (begin to look frothy). This should take about 10-15 minutes.

Add flour, salt, and butter to bowl and knead on medium for about 5-8 minutes until the dough forms a cohesive mass around the dough hook. If your dough seems sticky and isn't forming a ball around the dough hook, then add up to 1/4 cup more flour a little bit at a time until the dough is no longer sticking to the sides of the bowl. Alternatively, knead by hand until dough appears smooth and easily forms a tight ball.

Remove dough and place it in a lightly oiled bowl and cover with plastic wrap. Allow dough to rise for 1-1.5 hours. If your house is fairly cool, place bowl in the oven with the light on, otherwise allow it to rise at room temperature. The dough should double in size when it's ready to roll out.
Prepare To Boil And Bake:
Once dough has almost doubled, preheat your oven to 425°F and prepare your pot of boiling water, baking soda, and sugar. Once your pot comes to a boil, reduce to medium. The water should continue to gently boil, so adjust the temp as necessary.
Assemble Your Bagel Dogs:
To prepare your dogs, remove from their packaging and completely dry off, set aside with the jalapeño strips and cheese.

Remove dough from bowl to a lightly floured surface and shape into a log about 12 inches long.

Cut the dough into 10-12 equally sized pieces (about 2.5 oz each). Roll each section of dough into a rope about 12 inches long (for the 4-inch long smoked hot dogs, adjust as necessary depending on the length of your smokies/sausages).

Working one at a time, take your hot dogs, jalapeños and cheese and place one of each in the center of the rope, then wrap each end of the rope around all the way to the ends of the dogs. Cut off any excess dough. The dough should be covering the cheese and jalapeño completely but can be open at the end with the hot dog slightly sticking out. Pinch the end of the dough gently into the wrapped dough to prevent it from unraveling during the cooking process. Place each one on a tray to easily transfer.

Once all hot dogs are wrapped, gently place about 3-4 in the pot of boiling water for 1 minute. Remove to a drying rack with a paper towel underneath or a paper towel lined plate as you finish the rest.

Brush the tops of the dough with the egg white mixture and sprinkle with your topping of choice.

Bake for 12-15 minutes or until golden brown.

Remove and serve!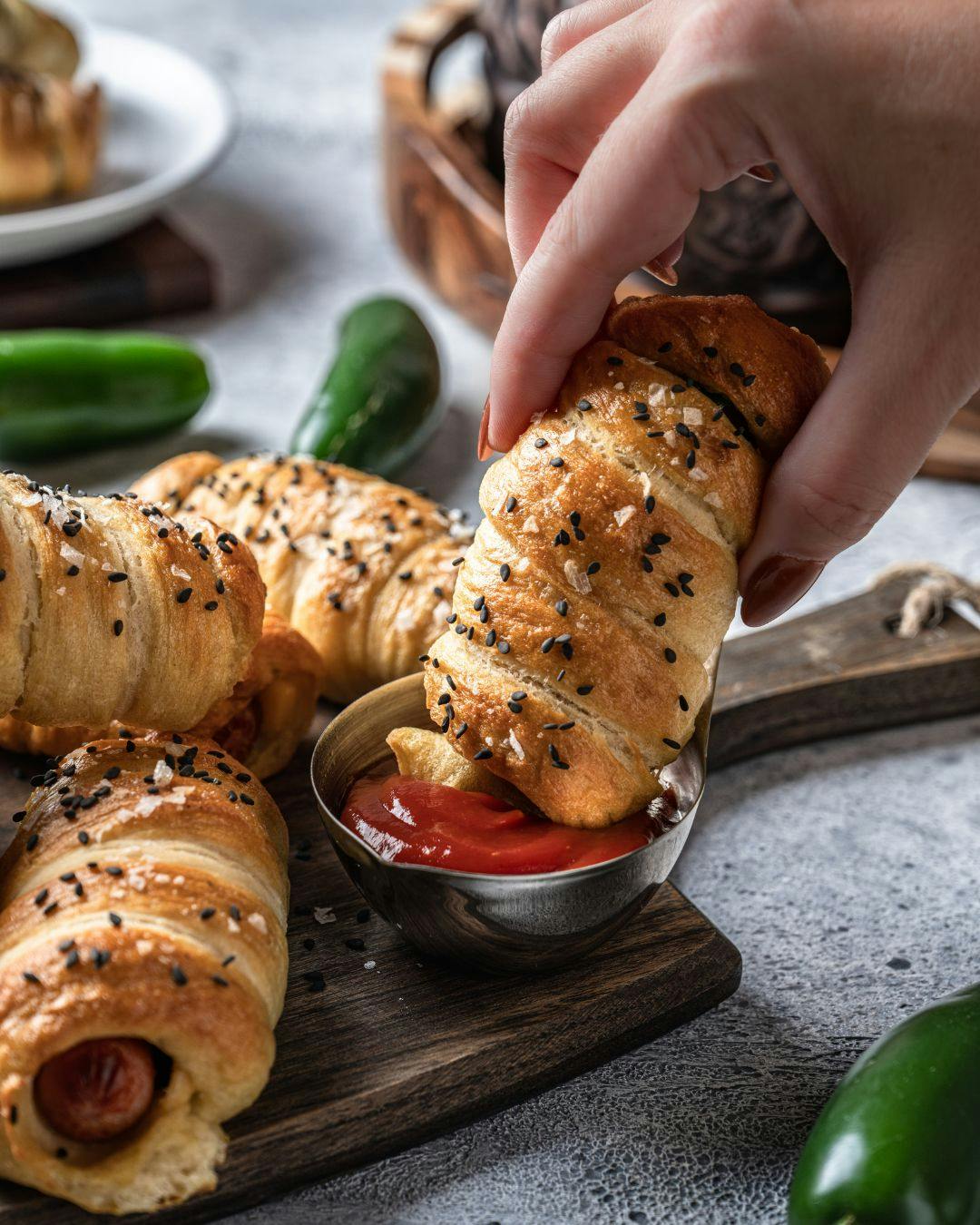 *Original recipe re-posted courtesy of Angela and Mark from Cooking With Wine. Check out their blog for more mouth-watering recipes!