Recipe and Photography by Kyleigh Sage @BarleyandSage
Serves: 8 | Prep time: 20 minutes | Cook time: 1 hour
Mushrooms, garlic, kale, and Artikaas Smoked Goat Gouda fill this crunchy crust to the brim in this cheesy wintery quiche!
INGREDIENTS:
Crust (optional)
1 cup all purpose flour
¼ teaspoon salt
6 tablespoons unsalted butter
2-4 tablespoons water (as needed)

Filling
2 tablespoons unsalted butter
1 large shallot, sliced (substitute yellow onion)
2 cloves garlic, sliced
8 ounces wild mushrooms, sliced
2 cups fresh kale, roughly chopped
5 large eggs
2/3 cup half & half (substitute whole milk)
1 teaspoon fresh thyme (optional)
½ teaspoon salt
½ teaspoon black pepper
6 ounces Artikaas Smoked Goat Gouda, shredded


INSTRUCTIONS:
Crust
If desired, you can use your favorite store-bought pie crust!
Cut butter into small cubes and place in the fridge to firm up while you get the rest of your ingredients together.
Combine flour and salt in a medium sized bowl.
Add the cold chunks of butter and combine with your hands until you get pea sized crumbs.
Add cold water 1 tablespoon at a time and combine until dough forms a nice ball but is still slightly sticky.
Take the formed ball of dough and shape into a slightly flattened disk. Wrap the disk in plastic wrap and chill in the fridge for at least 30 minutes. This is important to keep the butter from melting so that the crust will be nice and flaky.
Remove the pie dough from the fridge and on a lightly floured work surface, roll out dough to about ¼ inch thick and about 2 inches wider than your pie pan. Roll the pie crust into the pie pan and be sure to poke the bottom a few times with a fork to allow air to escape during baking. Cut away any undesired excess crust and crimp, curl, or decorate the edges however you like!
Chill the pie crust in the freezer for at least 30 minutes before baking (if you skip this step, the pie crust will shrink). While the crust is chilling, preheat the oven to 425°F.
Place a piece of parchment paper or heavy duty aluminum foil inside the pie crust and fill with pie weights (uncooked rice or dry beans also work great).
Bake at 425°F for 15 minutes. Carefully lift the parchment paper and pie weights then return the pie crust to the oven to bake for another 5 minutes or until the bottom just starts to brown.
Set aside and let cool slightly while you prep the filling.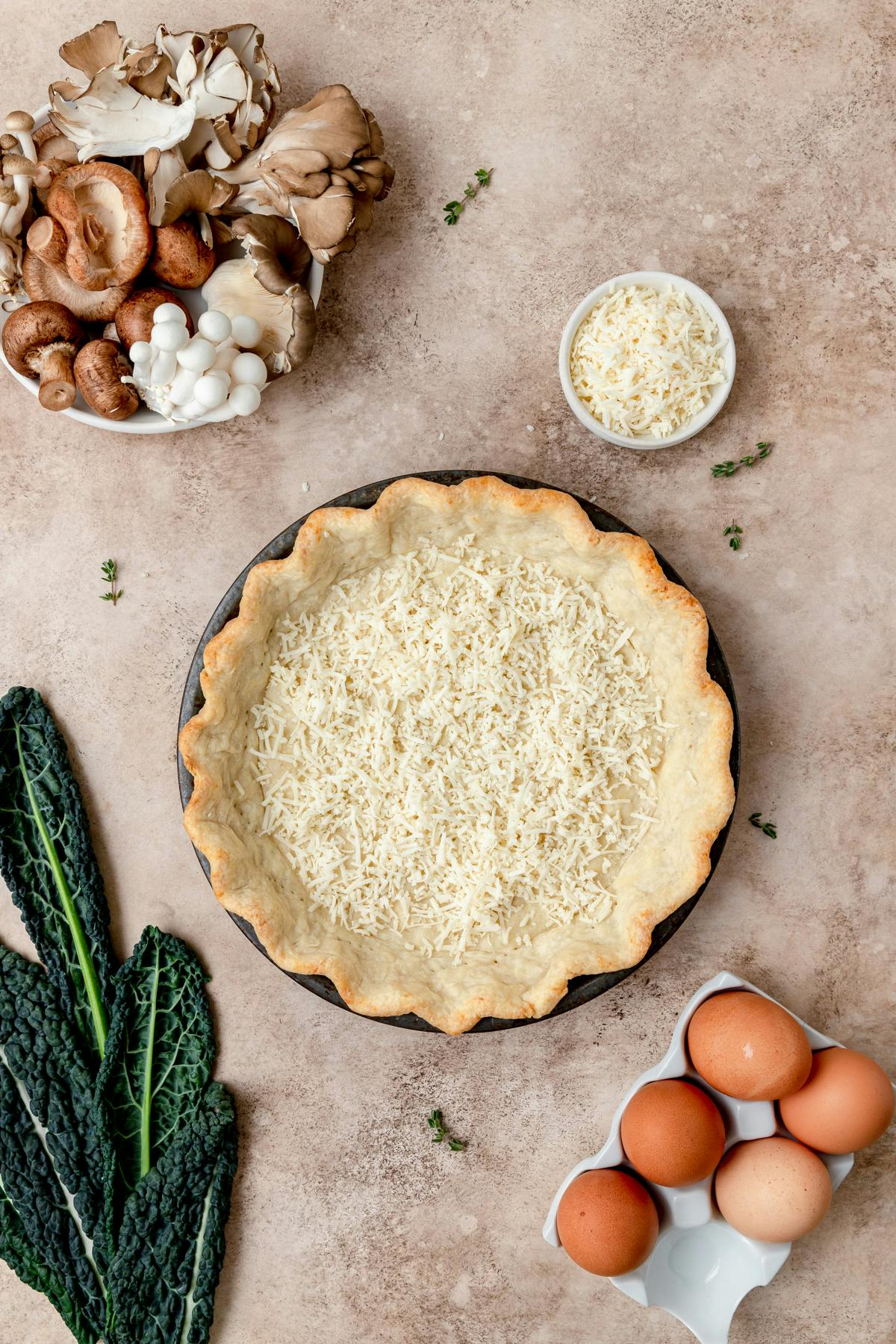 Filling and Assembly
Preheat the oven to 375°F.
In a small skillet over medium heat, lightly sauté the sliced shallots in butter until fragrant and slightly softened. Add in the mushrooms and garlic and continue to cook until they're soft and just beginning to caramelize (10-15 minutes).
Add in the fresh kale and cook for 2-3 minutes until wilted. Remove from the heat and set aside.
In a large bowl, whisk together the eggs, half and half, fresh thyme, and salt and pepper.
Layer the shredded Artikaas Smoked Goat Gouda and sauteed veggies in the bottom of the pie crust, then pour the egg mixture over the top. Sprinkle with a little extra cheese if desired.
Bake at 375˚ F for 25-35 minutes or until the top is golden brown and the eggs are cooked through and set.
Remove from the oven and let cool for about 15 minutes before slicing.
Store covered in the fridge for up to 3 days.