Recipe and Photography by Eden @TheBoldAppetite
Yield 4 burgers
INGREDIENTS
For the Burger
Artikaas Youngsters Chilikaas Gouda
1 pound ground pork
1/2 pound ground chorizo
5 cloves garlic minced
1 teaspoon onion powder
1/4 teaspoon ground black pepper
1 teaspoon salt
Optional: 1 teaspoon dried hatch chili flakes
For the Pickled Onions
1 red onion sliced thin
2 teaspoons salt
1 lemon juiced
Additional Assembly Ingredients
Buns
Pre-made guacamole
Tortilla chips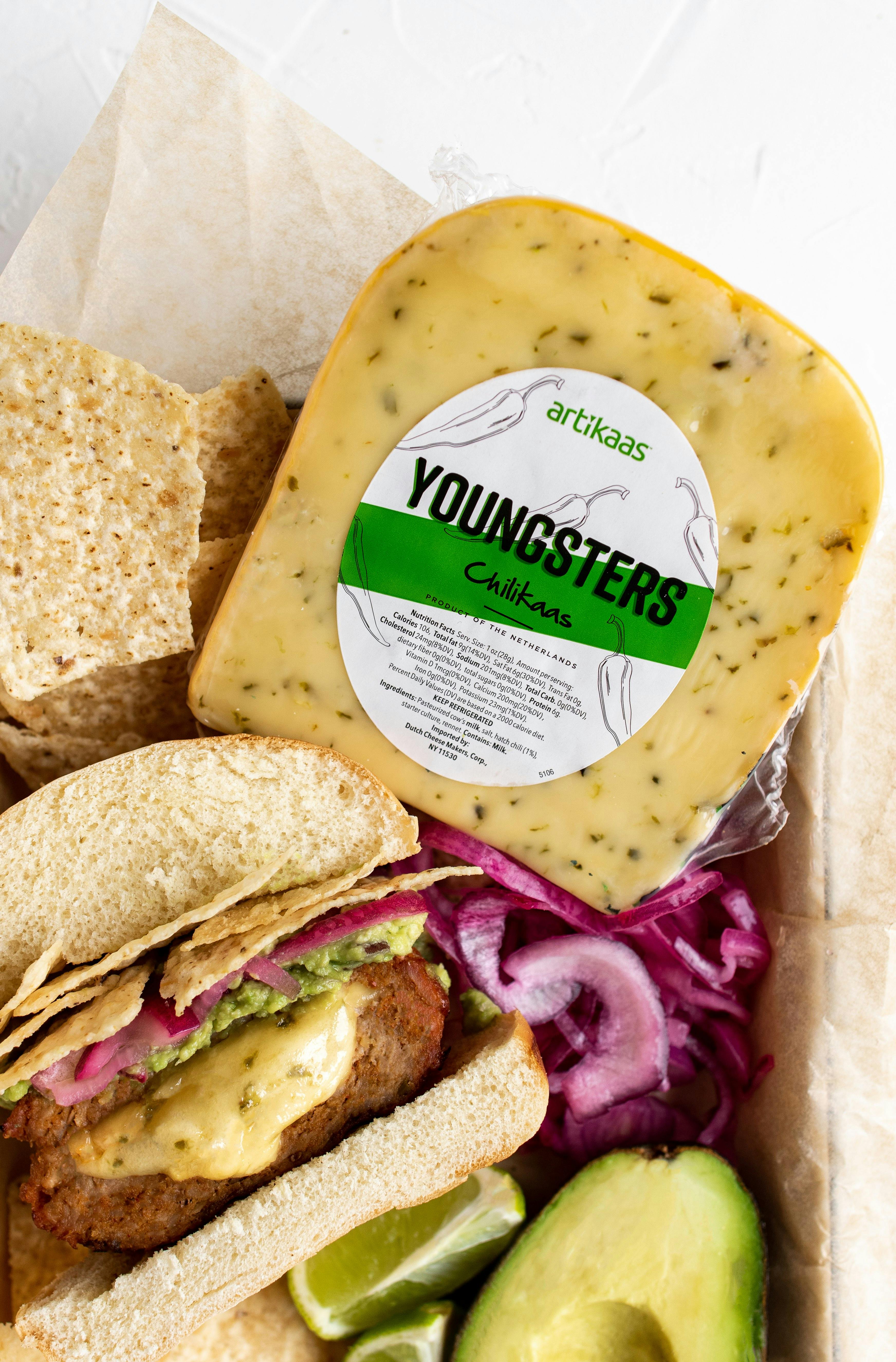 DIRECTIONS
For the Pickled Onions
In a large bowl add thinly sliced onions, 2 tsp of salt, and juice from 1 lemon. Toss. Let the onions sit for 30 minutes before using. Store in airtight container in the fridge for up to a week.
For the Burger
Add pork, chorizo, minced garlic, onion powder, salt, and pepper, and optional flakes in a bowl. Combine thoroughly.
Make 8 thin patties using the pork & chorizo burger mixture.
Place 1.5" cube of Artikaas Chilikaas cheese in the center of one of the patties and top with another patty. Pinch the seal the burger and reshape if needed. Make sure the burger is sealed tightly to avoid the cheese from escaping on the grill.
Preheat grill to 400 degrees. Once heated up place burgers on clean grates and cook for 6-7 minutes per side. Always check the internal temperature of the pork which is recommended at 160 degrees.
For the Assembly
Assemble burgers using cooked patty, a dollop of guacamole, a forkful of pickled onions, topped with a few tortilla chips for crunch.
Enjoy immediately for optimal gooey cheese.