Recipe and Photography by Stephanie Surowiec www.dinnerclubdiaries.com.
Why not give the classic cheese fondue a boost by adding some sweet heat?
The base of this fondue is a mix of Artikaas Youngsters First Milk Gouda plus Artikaas Youngsters Chilikaas Gouda, made with authentic hatch chiles grown and harvested in New Mexico. These green chiles add an unexpected kick for a wonderful, savory fondue.
Pair it with dipping favorites such as bread cubes, apples, and roasted potatoes, then add in some surprises like sautéed Kielbasa slices and mushrooms, acidic cornichons, bacon-wrapped Brussels sprouts, and cherry tomatoes fresh from the garden.
A fondue platter makes for a hearty appetizer or wonderful summertime meal, and both of these cheeses are so smooth and creamy and make for the perfect, meltable fondue!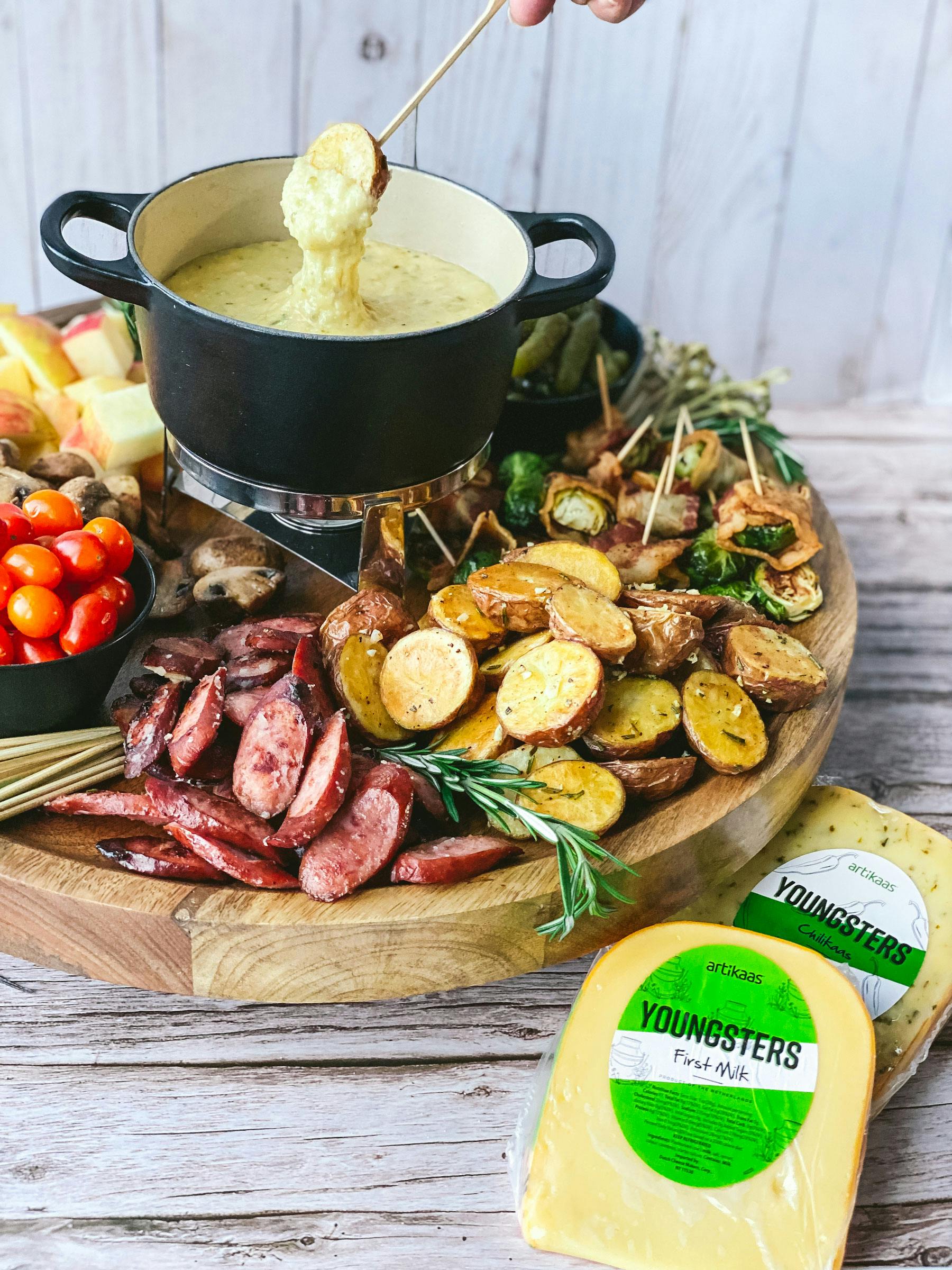 INGREDIENTS
1 pound freshly grated Artikaas Gouda (8 ounce Youngsters Chilikaas and 8 ounce Youngsters First Milk)
2 Tbsp corn starch
1 cup dry white wine, such as Sauvignon Blanc
1 clove garlic, minced
1 Tbsp fresh lemon juice
1 Tbsp Brandy, Cognac or Kirsch
1 tsp Dijon mustard
1/8 tsp freshly grated nutmeg
DIRECTIONS
Freshly grate all of your cheese. This will give you the best melting results.
Toss the grated cheese gently with the cornstarch and set aside.
In a nonstick medium saucepan, gently warm the wine, garlic, and lemon juice.
Gradually add the cheese about ½ cup at a time, combining with a whisk, making sure each addition is completely melted before adding more cheese.
Once all the cheese is added, stir in the Brandy, mustard and nutmeg.
To Serve
Transfer your cheese fondue to a fondue pot over a flame or other ceramic serving dish.
Surround the fondue with classic dippers such as rustic bread cubes, chunks of apple, and roasted baby potatoes. To make your fondue into a hearty dinner, serve with sautéed mushrooms and sliced Kielbasa sausage, cornichons, bacon-wrapped roasted Brussels sprouts, and fresh veggies such as pepper slices, grilled zucchini, or cherry tomatoes. Serve with wooden skewers or fondue dipping forks. Enjoy!