You might be wondering why our Vintage Lot 8 Month Aged Gouda is the perfect matchup for a pasty. It just so happens that the creamy texture + savory saltiness from this aged cheese heightens the Cajun flavors.
Dip these hot pockets of cheesy crab goodness into a spicy tartar sauce — a real treat for your taste buds.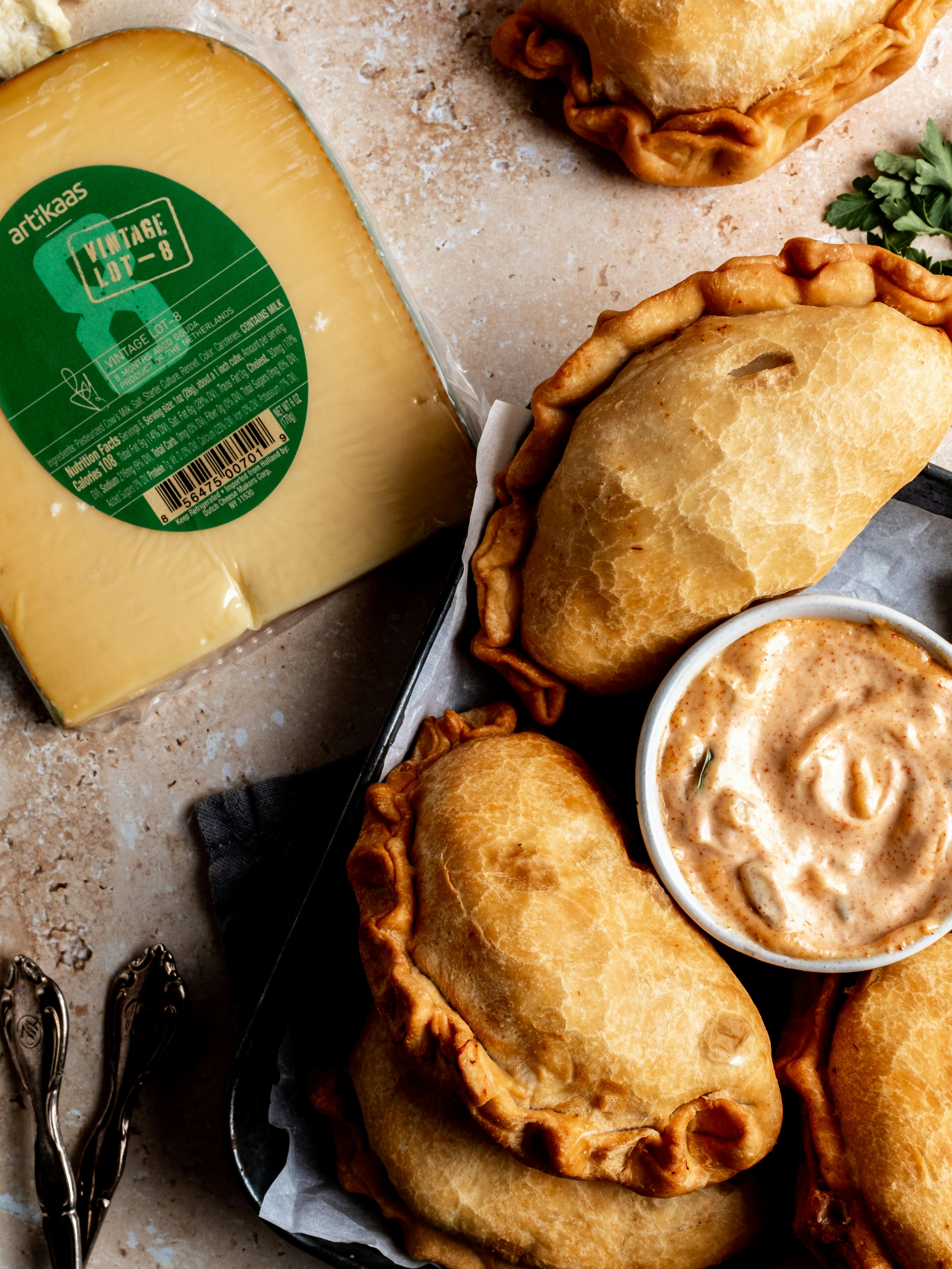 Recipe and Photography by Brittney and Victor Kapustina of @TheWhiskedAwayKitchen
For the Hand Pie Dough
3 cups all-purpose flour
1 teaspoon salt
3/4 cup hot water
4 tablespoons melted butter
vegetable oil for frying
For the Gouda Crab Filling
1 tablespoon butter
1/4 cup diced green pepper
1/4 cup diced onion
1/4 cup diced celery
3/4 pound lump crab meat
8 ounces shredded Artikaas Vintage Lot 8 Month Aged Gouda
4 ounces cream cheese
salt to taste
For the Cajun Tartar Sauce
1/2 cup mayonnaise
3 tablespoons chopped dill pickle
1-2 tablespoons pickle juice
1/2 teaspoon smoked paprika
1/2 teaspoon garlic powder
1/4 teaspoon dry mustard
1/4 teaspoon cayenne
salt and pepper to taste
DIRECTIONS
For the tartar sauce:
Finely chop the pickle and mix with the mayo. Add pickle juice one spoon at a time until you reach your desired consistency. Stir in the remaining spices.
For the crab filling:
Heat the butter in a skillet over medium heat. Add the green pepper, celery and onion and cook for 5-7 minutes. Remove from heat and allow to cool slightly. Combine the crab meat, vintage gouda and cream cheese in a large bowl. Fold in the pepper, celery and onion. Season with salt.
For the dough:
Mix the flour and salt in a large bowl. Add the hot water and melted butter and mix until the dough begins to form. Knead until smooth. Place the dough in a bowl, cover and let rest for 30 minutes.
Divide the dough into 12 pieces. Roll out each piece into a circle approximately 1/8 inch thick. Cover half of the circle with crab mixture and fold in half. Press to seal.
Heat at least 3 inches of oil in a pot over medium-high heat. Fry for 4-5 minutes total, turning occasionally until golden brown.