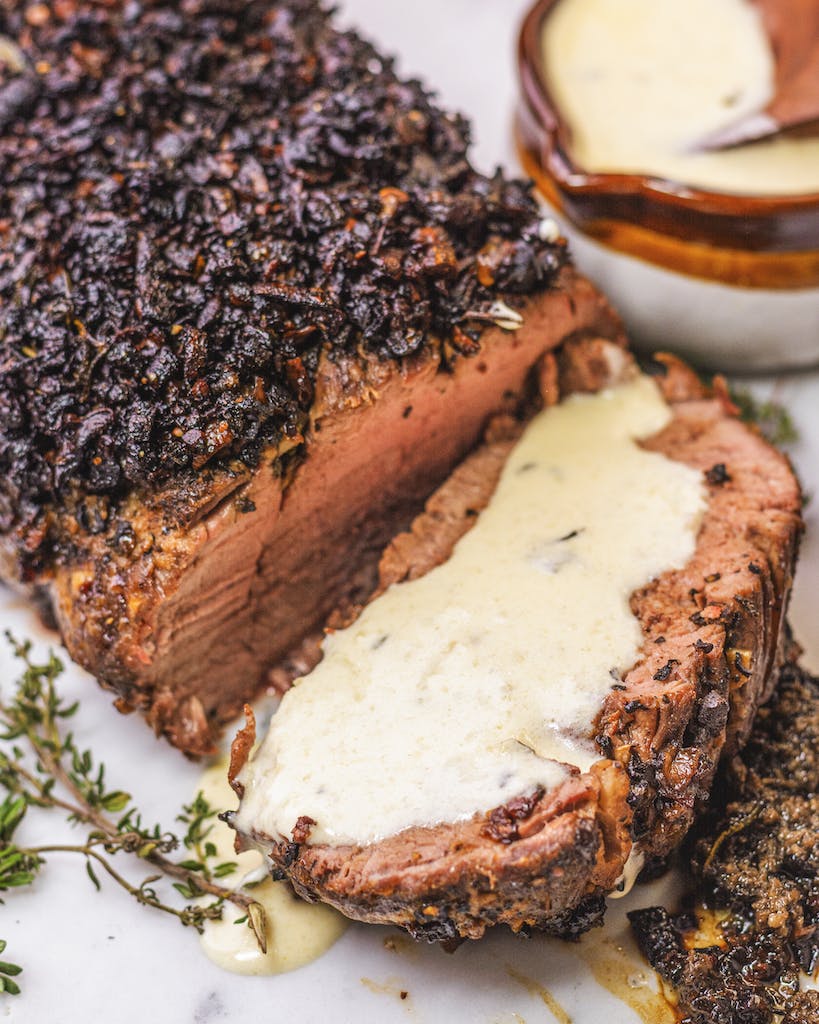 This savory, beef tenderloin is delicious on its own BUT slather it with a Truffle Gouda Cheese Sauce and you've got something extra special on the table. The creamy sauce is unexplainably irresistible - earthy flavors dance on your palate in the most delicate way. Great dish for special celebrations!
INGREDIENTS
For the Duxelles & Tenderloin
handful of large white button mushrooms, minced
3-4 Shallots, minced
4 cloves garlic, minced
few sprigs of thyme
few sprigs of rosemary
couple of sage leaves
4-6 tablespoons unsalted butter
trimmed beef tenderloin
olive oil
salt & pepper
For the Truffle Gouda Cheese Sauce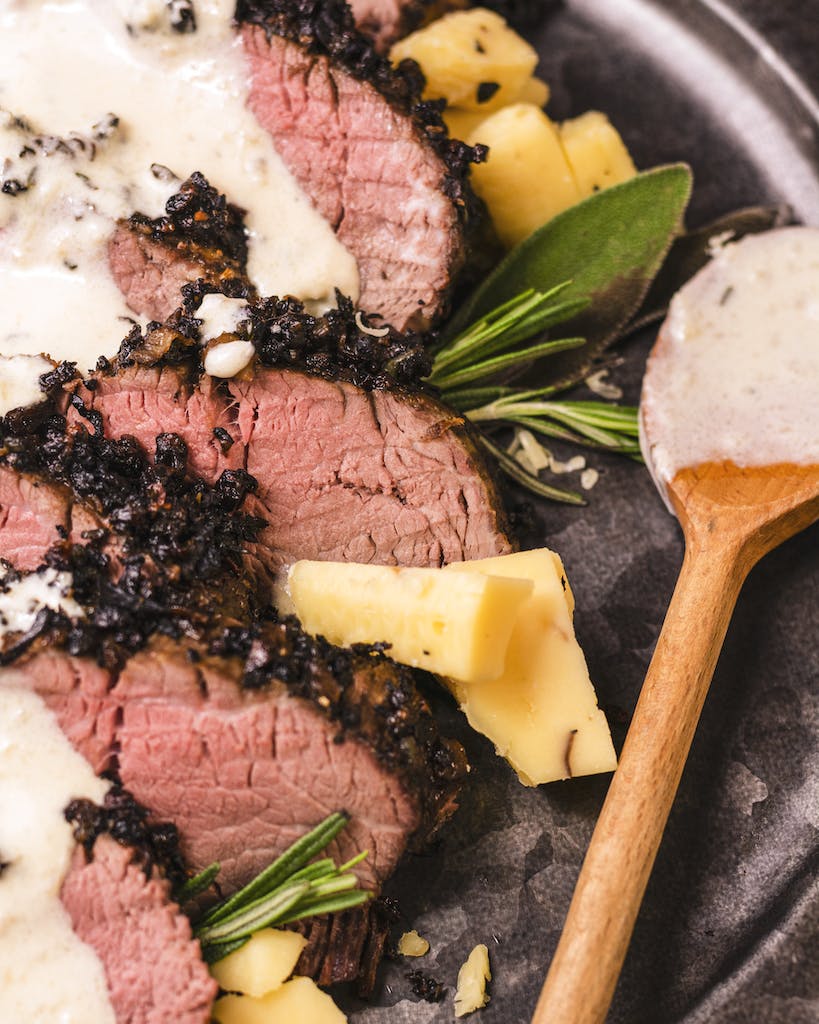 DIRECTIONS
For the Beef Tenderloin
Prepare your tenderloin by letting it rest on the counter until it is room temperature. In a medium pan, melt the butter over low heat. Add the mushrooms, shallots, garlic, thyme, rosemary, and sage to the pan. Saute for 10-15 minutes until most of the moisture has evaporated. Remove the herb sprigs. Season with salt and pepper to taste. Set aside in a bowl to cool to room temperature. In the same pan, turn the heat on high, add a bit of olive oil, and sear your beef tenderloin on all sides. Once seared, place your tenderloin on a lightly greased sheet pan and top with duxelles, pressing the mixture into the meat. Place in a 425 degree oven until the beef reads 125 degrees or your preferred beef temperature. Remove from the oven and let rest for 10 minutes before slicing and serving. Optional: Garnish with rosemary, fresh mushrooms, and cubes of gouda.
For the Truffle Gouda Cheese Sauce
While the beef tenderloin is in the oven, prepare the sauce by placing the previously used pan over medium heat. Add a splash of white wine to deglaze the pan. Once deglazed, add the rest of the white wine and let simmer until reduced by half. Once reduced, add in the butter and mix well. Add the thyme and sage. Then, slowly pour in the heavy cream. Let simmer for 10 minutes, until the sauce can coat the back of a spoon without running off. Remove from the heat and add in your Artikaas Raw Milk Gouda with Truffle. Whisk well. Serve immediately or keep warm until ready for use.