Spring has sprung and there's no better way to celebrate than with a delicious dish that highlights seasonal veggies and sustainable cheese! This spring quiche with Artikaas Youngsters Double Cream Gouda is creamy, cheesy perfection, with extra flavor and crunch from fresh asparagus and radishes all atop a buttery, flaky crust.
Recipe and Photography by @MarleysMenu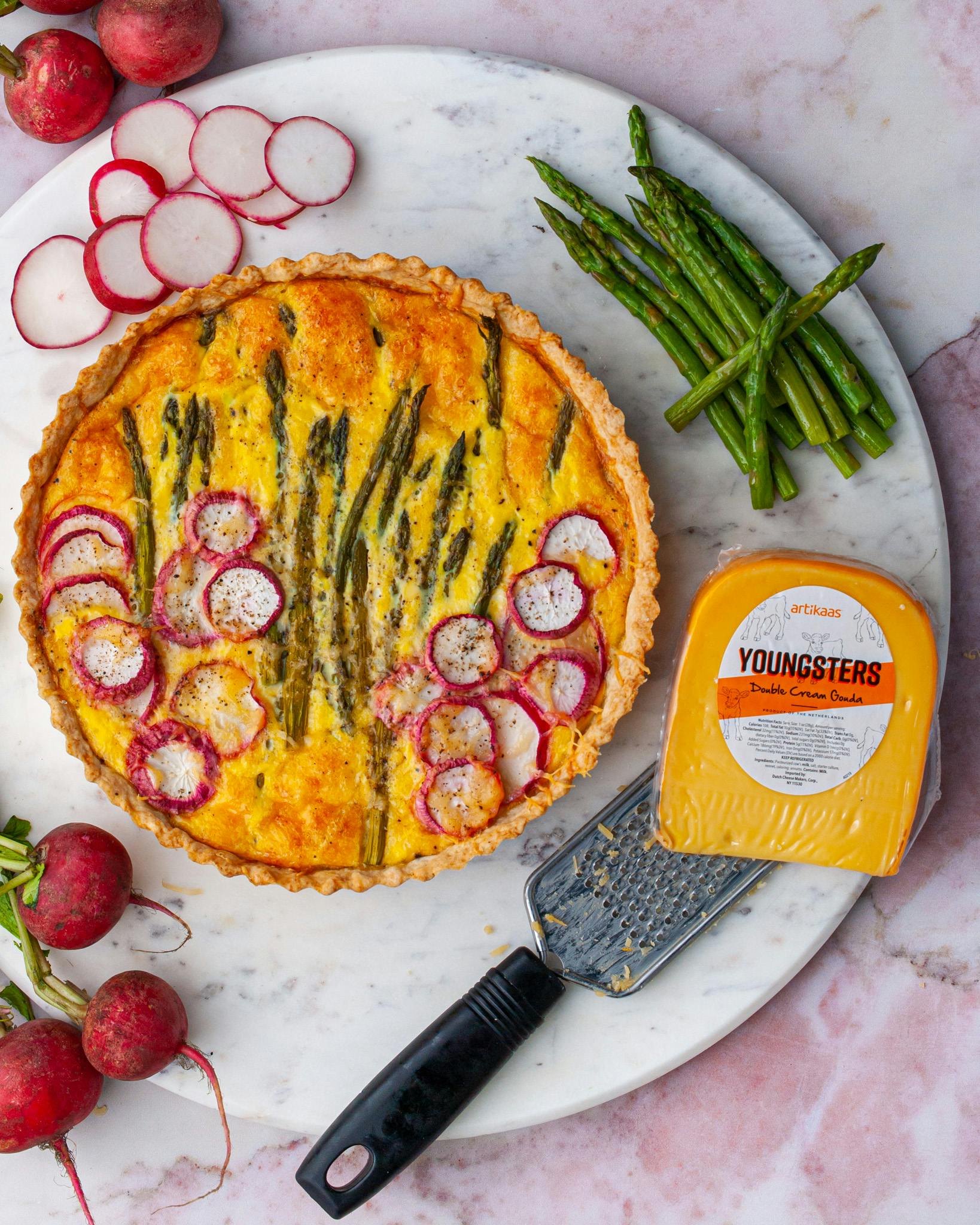 INGREDIENTS
For the Crust
1 & 1/2 cup all-purpose flour
1/2 cup (1 stick) unsalted butter, ice-cold
1 tablespoon brown sugar
1/4 teaspoon salt
1/4 cup ice-cold water
For the Quiche Filling
4 large eggs
1/4 cup milk
8 ounces Artikaas Youngsters Double Cream Gouda, shredded
15 stalks asparagus
3 radishes, sliced
3 cloves garlic, minced
salt and pepper to taste
DIRECTIONS
For the Crust
Preheat your oven to 400°F.
Add the flour, butter (make sure it's cold!), brown sugar and salt to a blender (or food processor) and process on high.
While the blender is on, add ice-cold water to the blender, and watch as your dough comes together. As soon as your dough is formed, turn the blender off.
Use clean hands to press the dough into a 9.5-inch pie dish, moving outward and up the side of the dish, keeping the thickness as even as possible.
Bake without the filling for 10-15 minutes until the crust is firm. Then, bring your oven temperature down to 325°F.
Meanwhile, blanch asparagus in boiling water for about 5 minutes.
Whisk together eggs, milk, Artikaas Youngsters Gouda Double Cream Gouda, and minced garlic. Pour into baked crust.
Add blanched asparagus and sliced radishes on top and bake for another 60-65 minutes until firm. Enjoy!