Recipe and Photography by Eden @TheBoldAppetite
Yield 5 burgers
INGREDIENTS
For the Burger
1 pound shrimp deveined an detailed
12 ounces salmon skin removed
1/4 cup cilantro chopped
1/2 teaspoon salt
For the Pickled Daikon & Carrots
2 large carrots julienned
1 small or 1/2 medium daikon radish julienned
1 cup white vinegar
1 cup water
1/4 cup sugar
1 tablespoon salt
For the Spicy Sriracha Mayo
1 cup mayo
2 tablespoons sriracha
2 cloves garlic minced
1/2 lime juiced
Additional Assembly Ingredients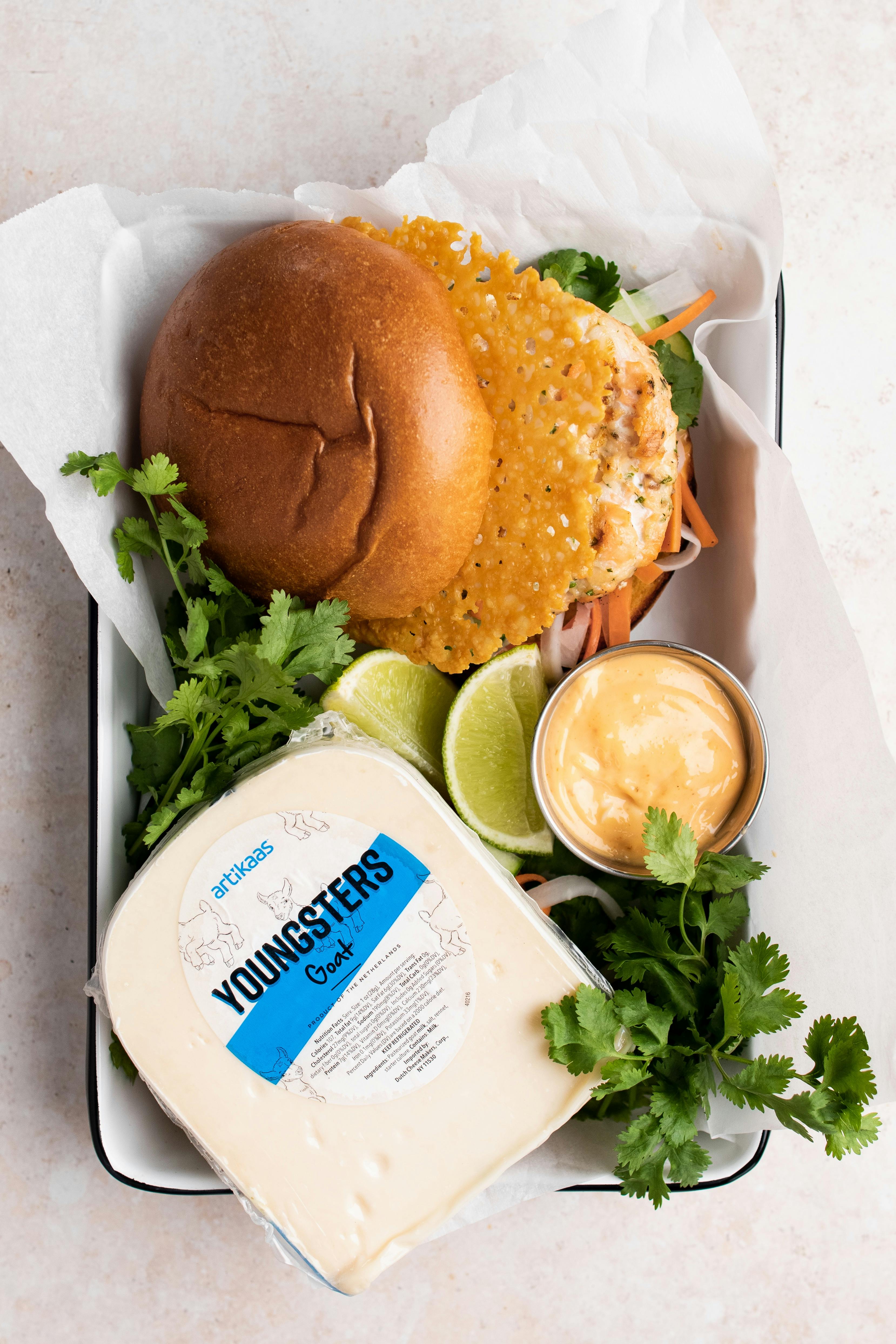 DIRECTIONS
For the Goat Gouda Cheese Crisps
Grate a wedge of Artikaas Youngsters Goat Gouda. For easy grating freeze the wedge of gouda for 30 minutes beforehand.
Preheat oven to 400 degrees. Line a baking sheet with parchment paper.
On the parchment paper baking sheet pile approx. ¼ of a cup of cheese. 1 wedge of cheese will yield 7-8 cheese crisps.
Bake for 7-8 minutes until crisp is bubbling and golden brown. Remove from oven and let it cool for 3-5 minutes before removing it off the baking sheet with a spatula. Continue to cool the cheese crisps on a plate for another 5 minutes before using/eating.
For the Pickled Daikon & Carrots
Peel the daikon radish and carrots. Julienne both in small strips.
In a bowl add radish and carrots and 1 tbsp of salt. The salt will remove a lot of moisture and the bitter taste of the radish. Wait 5 minutes before draining and rinsing with cold water.
In a saucepan over low heat add water, vinegar, and sugar. Heat until sugar dissolves.
Put radish and carrots in a large mason jar, add pickling liquid (discard any extra), and let it sit for 1 hour before using, however best served cold after sitting in the fridge overnight.
For the Burger
In a food processor place ½ the shrimp and ½ the salmon. Pulse until you create a paste.
With the remaining shrimp and salmon, cut into small pieces. Chop the cilantro.
In a bowl add chopped cilantro, shrimp and salmon pieces and paste. Salt, and combine thoroughly.
Form the patties either by hand or using a greased biscuit cutter. Freeze for 10 minutes before grilling, this will ensure it holds its shape and does not stick to the grill.
For the Sriracha Mayo
Combine mayo, sriracha, minced garlic, and lime juice.
For Cooking and Assembly
Preheat grill to 400 degrees.
Clean and grease grates using olive or canola oil (will help with sticking).
Cook burgers for 5 minutes on each side.
Assemble burgers using mayo, daikon & carrot pickle, fresh chopped cucumbers, a few sprigs of cilantro, a burger patty, and 1-2 Artikaas Youngsters Goat Gouda cheese crisps.