Everyone loves the cheesy goodness of a warm artichoke dip served with pita, tortilla chips or crusty bread. But, what if we stepped it up a notch and made it with a meltable cheese that has a slight tang to it? Well, say hello to your new go-to appetizer - Youngsters Goat Gouda Artichoke Dip!
A 2021 SOFI Awards Gold Trophy Winner, Youngsters Goat Gouda is made from 100% goat's milk and has a delicate, citrus flavor to it. It's the perfect creamy cheese for a dip and it's quick and simple to make!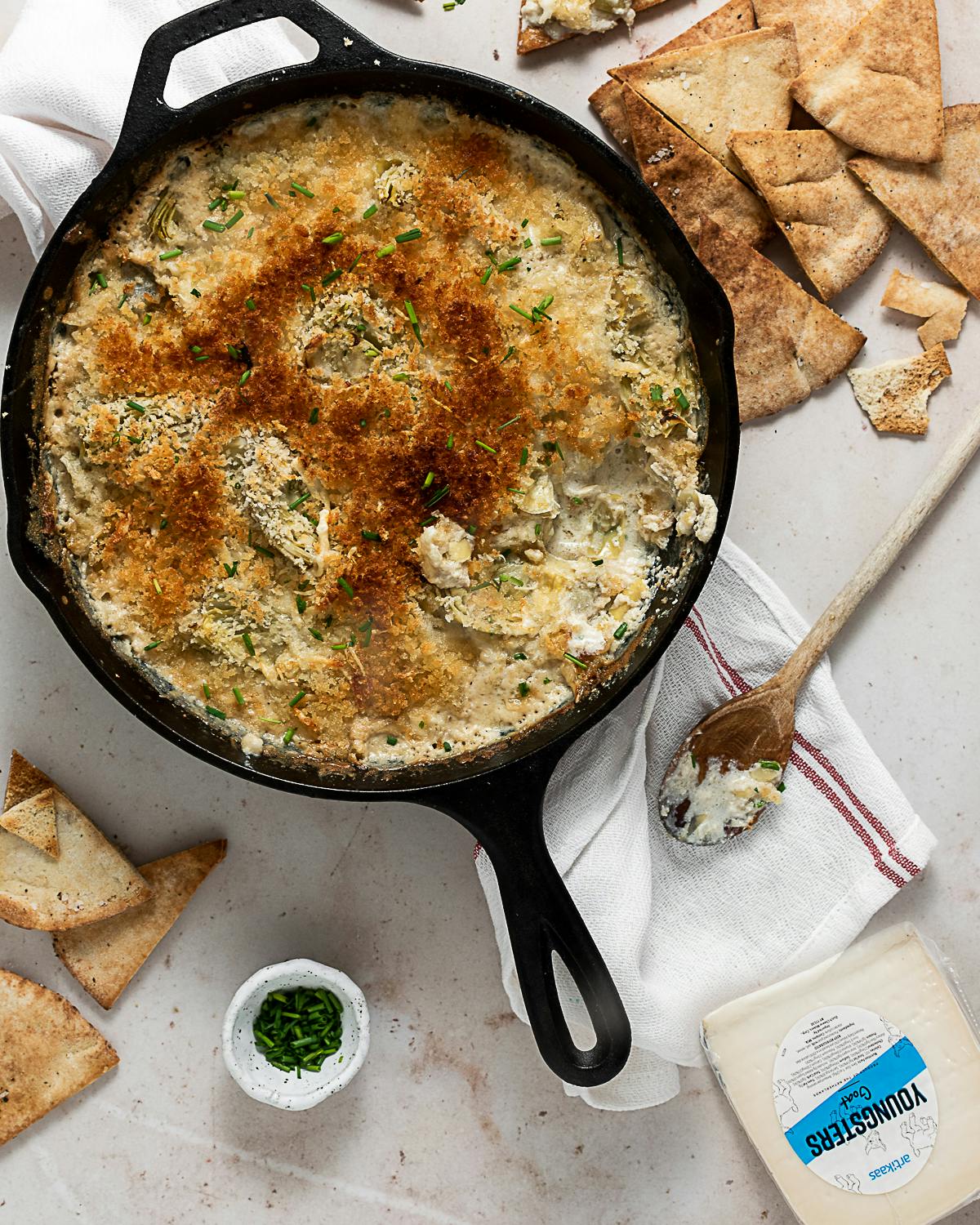 INGREDIENTS
4 tbsp butter, divided
2 garlic cloves, minced
4 ounces soft goat cheese
1 cup grated parmesan, divided
1/3 cup sour cream
1/3 cup half and half
A 6oz block of Artikaas Youngster Goat Cheese, shredded
Juice of 1 lemon
1 tbsp Worcestershire sauce
1 tbsp Dijon mustard
2 8.5 oz cans of artichoke hearts, drained and roughly chopped
½ tsp salt
½ tsp pepper
½ cup panko breadcrumbs
2 tbsp chives, chopped
HOW TO MAKE IT
Preheat your oven to 350.
In a cast iron skillet* over medium heat melt 2 tablespoons of the butter and add the garlic. Sauté garlic for 1 minute, then add the soft goat cheese, half of the parmesan cheese, sour cream, half and half, half of the shredded Artikaas Youngster Goat cheese, lemon juice, Worcestershire and Dijon. Stir to combine and allow all the cheeses to melt.
Stir in the artichoke hearts and remove the skillet from the heat. Melt the remaining two tablespoons of butter in the microwave, then stir in the panko breadcrumbs until they're well moistened by the butter.
Scatter the other half of the parmesan and Artikaas cheese on top of the dip and top with the buttered breadcrumbs.
Bake for 30 minutes.
Remove from the oven and allow to cool for at least 10 minutes before serving. Scatter chopped chives over the top of the dip just before serving. Serve with toasted pita or naan chips, or tortilla chips.
*Note: if you don't have an oven safe skillet, prepare the dip in a non-stick skillet up to step 3. Then transfer the dip to an oven safe pie plate and continue with the rest of the steps.